Brilliance By Design – The Majesty Of Lori Morris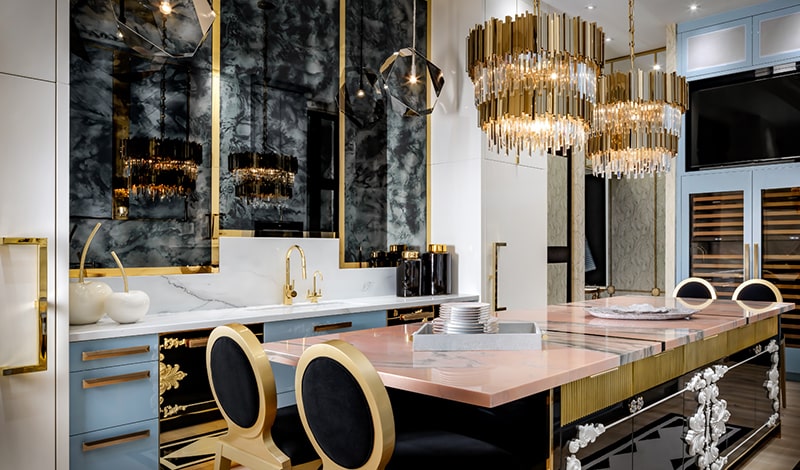 Unveiling her latest project, Lori Morris once again elevates elegance and artistry in design to new heights.
More than an interior designer, Lori Morris is an artist, visionary, dreamer and creator. In her industry of worldwide design, she and her House of Lori Morris Design (LMD) have reached that rarified status, where her name has become a descriptive, where a look is simply "LMD," synonymous with beautiful bespoke design, artistry and imagination.
That status reached new heights recently with the completion of her Glamour in the Sky project, a full renovation of a 54th-floor condominium in a top Toronto hotel residence. For Morris and the House of LMD's Toronto-based team of 25 artists and craftspeople, it was just the latest example of her talents for extraordinary design that is original, intricate and personal. Morris and the House of LMD are internationally recognized by Architectural Digest and Andrew Martin's Interior Design Review of the world's top 100 designers.
"They knew about House of LMD and wanted some magic," says Morris in a recent conversation with Dolce. "I'm a full-blown artist and can see a space and know what we can do. We merged their desires and styles, and fused them with a modern and French look, which is sumptuous and sexy."
The 2,500-square-foot condominium was completely transformed, both in design and lifestyle flow. The space was reconfigured utilizing the expansive ceilings to incorporate additional storage, as per the clients' requirements, and to bring an average space to an entirely different level with an elegant and edgy feel, better suiting the owners' lifestyles.
Understanding those lifestyles is part of extensive conversations Morris has with clients, which she then uses as an arsenal of information in her design stylings. House of LMD's design process begins with a concept design package that includes hand-drawn sketches to convey the clients' desired vision and feeling for their space. The next phase includes a full design detailed drawing package for construction, considered exceptional by design industry standards.
"Emotion sets the stage for style, but it has to be functional as well, so it all evolves, and function co-exists with emotion," says Morris. "The priority is, it has to look great, but very livable. There is a saying I always remember: 'If it's stunning and doesn't work, it doesn't count.'"
The first thing that strikes you when speaking with Morris is her captivating personality, with an unbridled passion, infectious energy and confidence. She calls herself a bit of a design "rebel," always pushing the boundaries when it comes to design. And she is never afraid to cross traditional lines with her innovative thinking and approaches to design throughout her global portfolio.
There are as many layers to Morris as there are to her signature layering design style. She is a maestra of majesty — part chanteuse, part chameleon, always totally in command and the centre of every room, even if she didn't design it. This is part of the allure and magic elixir that brings her clients from around the world to revel in her perfection and grace.
"I understand the rules, but in my world there are no rules," reflects Morris. "I have an excellent sense of colour and styles, and a natural ability to fuse them together, and my clients recognize that talent and are very trusting with me. They come to LMD to get the full experience, any style they want. Every project is an original, and that's unique. Nothing scares me."
Glamour in the Sky is an ideal example of her abilities in that every room has something memorable and luxurious, completely redesigned to delicately balance the pretty and feminine with the functional and masculine. "That's our signature style," says Morris. "Hearing both men's and women's wishes for a marriage of styles. To me, it's not about a colour — it's a feeling."
"We merged Their desires And styles, and Fused them With a modern And french Look, which is Sumptuous And sexy"
Great design invites people in, and every Lori Morris design features a grand entrance as an opening statement. Here, the condo foyer features a custom laser-cut marble floor in white and green against a jet-black background with a stunning black-and-gold modern chandelier hanging from the soaring ceiling, which is more than 13 feet high. The black, gold and white colour palette continues in the living room with black in the velvet, lacquer and glass, and a splash of colours gives the room a sultry and sensual glow.
Morris's ingenious vision for the condo was a juxtaposition of opposites: light and dark, soft and hard, soft pink and blues with rich browns and blacks. "Colour is personality and makes rooms come alive," she explains. "The beauty of it is the overall finished product, which creates interest and personality, and it's true magic."
The master bedroom is both a private sanctuary and a functional space with generous storage space, drawers and shelving. A round crystal and gold light fixture is above the bed, and the room is an opulent world of silk linens and plush, sumptuous pillows in muted neutral creams and the palest of pinks.
The kitchen is bright and airy with a large wall of windows offering spectacular views of the city. The black, white and gold theme continues with the unexpected introduction of pale blue cabinetry and pink marble on the oversized island, monumentally impacted by stunning gold chandeliers above the island. White marble counters satisfy the owners' taste for classic design, while the pale blue custom cabinetry offers Morris's delightfully playful and original sense of whimsy. The kitchen melds convenience, art and technology as the centrepiece of today's modern living.
"Formal lifestyle is gone, but formal dining still exists," says Morris about lifestyle changes. "Rule-oriented houses are gone. Living rooms are like lobbies, and bedrooms are more comfortable as master wings with gyms, closets and coffee bars."
Glamour in the Sky reflects the inspiration Morris finds in the everyday and the influence fashion has on her designs. "They are interrelated. My gowns are represented in my drapes," she says. "What you see on a runway is what you see in my houses — just an application. And as an artist, inspiration is everywhere. Anything out there can inspire you if you're a true artist."
Eclectic, engaging and invigorating, Lori Morris creates designs that are a feast for the senses, capture the eye and never fail to stimulate the soul with an exclusive splash of sexiness and passion. Her designs are thought-provoking, provocative and always emotional, and her reward comes at the end of each project, when she reveals her creations to her clients.
"When you see a client's face when presenting the reveal, that is the most satisfying," says Morris. "I've yet to not see tears or watering eyes."