Dolce Dinner Party With Chef Claudio Tentenni At Giro D'italia Ristorante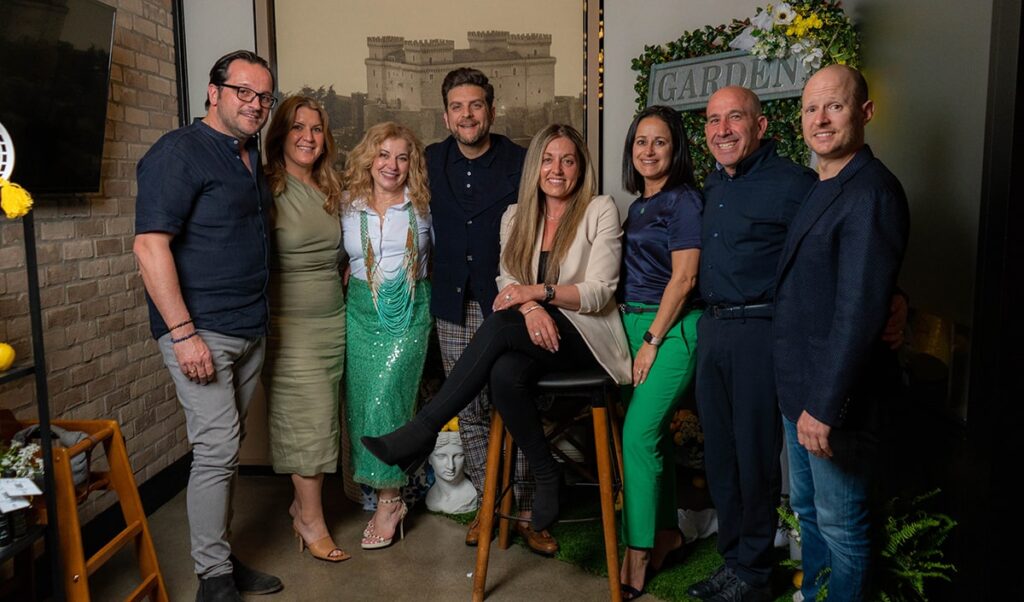 On April 25, Dolce hosted the second of its glamourous dinner-party series to rejoice together with authentic Italian food and wine. Family and friends were welcomed at Giro D'Italia Ristorante with an Italian-style embrace of love, laughter and beautiful live music.
Chef Claudio Tentenni, from Bologna, the city where he studied culinary arts at the Bartolomeo Scappi School of Italian Cuisine in Castel San Pietro Terme, prepared a beautiful multi-course rustic meal that showcased bold flavours, true to the traditions of Italia. From the antipasto to the dessert, Chef Tentenni complemented every dish with the excellent quality, flavour and versatility of Zerillo Premium Extra Virgin Olive Oil.
Every moment of the meal was truly savoured with carefully selected fine wines, courtesy of Connoisseur Wine Imports. Additionally, guests experienced the unique pleasure of a sommelier-led wine-pairing feature throughout the entire meal.
The antipasto included a house-made crostone with ricotta glazed with Zerillo honey and truffle, a focaccia barese, a fresh burratina topped with tartufo and beef carpaccio drizzled with olive oil and tartufo. All of which were paired with a fine 2020 Sauvignon Collio Mario Schiopetto.
Guests were wowed when served the primi, which included a caserecce aglio and peperoncino, a rigatoni alla Positano and a classic olive oil risotto. All of which was paired with a smooth 2020 Pinot Grigio Collio Mario Schiopetto.
For the secondi, Chef Claudio honoured guests with a perfect pan-seared halibut fillet cooked with Zerillo Extra Virgin Olive Oil zabajone, zucchini with mint and vinegar, accompanied with a barbabietole salad with olive oil and balsamico di Modena. Both were paired with a savoury full-bodied white 2020 Friulano Collio Mario Schiopetto.
Finally, for dessert, guests enjoyed a decadent Zerillo Extra Virgin Olive Oil cake served with apricot sauce and whipped cream along with a nuanced-flavoured Venti Amaro, which is made in the mountainous region of Lake Como.
Chef Claudio's culinary talent, accompanied by Zerillo Premium Extra Virgin Olive Oil, has reminded us that Italian culinary traditions taught the world how to cook and eat.
A portion of the net proceeds of each dinner will be donated to The Stop Community Food Centre. The Stop strives to increase access to healthy food in a manner that maintains dignity, builds health and community and challenges inequality. For 40 years, they have shown how the simple act of bringing people together around food can be a catalyst for change. Dolce is proud to support this initiative and is preparing to welcome guests to the third iteration of its dinner-party series on May 2 at DOVA Restaurant to break bread and highlight the beauty and importance of community and collaboration.
"Noi Non Potremo Avere Perfetta Vita Senza Amici." — Dante Alighieri
Translation: "We Couldn't Have a Perfect Life Without Friends." — Dante Alighieri
To purchase tickets for the next Dolce Dinner Party, click on the link below!
Dolce Dinner Tickets
www.zerillo.ca
www.shopdolce.ca
www.con-nois-seur.ca
www.thestop.org
www.giroditalia.ca