Welcome to Dolce Dinner Parties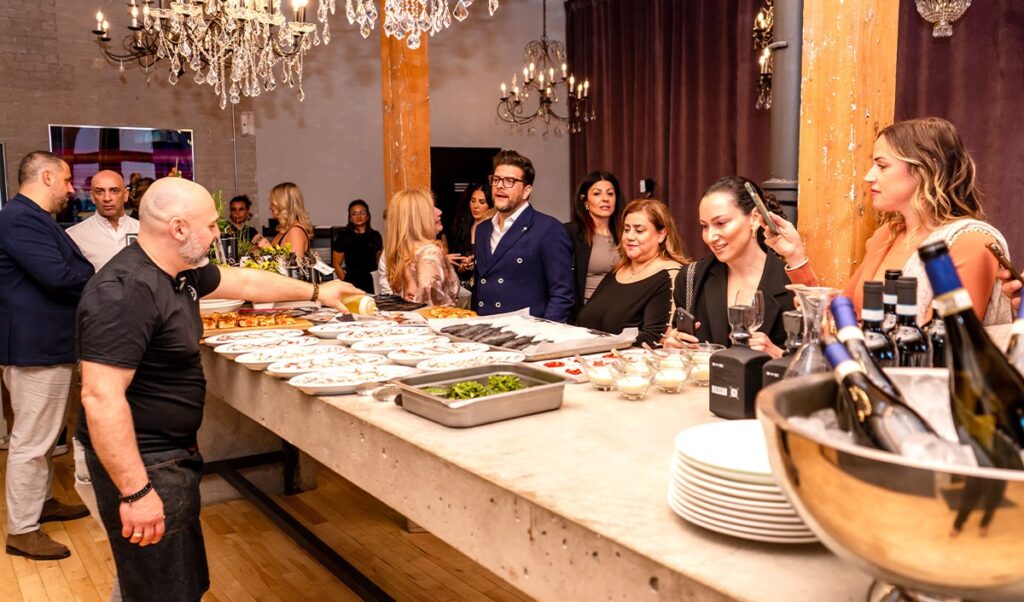 A series of carefully curated dinner parties where you can experience collaborative feasts — delicious menus paired with exciting wines and cocktails prepared by some of the city's most talented chefs.
Spring saw the arrival of Dolce Media Group's series of collaborative dinner parties to Toronto, featuring exquisite menus curated by some of the city's finest chefs. As the Italian proverb goes, "A tavola non s'invecchia" ("At the table, one does not grow old"), and in this spirit, Dolce dinners were reminders of the important things in life: slowing down, taking the time to be with family and friends, appreciating what is before you and allowing the pleasures of food, wine and company to suspend the passage of time.
The first Dolce dinner was held at 87 Wade Ave., an intimate and hidden private event space in downtown Toronto. Chef Massimo Bruno, host of Toronto's longest-running Italian supper club, delighted guests with a menu that spanned the Italian culinary landscape, from traditional Pugliese dishes like focaccia Barese and pure' di fave e cime di rape (fava bean purée with rapini) to Tuscany's king of steaks, bistecca alla Fiorentina, and more. The evening was enlivened with the laughter and chatter of new friends made, ending in song and dance, and with Chef Massimo proving also to be a talented entertainer, singing with his makeshift soup ladle microphone.
Dolce's second dinner took place at Giro D'Italia, a restaurant just north of the city with a unique concept that takes diners on a giro (tour) of Italy with a different regional menu each month. Chef Claudio Tentenni, who studied culinary arts in Italy's gastronomic capital, Bologna, and worked in Michelin-starred restaurants in that country, served as both chef and culinary tour guide for this evening. Dishes included carpaccio di manzo (beef carpaccio) and risotto from Italy's north, pasta alla Positano from the Amalfi Coast and a zabaione (sweet custard) that was cleverly transformed into a savoury sauce and served over pan-seared fish rather than as the traditional dessert. Incidentally, three Italian regions — Tuscany, Piedmont and Emilia-Romagna — lay claim to the origin of the classic Italian dessert.
The third Dolce dinner was held at DOVA in the heart of Toronto's Cabbagetown. Here, Chef Roberto Marotta pays homage to his native region of Sicily, as well as other regions of the Mediterranean. The evening's dinner was inspired by Chef Roberto's philosophy of less is more, with dishes that allowed each ingredient to be a star, from the house-made pasta to the freshly caught shellfish, ethically sourced dry-aged rib-eye steak and heirloom vegetables. Dolce guests enjoyed an intimate evening, captivated by the restaurant's subtly sophisticated décor that further reflects the idea of achieving more with less. Dolce's final dinner in the series was held at Oretta Midtown. Here, guests immersed themselves in the glamorous art-deco interior that embodies the Italian lifestyle with its Mediterranean hues, luxurious finishes and striking marble bar at the centre serving signature aperitivi. Chef Gabriele Di Marco's menu was inspired by the cuisine of his home region of Sicily, featuring dishes like orata crudo that reflect the island's love for raw fish, and risotto alla Norma, a twist on the classic version made with pasta and a nod to Sicilian Vincenzo Bellini's famous opera.
DOLCE DINNER PARTY SERIES "WE CAME FOR THE FOOD AND STAYED FOR THE FRIENDS"
While each Dolce dinner provided for a unique menu and chef-led experience, a common ingredient ran throughout — the use of Zerillo Premium Extra Virgin Olive Oil. The production of this exceptional EVOO continues today in the hands of the third generation of the Zerillo family olive growers at Azienda Agricola Fratelli Zerillo in Foggia, Puglia. The olives are harvested strictly by hand, milled within 48 hours and processed without the use of heat or chemicals to avoid oxidation and fermentation and to preserve the taste, quality and high polyphenol content of the resulting oil. Zerillo EVOO is highly versatile, able to enhance any type of dish from antipasto to dessert and to impart the flavours of the Puglian terroir that produces some of the best extra virgin olive oil in the world. The diverse range of delicious dishes, prepared by outstanding chefs and enjoyed at the four Dolce dinners, is testament to that.
Other commonalities ran throughout the series as well. Con-nois-seur Wine Imports partnered with Dolce to create a unique sommelier-led wine, spirit and liqueur pairing for each dinner. Their approach to selecting and celebrating small family-owned producers brought appreciation and passion to each of their thoughtful pairings. A portion of the sale of each ticket for the series was donated to the Stop Community Food Centre, which has a mission to increase access to healthy food in a manner that maintains dignity, builds health and community and challenges inequality. After all, breaking bread is synonymous with forming connections with others, and, at Dolce, these connections extend beyond immediate family and friends and into the community. At its essence, Dolce's dinner party series invited guests to "come for the food and stay for the friends," and in this it was a resounding success. The dinner series concluded but the friendships made over food, drink and conversation around the Dolce dinner table are sure to last for years to come.