Dolce Dinner Party With Chef Gabriele Di Marco At Oretta Midtown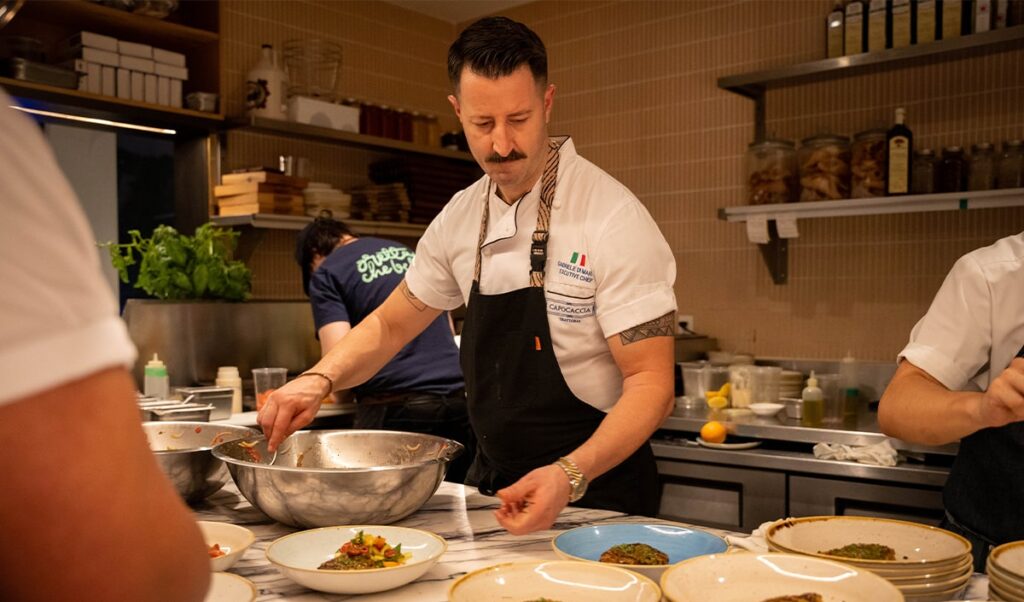 The dinner table grew larger at the fourth and final dinner in the Dolce dinner party series, held at Oretta Midtown on May 30. That meant more fun, laughter and new friends made and more to give back to the community, with a portion of each ticket going to The Stop Community Food Centre. True to the intention of the dinner-party series, guests came for the food and stayed for the friends, immersed in the glamorous art-deco interior of the restaurant that embodies the Italian lifestyle with Mediterranean hues, luxurious finishes and a striking marble bar at the centre that serves up signature aperitivi and exceptional Italian wine.
Chef Gabriele Di Marco's four-course menu was inspired by the cuisine of his home region of Sicily — a cuisine based on the bounty of the island's surrounding waters. Paying homage to Sicily's love for raw fish, guests enjoyed orata crudo as a starter. Next on the menu was risotto alla Norma, Chef Gabriele's twist on the classic version made with pasta. The name for this iconic Sicilian dish, made with eggplant, tomato, basil and ricotta salata, was coined by Italian playwright Nino Martoglio who, overwhelmed by its flavours upon first trying it, likened its greatness to Vincenzo Bellini's famous opera. For the main, another Sicilian classic, pesce spada — swordfish with capers, olives and tomatoes — was served with typical Sicilian salmoriglio sauce. And finally, an olive oil panna cotta with clementine marmalade for dessert, citrus being an integral part of Sicilian cuisine. Constant throughout the menu was the use of Zerillo Premium Extra Virgin Olive Oil, enhancing each dish by imparting the flavours of the exceptional Puglian terroir that produces some of the best extra virgin olive oil in the world. Once again, Connoisseur Wine Imports collaborated to provide a sommelier-led selection of wines and spirits. With a unique approach to selecting and celebrating small, family-owned producers, Connoisseur Wine Imports brought appreciation and dedication to their thoughtful pairing.
"Chista è 'na vera Norma!" or, "This is a real Norma!" This is what Nino Martoglio exclaimed as he reflected on the magnificence of the famous Sicilian dish. And this is the sentiment felt as Dolce's dinner party series comes to an end, as the memories and friendships made over food, drink and good conversation, around the Italian dinner table, are sure to last forever.
www.zerillo.ca
www.shopdolce.ca
www.con-nois-seur.ca
www.thestop.org
www.oretta.to