Eric Carlson's Eternal Design For Dolce & Gabbana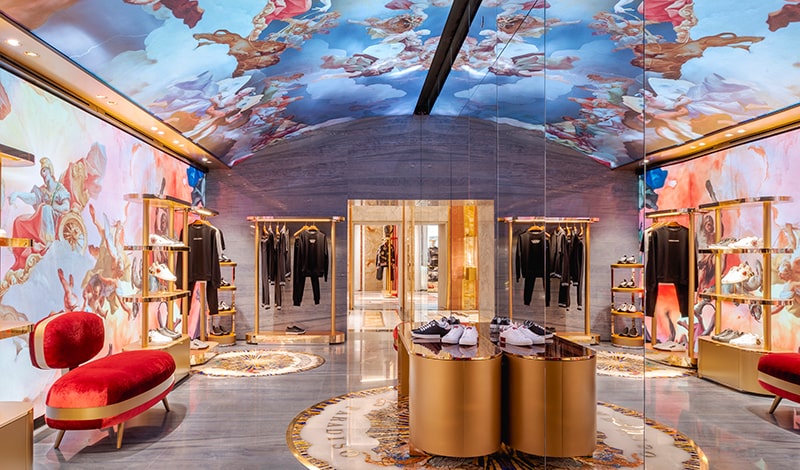 Architectural design firm Carbondale has elevated retail design to the next level in a new boutique at Rome's Spanish Steps.
European design has been raving about Paris-based architectural design company Carbondale, which recently unveiled its latest project — a Dolce & Gabbana boutique within Piazza di Spagna at the base of the Spanish Steps, in the centre of Rome. This stunningly beautiful boutique elevates retail design to a whole new level, which is most appropriate, given its historical location.
No stranger to Dolce & Gabbana, Carbondale certainly appreciated the history of this assignment, having recently completed boutiques for the luxury retailer in Venice, Italy, and Monte Carlo, Monaco. Its design for the Venice Dolce & Gabbana boutique won the 2018 awards for Best Retail Interior Worldwide and Best Retail Interior for Europe.
And yet, this Dolce & Gabbana boutique had to be completely different, bringing the grandeur of Rome's creative excellence and the Spanish Steps into the design objective.
What Carbondale has created within the 1,000-square-metre, two-level space is a visual feast. "Our desire was to create a beautifully impressive contemporary interpretation of the rich traditions of Roman culture, power, craftsmanship and the Italian baroque," says Carbondale founder, Eric Carlson.
Picking up on one of the Eternal City's most ubiquitous and emblematic features — the stone column — the Carbondale team used the column as the unifying design element for the exterior, as well as 13 interior spaces of the boutique.
At the entrance, Carbondale employed the baroque technique of "forced perspective," which distorts the perception of depth with three contiguous spaces, decreasing proportionally in size, ceiling heights, column sizes and floor patterns. Even the eye-catching red-and-gold hand-blown Murano glass chandeliers were designed in three different sizes for effect. The entrance is only one of a series of baroque experiences Carbondale has creatively layered throughout the boutique's design.
The Grand Room is next, a majestic space dedicated to women. It is 22 metres long with six-metre-high ceilings, capped with two skylight domes, each lined with coloured rings of stone mosaics.
Carbondale even paid tribute to Rome's rich culture of literature, philosophy and poetry in its design. In all, 32 Latin inscriptions are captured in the floors, wall friezes, door passages and window frames throughout the stone architecture.
"When Designing, I Am Constantly Weighing The Visitors' Perceptions With The Meanings And Feelings That Will Define Their Experience"
"Dolce & Gabbana want to pursue a bold and innovative strategy to create a unique and distinctive architectural retail environment for each store," says Carlson. "This quest for authenticity is the next level for luxury retail architecture."
The piano nobile ("noble floor") section of the boutique is a linear series of rooms with 11 windows allowing natural light, each space a modern palatial room of stone, colour and light.
Climbing a grand marble staircase, visitors are treated to Carbondale's design masterpiece in the boutique — the Digital Gallery. Inspired by Vatican City's Sistine Chapel, this linear vaulted gallery features a full-length mirrored wall and a vaulted ceiling fresco.
While visually stunning, inviting and engaging, Carbondale has designed this boutique to not only showcase luxury products, but also to solicit emotions from its visitors, which it most definitely does.
"When designing, I am constantly weighing the visitors' perceptions with the meanings and feelings that will define their experience," says Carlson. "This is what determines 'identity,' and correctly capturing this is the most important thing for me to achieve in all my projects."
Perhaps it's most appropriate to recall the Latin phrase "Caveat emptor," which means "Let the buyer beware." At the Dolce & Gabbana boutique at Rome's Spanish Steps, it's true to beware, while also prepared to be amazed.