Tom Ford, Fashion Designer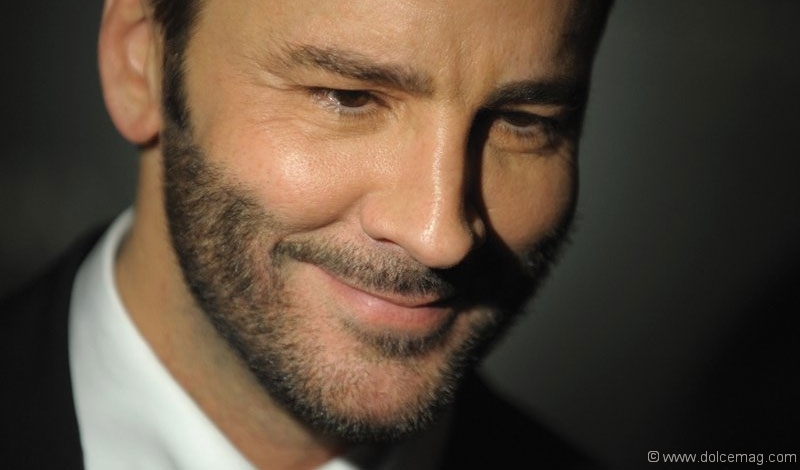 Tom Ford understands that honesty is the humble man's greatest weapon. His words in front of a fashion-savvy audience at the Albert & Victoria Museum in London, England simplified who he is, how he feels about his sartorial siblings, and why he will continue to dominate the fashion world for years to come. "I am a perfectionist … there are many more talented designers than me, but I have a lot of drive and I won't let it go."
Like many great American success stories, they start somewhere obscure, (for Ford, it was Sante Fe, New Mexico) and then pick up steam in New York. Ford arrived in the capital of the world at age 17 to study Art History at New York University. In The City That Never Sleeps, wisdom lurks around every corner, just waiting to be interpreted. Dream chasers from around the world try to take a chunk out of the Big Apple but most fail to do so. For Ford, his most insightful learning experience occurred during his early days as a student in New York. There he realized that the broad field of study and the uncertain future that art history offers its students was not the ambiguous road he wished to travel upon.
His appreciation for all things beautiful and the personal moments of self-discovery along the way in NYC gave him the courage to drop out of university and follow his dream of becoming a fashion designer. He might have broken a couple of hearts at that moment, but the ones who truly loved him saw every bit of their well-wishing go to good use. Ford went from 'just another face in the crowd' to the face of the international fashion industry.
At age 24, he discovered an opportunity to work for American sportswear designer Cathy Hardwick, and he did what was necessary to earn an internship – even if it meant calling twice a day for 30 days straight.
Unexpectedly one day, the House of Gucci came knocking at Ford's door with a life-changing deal that would alter the future of fashion. Gucci asked him to take over as chief of its women's ready-to-wear line in Milan. He accepted, and within two years of working in Italy, became Gucci's design director.
As Ford climbed the ladder of success, Gucci hit a financial bump in 1993, which sent reverberations throughout the company. The storied fashion house was on the brink of bankruptcy and Ford was on the edge of unemployment. Somehow, it seemed like it was meant to be: the company switched ownership and the remaining owners selected Ford as the one who could turn it all around. Just like that, he went from nearly unemployed to newly crowned creative director of the worldwide Gucci Group.
Under his lead, sales for Gucci in 1995 to 1996 not only jumped, they skyrocketed; in total, the company's value increased by 90 per cent. Gucci went from a whisper to an all-out scream. The brand became a celebrity, and celebrities were wearing the brand. When he left in 2004, the company's worth was $10 billion. As Ford spoke openly at the Victoria & Albert Museum in London, he credited his success in the high-end fashion world to the mainstream appeal of his designs: "I'm lucky, I have mass-market taste … if I like a shoe, chances are, millions of people will like it, too." In a 2007 interview for the Australian Financial Review, he trivialized his historic success at Gucci as, "only the prelude to the Tom Ford label." The facts speak for themselves. There are 21 Tom Ford boutiques around the world. There is one store in every major populated continent. From Milan to Azerbaijan, when it comes to the Tom Ford brand, fashion has no boundaries.
The same is said about his provocative marketing campaigns. One of his most controversial ads shot by famed photographer Mario Testino has model Carmen Kass pulling down her panties to expose a perfectly waxed "G" (for Gucci) in her nether region.
His company, Tom Ford, of which he is the CEO of, has welcomed international juggernauts like Estée Lauder, Ermenegildo Zegna, and the Marcolin Group, to team up and internationally expand the Tom Ford beauty, menswear, and sunglass labels. If he is building an international empire, then that would only suggest that soon enough he will be the emperor of fashion. His line includes clothing only for men, and accessories for both men and women. Ford is currently building a team that will help him create his women's line, which will slowly make its debut throughout the year.
At age 48, Ford has decided to expand his horizon and test his creative hand with a directorial debut in a feature film starring veteran actors Colin Firth and Julianne Moore. His film is based on Christopher Isherwood's book A Single Man. Firth was surprised by Ford's demeanor, in that it lacked a certain flair he assumed all fashion designers carry with them. Firth won't give him swagger but apparently he will take his suits. The English actor met Ford at an Oscar party in 2007. In a recent interview on The Oprah Winfrey Show, Firth discussed how Ford's personality did not match the schema of the high-end fashion guru. "I didn't know much about the fashion world, but I certainly knew Tom's reputation for a certain kind of brilliance. For someone who has such perfection about him and such clarity and a lot of power, frankly, there's no swagger." In A Single Man, one of the Tom Ford suits found its way into Firth's closet. The British actor had this to say: "How could I not grab it? It's like a garment from the gods."
Ford and Firth sat down with Oprah and spoke about Ford's award-winning film, and Firth's career-defining performance. When asked about the experience of making the film under Ford's guide, Firth eloquently described Ford as "the most talented director I've ever worked with in respect to setting mood in motion." In a backstage interview after the show, Ford acknowledged Firth's compliment and credited the talent of setting "mood in motion" to his fashion shoots that involve so much precision in their attempt to emit emotion from a still photo. Ford conceded his nervousness to Oprah as a first-time director, but affirmed that his vision helped him work through his insecurities. "You have to feel like you have something to communicate, and then, in both fashion and film, you have to work with a team of people to help you do that."
The film received international acclaim. Peter Travers from Rolling Stone Magazine called it "rapturous and remarkable!" A Single Man has won two Independent Spirit awards, including Best First Screenplay and Best First Feature. Firth won a British Academy of Film and Television Arts (BAFTA) for Best Actor, and was nominated in the same category by the Academy Awards and the Golden Globes. Ford produced the feature film under his production company, Fade to Black. Twenty years after discovering his road to success, this style icon has founded a fashion line and a production company.
Ford is an inspiration. He proves that hard work is the cornerstone of a success story. Ford credits his success to energy and not necessarily to talent. He sleeps three hours a night and keeps post-it notes by his bed, just in case he wakes up with an idea. One could even go as far as calling him the ultimate human embodiment of perpetual motion. The passion to create and the obsession of perfection have taken this young man from Texas to the forefront of the fashion industry. With talks of a second film in the making, watch out Hollywood, Ford looks like he's ready to take his veni, vidi, vici, philosophy to the film industry. www.tomford.com