Yayoi Kusama: The power and Beauty of nature By art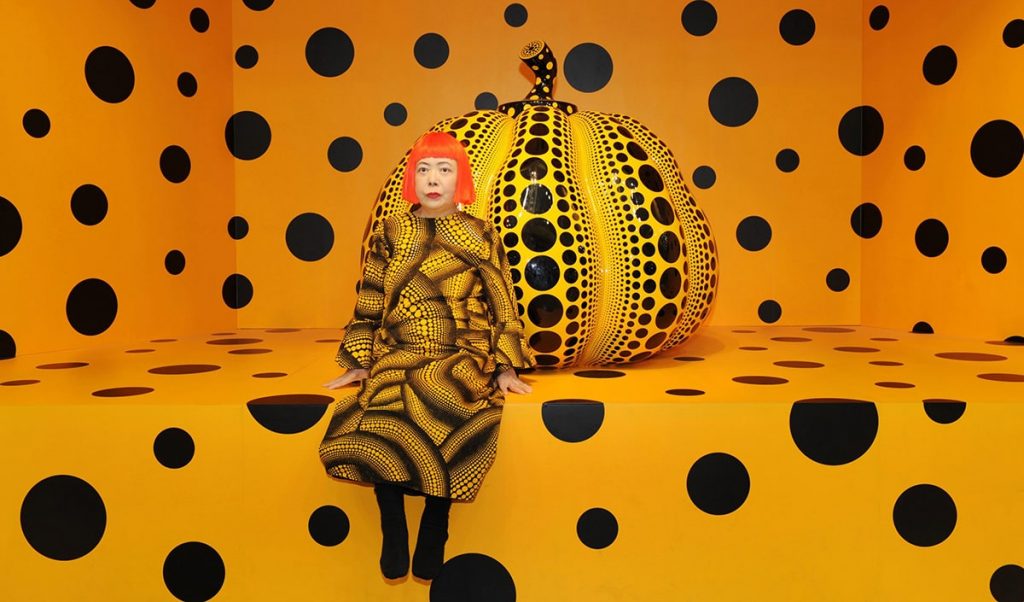 Midway through her exhibit at the New York Botanical Garden, celebrated Japanese artist Yayoi Kusama takes visitors on a voyage of discovery, wonder and artistry.
It would be an injustice to not let artist Yayoi Kusama's own artistic language describe her current exhibition, KUSAMA: Cosmic Nature, at the New York Botanical Garden, running until Oct. 31: "Dancing through our universe are noble souls whose magnificent forms are saturated with mystery. I invite you to explore the endlessly expanding ode to the beauty of love that is my art."
Postponed in 2020 due to the pandemic, the exhibition by the internationally acclaimed artist opened in April 2021 at the botanical garden in the Bronx and includes four distinctive experiences. The exhibition is presented through multiple outdoor installations revealing Kusama's lifelong fascination with the natural world and its countless manifestations, beginning in her childhood, when she spent time in the greenhouses and fields of her family's seed nursery in Matsumoto, Japan.
By integrating seasonal horticultural displays, KUSAMA: Cosmic Nature further illuminates the power of nature that pervades the artist's practice and her dynamic body of work. The exhibit is almost living and breathing, as it is designed to change through spectacular seasonal displays making each visit different as new plantings, textures and palettes are introduced.
Yayoi Kusama is one of those rare artistic visionaries who inspires, excites, makes us wonder and, perhaps most importantly, think. She is both intriguing and fascinating, and has been acknowledged as one of the most important living artists to come out of Japan. She has continued to create art, most notably installations in various museums around the world, since the late 1970s.
A contemporary artist who works primarily in sculpture and installation, it is perhaps her wide spectrum of abilities that separates Kusama from others. She is also active in painting, performance, film, fashion, poetry, fiction and other arts. Her work is based in conceptual art and is known to be deeply personal and revealing about herself, her life and her struggles.
Kusama has been open about her mental health and says that art has become her way to express her mental health issues. Through her use of some attributes of feminism, minimalism, surrealism, art brut, pop art and abstract expressionism, her art is infused with autobiographical, psychological and sexual content.
She moved to New York City in 1958 and was part of the avant-garde scene of the 1960s, especially in the pop-art movement. She embraced the rise of the hippie counterculture and came to widespread public attention when she organized a series of "happenings" in which naked participants were painted in brightly coloured polka dots.
Polka dots have been a recurring imagery for Kusama throughout her life and career, beginning at 10 years old when she began to experience vivid hallucinations, which she described as "flashes of light, auras, or dense field of dots." These images included flowers and patterns in fabric that Kusama stared at coming to life, multiplying and engulfing her. This is a process she has carried into her artistic career and which she calls "self-obliteration."
The New York Botanical Garden exhibition is installed across the garden's 101-hectare landscape, which has been transformed by Kusama's monumental sculptures of flora, accented by her signature polka-dotted organic forms and captivating paintings of plants and flowers.
Among Kusama's works created for, and debuting in, this exhibition are:
– Flower Obsession (2017/2021): Kusama's first-ever obliteration greenhouse.
– Dancing Pumpkin (2020): a monumental sculpture presented on the lawn of the Enid A. Haupt Conservatory.
– I Want to Fly to the Universe (2020): a four-metre- high biomorphic form presented in the Garden's Visitor Center.
– Infinity Mirrored Room – Illusion Inside the Heart(2020): an outdoor installation reflecting its environs.
In and around the Enid A. Haupt Conservatory, Kusama's plant-inspired polka-dotted sculptures are nestled among meadow grasses, bellflowers, water lilies and other plantings. The glorious outdoor displays of tulips and irises in the spring have now given way to dahlias and sunflowers for these summer months, to be followed by masses of pumpkins and autumnal flowers this coming fall. Also featured this fall will be stunning displays of meticulously trained kiku (Japanese for "chrysanthemum," one of that country's most heralded fall-flowering plants), which will create dramatic finale for the abundant displays at the conservatory.
"I invite you to explore the Endlessly expanding ode to the Beauty of love that is my art" — Yayoi Kusama
"For Kusama, cosmic nature is a life force that integrates the terrestrial and celestial orders of the universe from both the micro- and macrocosmic perspectives she investigates in her practice," says Mika Yoshitake, PhD and KUSAMA: Cosmic Nature guest curator. "Her explorations evoke meanings that are both personal and universal. Nature is not only a central source of inspiration, but also integral to the visceral effects of Kusama's artistic language in which organic growth and the proliferation of life are made ever-present."
Advance, timed-entry, limited-capacity tickets for this landmark exhibition are required and on sale at www.nybg.org
We have all been quite naturally focused on Mother Earth these last 18 months, but it does provide some comfort and perspective to have an artist such as Yayoi Kusama lending us her artistry to remind us of the overwhelming power and beauty of nature and the universe and that we are all a part of something much bigger. Perhaps cosmic nature is exactly what is needed when we're most in need.