Studio Galleria Romanelli: Sculpting Passion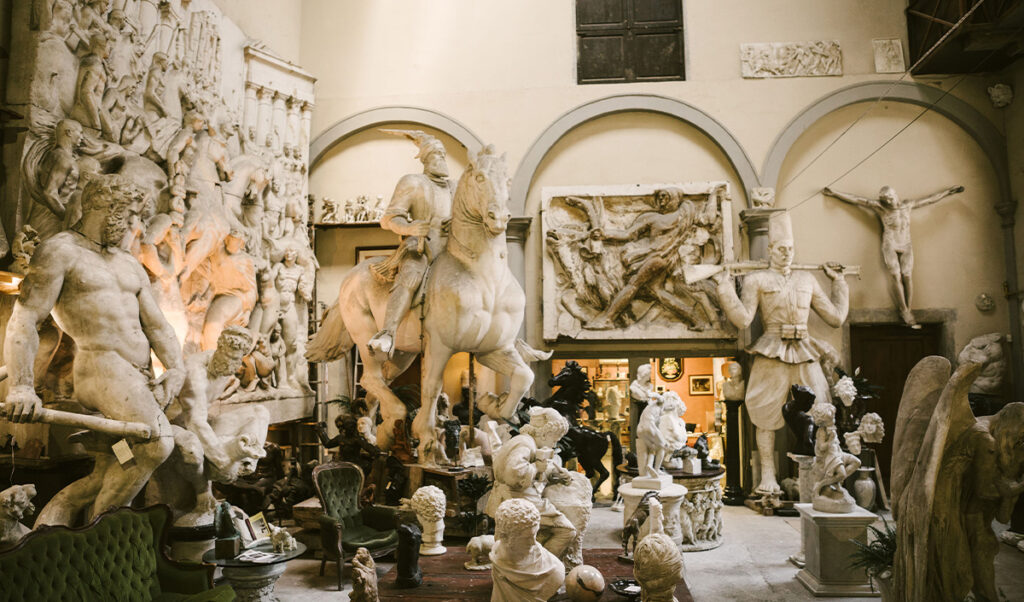 Raffaello Romanelli is one of the world's most acclaimed sculptors, and his Studio Galleria Romanelli in Florence creates some of the most sought-after pieces in the world.
Art can take many forms in many different media. It can be found in a simple or grand painting, elaborate jewelry, architectural design or in the beauty of a stunning aria or the rhythmic cadence of a hip-hop riff. But whatever the form or medium, a common denominator is that the passion of the creator is revealed.
Passion is in abundance at the Studio Galleria Romanelli in Florence, Italy, where the same family has been making and trading beautiful sculptures known the world over for more than two centuries, blending their Italian traditions with contemporary taste.
Studio Romanelli marries technical proficiency with stunning design, curating a vast collection ranging from classical and Renaissance pieces to neoclassical and contemporary masterpieces. Traditional and modern techniques combine to create distinctive pieces of art. Its bronzes are cast according to the "lost wax" method and then accurately chiselled, and its marble sculptures are hand-carved out of the finest Carrera marble. Among these are treasured Romanelli creations, which form part of an exclusive collection held by the Studio.
THE ROMANELLI FAMILY HAS BEEN MAKING AND TRADING BEAUTIFUL SCULPTURES KNOWN THE WORLD OVER FOR MORE THAN TWO CENTURIES.
The in-house sculptor is Raffaello Romanelli, who represents the fifth generation of Romanelli sculptors in the male line. He works on personal pieces for clients and supervises the creation of every product that comes out of the studio made by its skilled artisans. The studio caters to art lovers, collectors, investors or architects and designers searching for bespoke pieces of art. The Florence studio also welcomes visitors and students interested in taking short courses on how to sculpt with passion and learn techniques that breathe life into sculpture, as well as family workshops.
The human figure is the trademark of Raffaello's work, and the natural proportions of the human body are a continual source of inspiration for him. Romanelli's pursuit of realistic representation is the source of the beautiful forms he creates for his global clientele. His forte is portraiture as he is meticulous about modelling from life. This creative brilliance enables him to capture the facial form, a myriad of expressions and the personality of his subject. This is the secret behind the expressive nature of his works and his distinctive, signature style.
Following in the footsteps of family members before him, Romanelli breathed the air of a studio as a child and developed a special affinity for art by being visually nourished by the examples and craftsmanship of his ancestors. He observed, experimented and soaked up the ideas and knowledge from the sculptors who came before him.
Romanelli went on to undertake classical training from Charles H. Cecil Studios in Florence, where he developed and then mastered the technique of drawing and sculpting from life, allowing his passion for art to shine brightly.
Today, the ancient family studio at Borgo San Frediano is under his expert care. It is a place of work, obviously, but also a place which curates creativity and is a source of constant inspiration. It is here where Romanelli gives life and passion to his personal projects and where he receives his many international clients, all of whom appreciate the value of his work and his distinctive artistry. There is worldwide cachet possessed by a Romanelli piece of sculpture.
His works range from stunning bronze limited editions to hand-carved pieces made from the finest marble. His passion for his craft can be seen by his dedicated work in teaching sculpture courses. In this way, Romanelli ensures his techniques' continuity and is able to pass along his considerable knowledge acquired by his decades of experience in his family business. He is both proud and willing to share these experiences that enable aspiring sculptors to learn the skills they need to create a piece of art — the very definition of carrying on and giving life to a tradition.
Romanelli recently shared his thoughts with Dolce on his works, his craft, his traditions and their meanings to him in a conversation where his joy and his passion clearly shone through.
www.raffaelloromanelli.com
@raffaelloromanelli

Q. How important to you is it to be able to present the legacy of the Romanelli Family to the world?
A. If beauty will save the world, then that is the important aim.
Q. What is the most important piece, to date, that you have worked on?
A. Each piece is important to the people that will have it. We constantly work for museums, public squares, public gardens and lots of private homes.
Q. What is the most fulfilling part of your work?
A. In the teaching, when the students get what I'm saying, and they start seeing what's there. For the creation of a new piece, the beginning and the finishing steps.
Q. How do you define art?
A. Clever thinking together with beauty and passion.
Q. What type of clients look for a Romanelli piece?
A. Art lovers, collectors, investors.
Q. Where do you see your brand in five to 10 years?
A. The same but bigger, and more people know about us.
Q. What are the characteristics that distinguish a Raffaello Romanelli piece from other works of art?
A. Its uniqueness is in the eye and hand of the sculptor that manages to create original pieces.
Q. What is your fondest memory about your family history?
A. Looking at art pieces created by and for my family.
Q. Where do you draw your inspiration from?
A. Nature, masterpieces created by masters.
Q. What is your definition of la dolce vita?
A. A vain word — nothing is dolce in la vita except for the smile of a baby.
Q. If you could create a piece for anyone or any space, who or where would it be?
A. Possibly a sculpture which can inspire young people to see the world with hope. So, it could be a composition with several figures representing the traditional family placed in an art school.