Yorkville's Izzy Gallery-The Art of Capturing Glamour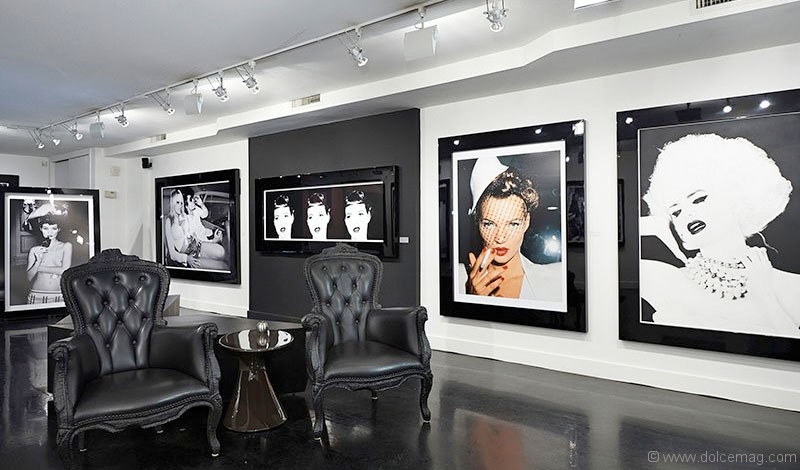 The work of legendary photographer Roxanne Lowit comes to Toronto
Lining the walls of Yorkville's Izzy Gallery this month are the familiar faces of celebrated models, artists, actors and designers who have two things in common: glamour and the woman who captured it on film. The work of photographer Roxanne Lowit illustrates the kind of glamour that fashion fairy tales are made of. I sat down with the legendary photographer before the opening of her latest show, "Toujours Glamour," where we spoke of her introduction into the world of fashion and photography, some of her favourite moments and what she has planned for the future.

Lowit began photographing in New York, backstage, after fashion illustrator Antonio Lopez gifted her with a Kodak 110 Instamatic. She was an artist at the time and shooting backstage was a way to capture the people she wanted to paint. Annie Flanders, former style editor of SoHo Weekly News, found out about Lowit's work and proposed an idea. "'If you get a real camera,' which meant a 35 mm, 'and you are going to Paris, you can take pictures for me and I'll use them in the newspaper,'" Lowit recounts of the exchange. And to Paris she went, using the time on the plane to read about how to load film into her new camera. Lowit ended up on the top of the Eiffel Tower with Yves Saint Laurent and Andy Warhol. "Oh, wow, it can't get any better then this!" she says with a smile, reminiscing about her early memories. She returned to New York, ditched the paintbrushes and has been taking pictures ever since.
Lowit photographed Warhol and Saint Laurent in the years that followed, mostly at night and often within the fabled walls of Studio 54. Lowit's photographs from the Studio 54 years are some of her most celebrated, and I ask why she paid particular attention to the nightlife scene and the creatures who flourished within it. "Well, I think people look better at night. They have more fun … Everyone went out and looked gorgeous and glamorous. There was a lot of energy there, and it didn't matter what you brought to the table as long as there was something." Lowit goes out often and continues to photograph the next generation of glamorous subjects, and she "enjoy[s] capturing everything that is fun to capture. I like taking pictures of people who like having their pictures taken," she adds.
Kate Moss is a recurring face in the exhibition, although at first glance you wouldn't know it, as her chameleon-like method of modelling plays tricks on the eye. In one photo she brings to mind a young Judy Garland; in another she oozes sex appeal from behind a veil, with a perfectly placed cigarette. In others I find her looking ordinary yet authentic. One photo included in the exhibition captures Moss backstage with Tom Ford during his reign at Gucci. "Orlando Pita was spraying Kate Moss with water so when she went out [on the runway] it would look like she had been swimming. Tom Ford said, 'You're being too gentle with that,' and he grabbed it and sprayed her with the water. Kate was perfect, she just posed."
The impressive archive Lowit has accumulated is being put to use producing books like People: Life After Dark and Backstage Dior as well as exhibitions. Her solo show "Iconic" was on display at Moscow's Museum of Contemporary Art in 2011. She's currently finishing her latest book, about Yves Saint Laurent, who in the early 1980s Lowit documented as he prepared for the first retrospective of a living designer at the Metropolitan Museum of Art under the direction of Diana Vreeland. "I was really honoured to be the chosen one. I spent over a week with him. I was in heaven and my feet didn't touch the ground — he was delightful and wonderful," Lowit recalls. The new book will explore the backstage experience at YSL's shows as Lowit experienced them over the last 25 years of his career. Izzy Sulejmani, owner of Izzy Gallery, has witnessed the increased interest in works like Lowit's. "Photography in general has grown in popularity over the last 10 years. A lot of new technology has allowed us to do very large-size photographs and they look stunning in extra-large formats." Izzy Gallery was established in 2008 with an emphasis on photography. Sulejmani represents a wide range of photographers, including Ellen von Unwerth, Albert Watson and the late Bert Stern. Sulejmani understands the importance of having Toronto's art community meet the artists he represents. "It's always interesting when people can connect an artist's face with their work." He himself makes time to get to know the artists he works with. "It is very important for me to know the artist very well because it makes the working relationship that much easier."
All of the photographs included in the exhibition have a wonderful timeless appeal to them. "I think they are alive and capture a moment," Lowit says of them. "I think that there is a certain purity and honesty to them, and I think that way it just becomes a classic and it works … doesn't matter how old it is, it's just right."
Roxanne Lowit's "Toujours Glamour" is at Izzy Gallery, 106 Yorkville Ave., until March 15, 2014.