Cristal: The Socialites Champagne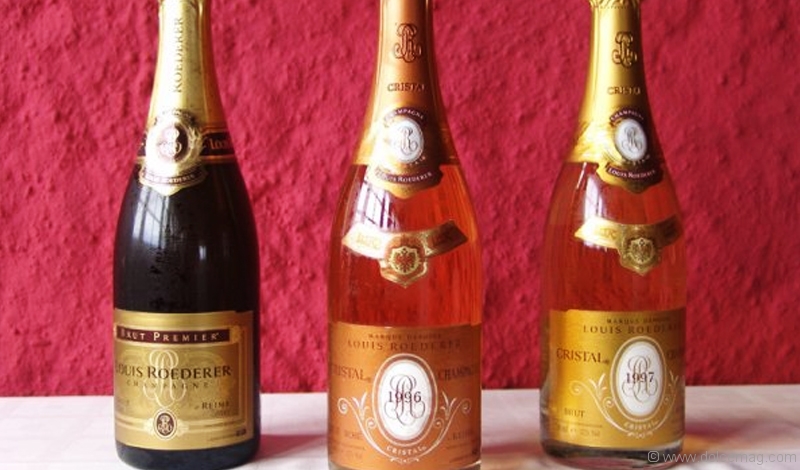 If you ask your kids about Cristal they may point to the TV where some hip-hop artist wearing too much jewelry sits in a Gallardo, bottle in hand, pouring the sparkling champagne over a scantily clad woman, all the while carelessly throwing hundred dollar bills in the air. But this historic product is so much more than a "playa's" plaything. Although it's been glamorized and sensationalized in pop culture, this refined and regal champagne has a prestigious history linked with Russian royalty, and is one of the finest products you can sip on today.
In 1876, the Russian czar Alexander II was under constant threat of assassination. There were many hands between him and his entrees, and the possibility of death-by-food was ever present. One fear in particular involved explosives being hidden in his bottles of wine – the deep green and brown of the glass could easily conceal a small explosive. To remedy this precarious prospect, Alexander turned to one of his favourite and most esteemed French wine producers, Louis Roederer.
Originally founded in 1776 in Reims, France, Roederer's winery was already firmly established for its decadent drinks. Roederer agreed to exclusively bottle his spectacular champagne in clear, crystal bottles, so nothing could be hidden inside. This iconic brand has since become known as "Cristal" and is still a staple of wealth and luxury today.
"Cristal is not just a big flashy product," says Frank Rey, Ontario specialty brands manager with Authentic Wine & Spirits Merchants (AWSM), the Canadian distributor of Cristal. "It's a very, very high-quality product. As a matter of fact, the 2002 [vintage] was rated 100 out of 100 by Wine & Spirits Magazine."
Over two centuries old, the family-owned Louis Roederer company continues to flourish with its renowned and celebrated champagnes. Although no longer exclusively produced for Russian czars, Cristal is still associated with elite lifestyles. Retailing for just under $300, you'll pay up to $1,000 for older bottles. The Cristal Rose 2002 edition was auctioned off for $1,200.
Part of Cristal's prestige is that it is "true" champagne, meaning it comes from the Champagne province in France. Known for its deep chalky soil, the conditions in this area are so specific they cause the grapes to develop a highly distinct and intensely rich flavour, which elevates the province's wines to prestigious levels.
Made from 55 per cent Pinot Noir and 45 per cent Chardonnay, a vintage of Cristal is only declared when the environmental conditions are perfect, creating a precise balance between the two wines and further adding to the exclusivity of the product. "The climate has to be perfect, that's really the key," explains Rey. "Mother Nature definitely rules when it comes to a great vintage … if the harvest is the quality that they expect it to be then that's when they declare a vintage."
The years when a vintage is declared is deemed a "great" year. Over the last two decades only seven years have seen the precise conditions for a vintage of Cristal to be produced: 1990, 1996, 1997, 1999, 2000, 2002 and 2004. "Cristal is highly allocated – they only produce it in exceptional years. That's one thing that sets Louis Roederer apart from the rest of its competition," acknowledges Nikki Zolis, AWSM's national marketing manager for Louis Roederer. "Because it's family owned, the company is able to have more control over the quality of the wine; they always want to maintain a super-premium quality every time they produce their champagne."
In the latter part of the 1990s, Cristal became associated with the conspicuous consumption glamorized by rap and hip-hop. Artists including Jay-Z, P. Diddy and auto-tune aficionado T-Pain all rhyme about the breathtaking beverage, highlighting their wealth and power by consuming copious amounts of the pricey prestige cuvée.
However, a rift formed between the two entities when Jay-Z accused Louis Roederer's managing director, Fredric Rouzaud, of allegedly making "racist" comments towards hip-hop artists. Jay-Z boycotted Cristal, removing it from his clubs and refusing to further endorse the product.
Such a blow may seem like a hard loss for Louis Roederer, but sales of the upper-class juggernaut have remained strong. "We have seen continued growth of Cristal over the years," comments Zolis. "Really the only time when we saw a blip was when the economic downturn began."
In fact, Cristal's sales have grown by 18.5 per cent throughout 2010, and continue upward. But don't let this fool you: only 2,128 750 ml bottles of Cristal have been sold in Canada this year – this is still a product reserved for the privileged. "It's not just a go-out-to-a-club type of product. This is a connoisseur's wine as well," explains Rey. "I don't want to say price is irrelevant, but you can only charge this price if the quality of the product is there."    www.champagne-roederer.com