Carl Heinrich: Stepping up to the Plate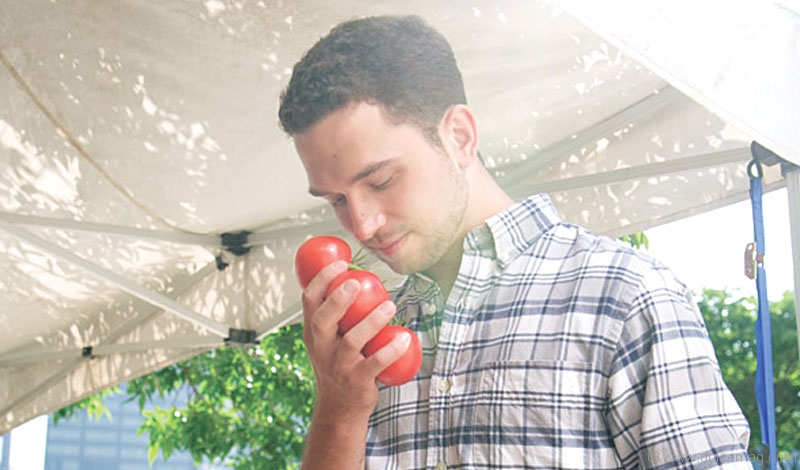 What could be more fitting than meeting the winner of Top Chef Canada at a farmer's market? Carl Heinrich arrives riding a bicycle —"It's the only way to get around the city," he says — and is almost instantly recognized by a pedestrian. "My wife loves you," says the onlooker. On that scorching June afternoon in downtown Toronto, everyone's attention is on Heinrich. And how could it not be?
Kind, blue eyes and a charming demeanour make it hard to believe that this 27-year-old man is hungry for competition. "My winning strategy was: don't lose," Heinrich says simply, as if cooking has become as natural as tying his shoelaces. "If you don't want to be better every day, then you won't make it to the top." And there is no doubt Heinrich is on his way up.
Raised by a single mother, Heinrich learned how to cook at a very young age. "She was working full-time and coming home and making dinner and doing dishes and putting the kids to bed," he says of the woman he admires. "I sort of just stepped up to the plate." By the time Heinrich was done high school, he had fostered his passion and was preparing every meal for his siblings. After sharpening his skills at the Stratford Chef School, he began mixing things up in kitchens across Vancouver, New York City and Toronto.
On June 4, 2012, this small-town guy from Sooke, British Columbia, was revealed as the winner of one of the most talked about chef challenges and immediately became a Canadian face to follow. "On Top Chef, Carl was a dedicated perfectionist, he was quiet about how he proceeded with each challenge and he was by far the most consistent competitor we had," says head judge Mark McEwan. Heinrich won over the judges with an elaborate four-course meal with smoked trout salad and roasted elk loin, but that doesn't mean he can't remember the dish that started it all. "It was meatballs with rice prepared in a Dutch oven," he says, reminiscing
about his first cooking adventure at 12 years old. "It was called porcupines."
Although his recipe for success has been unclear at times, Heinrich has an unwavering drive that keeps his eyes on the prize. "There's been a few times when the chef gets really angry and you get yelled at," says Heinrich, looking back at his mistakes as a junior chef. "The most important thing is that you take it with a grain of salt and
wake up the next day and keep going."
In early fall, Toronto's downtown core will be welcoming Heinrich's first restaurant, The Richmond Station. "It's going to feature farm-to-table cuisine. I know that's kind of becoming cliché now and very trendy, but if buying food directly from a farmer is trendy, then sign me up." Wide-eyed, he picks up fresh tomatoes at the Metro Hall Farmer's Market at David Pecaut Square, and I start predicting the quality of ingredients that will make up The Richmond Station kitchen. "If you can take a dollar and that dollar doesn't have to leave your community, or your province or, at minimum, your country, then that's a dollar well-spent," says the local food advocate. The new restaurant at Yonge and Richmond will feature 90 seats, rustic décor and an accessible menu.
Hoping to fit in as a neighbourhood restaurant in the financial district, Heinrich is confident that downtown Toronto is the ideal location for his new business venture.
He was instantly attracted to the city because of its urban feel and lack of big-box restaurants. With independent stores continuing to sprout up around town, The Richmond Station will feel right at home.
Heinrich believes the ultimate sign of success is running a restaurant. Although he may not be the head of a food empire like McEwan, he is taking steps in the right direction. At first, Heinrich wasn't too sure about the response he would receive from his television exposure, but now he's reaping the benefits and is able to be his own boss. "I was worried that I wasn't going to be edited the way that I wanted to be edited." After watching the aired episodes, Heinrich is relieved with the outcome, and would even consider doing another reality show in the future. If he finds the time, that is.
Undoubtedly, the biggest challenge of owning a restaurant will be enduring the long hours and balancing work and home life with long-time girlfriend Julia Ayearst. "We met a number of years ago when I was just a cook, and she's been with me through this whole journey," says Heinrich, reminding us that he is just a regular guy. "I want to make sure there's a little bit of time for my girlfriend and me to get out of the city when we want to get out of the city, and go visit our folks when we want to go do that." With the title of Top Chef Canada following him around and the opening of The Richmond Station, it doesn't sound like relaxation is on the menu just yet.