Faces and Places of Toronto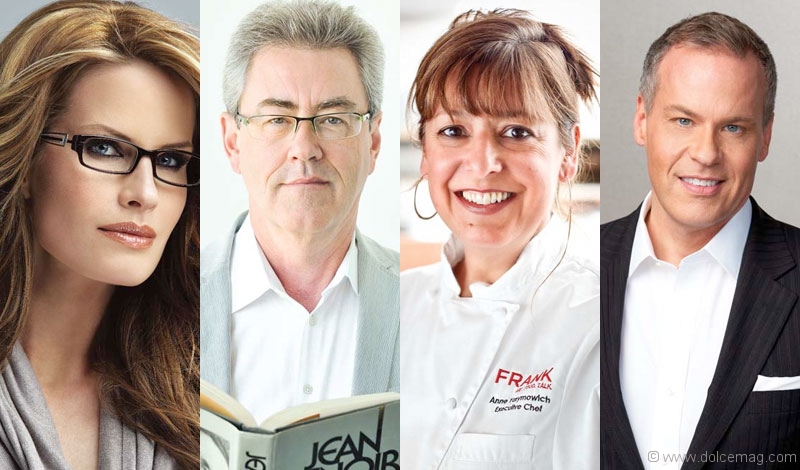 Anne Yarymowich
Chef, Art Gallery of Ontario's Frank Restaurant
Favourite real estate neighbourhood
The Bloor Street and Lansdowne Avenue area seems to be the new up-and-coming hood. I sold my house of 10 years there just before the neighbourhood started to turn. Drat! But, it was worth it to be able to buy something else with my new husband.
Toronto's best-kept secret
The rooftop bar at the Park Hyatt Toronto on Avenue Road. Everyone kind of knows that it's there, but you never think about it, and no one ever writes about it or reviews it. It's a great first-date place.
Favourite local artist 
Holly Farrell. She does hyper-realistic renderings of everyday items: vintage household pieces, toy trucks, old couches and armchairs. I love her palette, which has a real '50s feel.
Favourite independent store
Cheese Boutique, which has not only the greatest cheese selection in the city, but an incredible inventory of unique, exclusive, mouth-watering gourmet ingredients. I'm like a kid in a candy store when I'm there, and the owner never fails to greet me with an espresso or a Turkish tea. Awesome.
Favourite wine
My favourite for a long time has been Cave Spring Cellars' dry Riesling. 
It's my go-to desert island wine: versatile and food-friendly.
Favourite coffee shop
I love good coffee, but I'm not a coffee shop kind of girl. If I'm going to socialize, I prefer to do it over cocktails or a meal. But, for nostalgic reasons, I think my favourite is the original Balzac's in Stratford, Ont.
---
Leslie Roberts
Anchor, News Hour and News Hour Final (Global Toronto)
Favourite Toronto Restaurant
In a city with so many great choices, it's hard to pick just one. For Italian, I love Ciao in Yorkville. For sushi, it's a tie between Shogun and Japango. I recently had a spectacular meal at The Fifth. Bottom line, I love to eat out!
Favourite independent store
For fun design items and great gifts, I often check out Bergo Designs in the Distillery District.  
Favourite local artist
I support Canadian artists and have several pieces, but so far I have just one Toronto artist in my collection. It's a great piece by Beverly Owens that I found in a gallery next to the Drake Hotel. She takes the traditional methods of encaustic, adding her sculpting sensibilities with a contemporary flair. My favourite artist is actually a Montrealer who I found in the Thompson Landry Gallery in the Distillery District, and has gone on to international acclaim with comparisons to Andy Warhol. André Monet, now showing at Opera Galleries around the world, was recently commissioned to paint Prince William and Kate. I own his first-ever painting and his biggest, purchased long before he was famous. Given the return on my investment, I have to say that André Monet is my favourite artist.
Favourite Toronto neighbourhood
For a journalist you would think I could answer the question that was asked, but again, I can't narrow it down to one without mentioning others. I spend a lot of time in Yorkville and Forest Hill Village because of their proximity to my home, but for atmosphere, I love a trip to Little Italy or the Distillery District — that's where I take visitors to experience Toronto.
Toronto's best-kept secret
Quality of life. I hear it all the time from friends who visit from abroad. We have the best of what a big city offers without the serious problems or unaffordable costs that are associated with living in New York or Paris.
We often criticize our city for falling short of potential. It's time we look at what we offer and not what we're missing. It's so Canadian to play down our strengths and point out our faults!
---
Piers Handling
Director and Chief Executive Officer of TIFF
Favourite restaurant
Grano. I've been going to Grano for about 30 years, and have celebrated many birthdays there. It's homey and welcoming. The space feels natural, with separate rooms, an outdoor back patio, wooden tables, posters and photos. Topping this off is Roberto Martella and his wife, who are exceptional hosts. And the food and wine, Italian, tasty.
Favourite local artist
David Cronenberg, Atom Egoyan, Deepa Mehta. Toronto is home to so many creative and talented artists, but I have a special place in my heart for these three. Our lives have intermingled in wonderful ways ever since I came to Toronto in the '80s. Each has added to the richness of the city, and each has put his or her vision of Toronto into their films in one way or another.
Favourite adventure spot
Nepal. I've been there four times: twice trekking and twice climbing in the Everest and Annapurna mountain ranges. There is nothing like it. The highest mountains in the world and the Sherpa and Rai people are some of the toughest and best-natured people you will ever meet.
Favourite walking route
Riverdale to TIFF Bell Lightbox (Gerrard Street footbridge to Carlton Street through Ryerson University, University Avenue, King Street). I'm a big hiker and I walk into work every day — and often do the return trip as well when I'm not working late. The terrain is so different. I walk through the two Riverdale Parks that reconnect me to nature, then find myself in the quiet streets of Cabbagetown, pass through Ryerson, which often teems with students, cross Yonge Street where Sam The Record Man used to be, pass behind Nathan Phillips Square, walk down the magnificent wide boulevard of University Avenue into the Entertainment District, and on to our building.
---
Monika Schnarre
Model, actress and TV host
Favourite Toronto restaurant
The Fifth. From the moment you step out of the antique elevator, it feels as though you've been transported to another world.  The outdoor patio and exquisite cuisine always make for a memorable evening.
Favourite Toronto shop
Teatro Verde. It's my go-to place for gifts and flowers. Conveniently located in Yorkville, I like to swing by every so often to see what's new. From coffee table books, to cards, to tableware – there's always something new and interesting.
Favourite travel destination
Tuscany. There's just something about the warm air over the rolling hills and general laidback atmosphere that envelops the senses and the soul. 
Favourite spot to socialize in the city
Since we live up north in cottage country — my husband sells real estate in Muskoka — we rarely hit the social scene. But I do enjoy having a beer with friends at The Quail & Firkin on Yonge Street.
Favourite neighbourhood
We have a condo in Little Portugal.  The atmosphere, people and proximity to Queen Street are a perfect blend.
www.ago.net
www.globalnews.ca
www.tiff.net
www.monikaschnarre.com