Lumiere: Pistachio-Crusted Opal Valley Rack of Lamb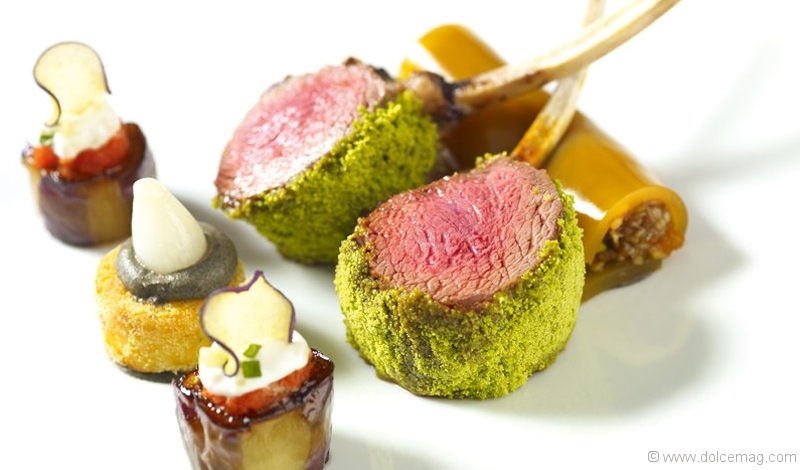 Tender and succulent; this marinated, seared and basted lamb bursts with the spicy flavour of harissa paste and the earthy and sophisticated taste of pistachios.
Ingredients:
2 lamb racks, trimmed, 2-21/2 lb each
1 tbsp harissa paste
5 tbsp olive oil
3 cloves garlic, smashed
2 sprigs of thyme
1 sprig of rosemary
1 bay leaf
½ cup finely ground Sicilian pistachios
1 tsp maltodextrin
2 tbsp butter
salt & ground white pepper
Method:
In a shallow container, coat the lamb racks with the harissa, oil, garlic, thyme, rosemary and bay leaf. Marinate, covered, overnight in the refrigerator. Purée the pistachios and maltodextrin in a food processor until powdery. When ready to serve, preheat the oven to 350°F. Remove the lamb from the marinade, and wipe off excess oil; season all over. Heat the butter in a skillet over a medium-high heat. Add the lamb, garlic and herbs from the marinade. Sear on one side for approximately four minutes, while basting.
Turn the chops over and sear on the second side, continuing to baste for another four minutes, or until medium rare. Rest for four minutes, then coat with the powdered pistachio.
Chef Dale MacKay, Lumière
In 2007, Dale MacKay joined culinary great Chef Daniel Boulud at Lumière – one of Vancouver's most elegant dining establishments. Since being appointed executive chef that same year, MacKay's passion and creativity have flourished through his familiarity with a broad range of techniques and methods, making his phenomenal recipes an unforgettable experience.
The amazingly talented Saskatoon native has journeyed and adventured around the world to convey the fruits of his labour home to Canada. Dazzling the European culinary scene as a private chef in both Rome and Italy; bringing his talents to the Queen Charlotte Islands as executive chef at The West Coast Fishing Club; and working alongside the devilishly renowned Gordon Ramsay in several of his intensely managed kitchens, MacKay has established himself as true culinary connoisseur. www.lumiere.ca