Chef Roberto Marotta & Jacqueline Nicosia: From Sicily, with love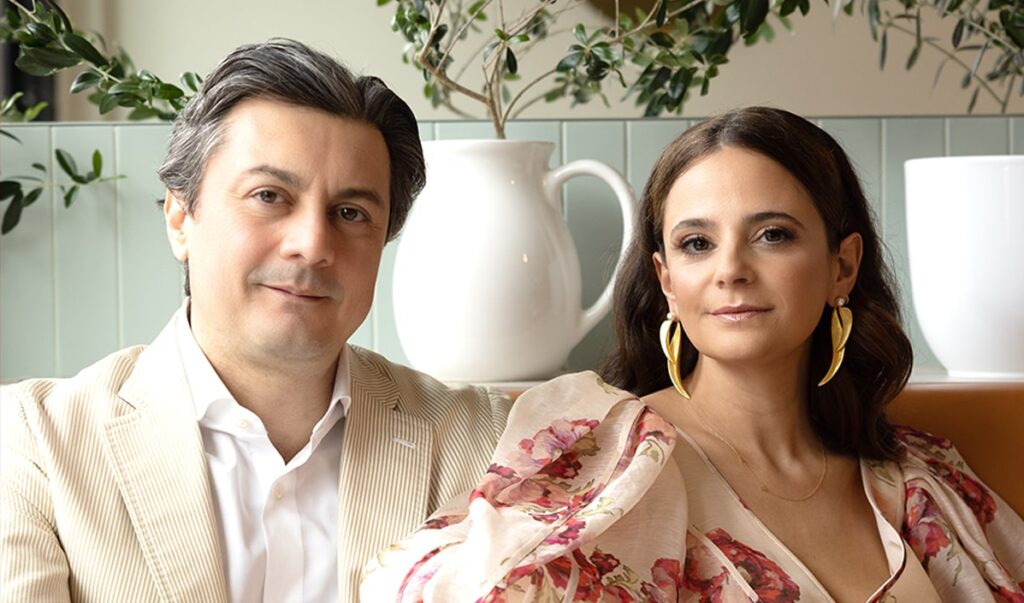 With restaurants Ardo and Dova, Chef Roberto Marotta and business partner, Jacqueline Nicosia, have brought authentic Sicilian cuisine to Toronto.
While traditional Italian cooking has become a staple and favourite of North American diners, with some aficionados even being able to discern between Northern and Southern Italian cuisine, Sicilian cuisine is slightly different, even mysterious, especially fine, top-quality tastes from Sicily as practised and mastered by Chef Roberto Marotta at his Dova restaurant in the heart of Toronto's Cabbagetown neighbourhood.
Sicily is one of those magical places on Earth. An island floating in the middle of the deep blue Mediterranean, its cuisine and method of cooking reflects the many countries surrounding the Mediterranean Sea. Lucky for us, Chef Roberto soaked up those influences and is a product of his roots, having been born in the port village of Milazzo and raised in a home where cooking was the centre of family life, memories which have stayed with him and shaped him.
"I grew up in a family in Sicily where food was a very important component of everyday life," says Marotta in a recent interview with Dolce. "It's not just about feeding ourselves, it's about the culture and what is in season. A beautiful memory that I have of my childhood in the summertime is going with my grandfather to the fish market and seeing what was fresh and what was caught that day. That's something that resonates and has stuck with me until this day."
Seeing his mother prepare food — fresh from the sea and from the land — eventually inspired Roberto and his brother Alessandro to open a restaurant on the water in Milazzo called Mood.
Chef Roberto owns Dova along with Jacqueline. Dova comes on the heels of their first restaurant, Ardo, a staple of Toronto's Corktown neighbourhood, so named because their young son had a particularly difficult time pronouncing his full name, Leonardo. When their daughter Vivienne was born, they formed Vivi Imports to bring the finest ingredients from Sicily's shores to Canada; now their hospitality group has further evolved with Dova, where Jacqueline is the creative director. She manages its extensive event -design services, handling large parties, corporate events and weddings.
Roberto and Jacqueline's relationship makes an endearing Italian love story. Jacqueline Nicosiahad been teaching in Japan and was on her way home to Canada when she decided on a layover in Sicily, where her parents come from and still have an apartment. The Sicilian cuisine enticed her tastebuds and a handsome young chef doing the cooking captured her heart.
"Sicilian cooking is more light, more simple and expressed in a way where the time of cooking the food is very minimal."
Four months after Jacqueline returned home, Roberto arrived to join her and begin a new life in Canada. That included an intensive study of the fresh produce, meats and seafood available here, while at the same time he maintained and expanded the relationships he had developed with the finest Sicilian producers. It was important for Roberto to then develop those same types of relationships in Ontario.
"We are very lucky to be in Ontario, as over the last 13 years I was able to connect with a lot of farmers, even if the season here is a little bit short," says Marotta. "Working with them and sourcing what is fresh and in season at the time gives us the opportunity to showcase something that is very special."
While North American palates may be used to traditional Italian cuisine such as pastas, sauces or pizza, Sicilian cuisine is a different, more refined and lighter style of food which, Chef Roberto explains, is all about the cooking.
"The difference is in the style of cooking," says Marotta. "Sicilian cooking is more light, more simple, and expressed in a way where the time of cooking the food is very minimal. Olive oil is an important component. While it may be a simple ingredient, along with the herbs and spices, it is very important."
Marotta's port village of Milazzo happens to be home to a 300-year-old tuna processing facility, and with his extensive knowledge of tuna, it has become one of Chef Roberto's many signature dishes, for which he only uses extra-virgin olive oil.
"The idea is not to just use the oil on the tuna," says Marotta in explaining the difference in selecting only the best and freshest olive oil, like Famiglia Zerillo olive oil used in the Tonno Scottato recipe. "We also slow-cook the olive oil with some cherry tomatoes and a sweet garlic sauce, so the oil is not just complementary to the dish but very present in the dish. Extra-virgin Famiglia Zerillo olive oil comes from Southern Italy and I find it to be a little bit more pungent, with high acidity compared to other olive oils. It gives a perfect balance to the dish because of its colour, its fragrance, and it is very fresh at the same time."
Jacqueline is equally as proud of her husband's cooking as she is about the feeling their restaurants give their guests. "It's really important for people coming into Ardo or Dova to feel welcome, like they are really special. From the service when you walk in the door to all the dishes that come out, it all plays together in how people experience our restaurants," she says.
It has been said about Sicilian cooking that everything should simply be about allowing the flavours to come through and the land to talk. Chef Roberto Marotta and Jacqueline Nicosia, have mastered both the flavours and the land in creating authentic Sicilian cuisine in Toronto.
INTERVIEW BY ALEXANDRA AULICINO
www.dovarestaurant.com
@dova.restaurant
Tonno Scottato (per due)
INGREDIENTS
260 g (130 g per steak) fresh bluefin (or yellowfin) tuna steak
50 ml of Famiglia Zerrilo olive oil 4 cloves of fresh garlic
50 ml homo milk
1/4 Romanesco cauliflower
8 red cherry tomatoes
3 sprigs of fresh lemon thyme Salt (to taste)
Black pepper (to taste)
1 small pot
1 medium pot
1 container with immersion blender 1 small non-stick pan
1 large non-stick pan
2 Servings
DIRECTIONS:
1. Dry tuna with a paper towel and keep off to the side.
2. In a medium pot with boiling water and salt, blanch Romanesco for 5 minutes. Drain and set aside. Once cooled, break off segments for plating.
3. In a small pot, bring the milk to a soft boil, turn off and add in garlic (crushed, but still in one piece). Let steep for 5 minutes.
4. Take out the garlic and place in another container. Add half of the milk along with a tablespoon of olive oil and a pinch of salt. Blend together using an immersion blender till smooth. Use remaining milk to make sauce thinner if desired. Set aside.
5. In a small non-stick pan, put in 40 ml of olive oil over medium heat and bring to 150 F (65 C). Add whole cherry tomatoes and half of the lemon thyme. Turn off the heat and let sit for 12 minutes.
6. Brush tuna with a spoonful of olive oil. Season both side of tuna with medium coarse salt and black pepper. Bring a non-stick pan to medium heat, sear the tuna for 2 minutes per side, leaving the centre translucent (medium rare).
7. Plating: on a dinner plate, add 2-3 spoonfuls of the garlic sauce. Using a spoon, add a few tomatoes and Romanesco on the side of the plate. Slice each tuna steak into 3 pieces, then place on top of your garlic sauce. Sprinkle remaining lemon thyme and as a finishing touch, drizzle olive oil over tuna and vegetables.
— Recipe by Chef Roberto Marotta