Pusateri Sherway Gardens – Champagne Tastes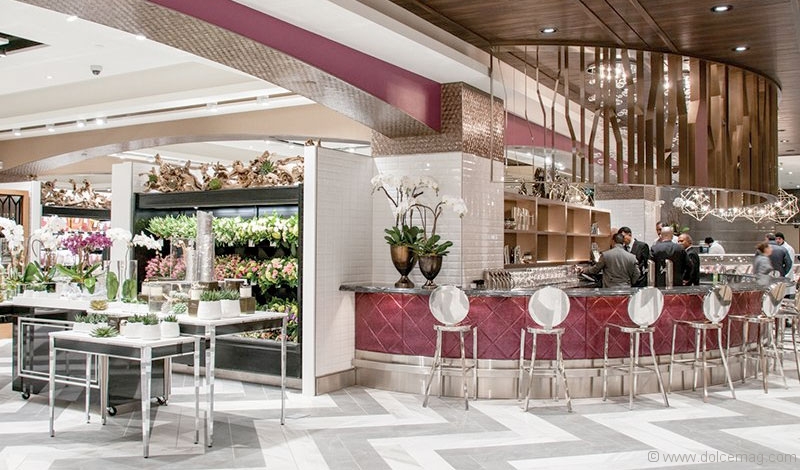 Tickling the culinary fancy of select media, personalities and Toronto foodies alike, the beloved Pusateri family toasted the opening location of its Saks Food Hall with a VIP cocktail and dinner party at CF Sherway Gardens in March of this year.
The VIP evening kicked off with flutes of Veuve Clicquot and tasty apps, followed by a five-course meal produced by Pusateri's corporate chef Tony Cammalleri. Guests such as style icon Jaclyn Genovese and Sportsnet anchor Jackie Redmond indulged in delectable dishes that included oysters garnished with chocolate, tuna crudo, chickpea panelle, Kung Pao sweetbreads, braised beef cheeks and cauliflower croquette. Fit for food royalty, the tasty spread was set upon a long table dressed in white and accented by lush flowers arranged by Pusateri's own luxury home and floral shop division. While the mood was lush, the top grocer family made sure to make everyone feel at home. President Frank Luchetta said a few words, expressing the excitement he shared with the Pusateri's family over this incredible new endeavour, which they have watched bloom into a reality over the past few years.
Days before, on March 7, the family came together to officially welcome guests to the food hall by cutting into a massive panini in lieu of a ribbon cutting.
The Saks Food Hall by Pusateri's delivers high-end ingredients and culinary experiences inside the world-renowned luxury retailer's Canadian locations at Sherway Gardens and soon on Queen Street in Toronto, hosting several unique culinary stations that include a Nutella-themed café, a sushi bar, a champagne and raw bar, a prosciutto station, a Greenhouse Juice bar, a catering station, a grab-and-go station and more.
As one of Toronto's most distinguished curators and creators of fine foods, Pusateri's has been evolving since its foundation in the 1960s — and this partnership with the world-renowned Saks Fifth Avenue further establishes it as an international culinary destination. With locations on Avenue Road (its flagship), on Yorkville Avenue, in Bayview Village, in Oakville and now in Toronto, the family-owned and Canadian-operated Pusateri's has become the local authority not only in cuisine, but also in the areas of catering, event, floral and giftware services.
Photos By Jean Mao