The Sultan's Tent: The Royal Treatment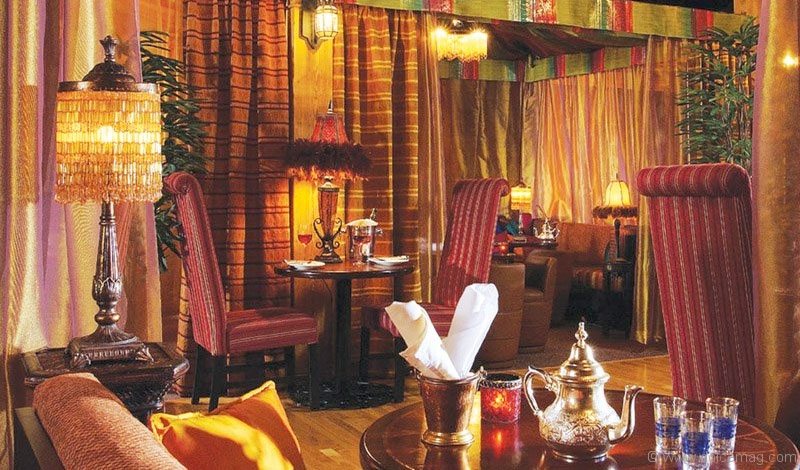 There's magic in the air down on Front Street — an enchanting allure enticing the senses with the sights and smells of a mystical land where history is as rich as the fare. The source is The Sultan's Tent & Café Moroc, and waiting at this authentic Moroccan restaurant is an experience fit for a king.
"The restaurant business, to me, is not just selling food," says Angela Panigas, president of The Sultan's Tent and a resident of Vaughan, "it's actually providing hospitality. I've learned that people aren't going out to just have a meal — although that's part of it — they're going out for the entire experience."
As you venture into The Sultan's Tent, you'll walk past a genuine, handwoven rug, marked with the King of Morocco's seal — a symbolic gatekeeper into another world. Beyond, the stunning décor overwhelms with authentic detail: handmade fixtures decorate the space; a romantic glow blushes from Moroccan palace lanterns; tents cloistered with sunset-coloured silk and satin sheers offer intimate settings, while lavish divans, sparsely decorated with soft pillows, provide cosy seating for star-crossed lovers, spirited parties and families alike. It's not hard to see why The Sultan's Tent was named Toronto.com's Gold Winner for Best Romantic Restaurant, and Dine.TO's Winner of Best Ambiance.
As you nestle in, four-course dining follows. The menu is an assortment of traditional Moroccan dishes and Mediterranean delights. You'll savour small but hearty starters, like mildly spiced harira or succulent beef bourgogne. Popular traditional fare — like b'stila, a classic chicken pie in a tasty pastry topped with powdered sugar and cinnamon, maftoul or "Moroccan cigars" — comes next. Generous mains feature fall-off-the-bone lamb (braised shank or 7-8 bone rack), Moroccan-spice-marinated chicken Marrakesh and the sweet, playful flavour of mango salmon. Finish with the light and creamy brûlée royal — you won't be sorry.
While you dine, servers casually pull back the sheers, revealing the full breadth of the room. Suddenly, the lights dim and the music climbs. A belly dancer glides across the floor, spinning barefoot to the beat of drums and strings. She whirls to the music's rhythm and the clap-clap-clapping of patrons-turned-audience. She invites onlookers to join, and the more daring — or playful — rise and rotate to the cheers and chuckles of the room. A meal has evolved into an event, bringing strangers together in celebration. "You're part of the stage," says Panigas, who travelled to Morocco four times to bring the country's feel to Toronto. "You're part of the show, and it's really enjoyable for everyone."
The Sultan's Tent is one of those rare, unique gems that entertains and inspires. The food is exotic, yet approachable. The décor is rich with intricate detail. And the ambiance is intimate, romantic and inviting. "I wanted the experience to be real," says Panigas. "I didn't want it to be a gimmick. I wanted it to be a cultural experience." Indeed, The Sultan's Tent is certainly an experience — a magical one that will make you feel like royalty, even if just for an evening. As its motto states, truly where Toronto celebrates.
49 Front St. East, Toronto
For reservations, call 416.961.0601
www.thesultanstent.com