Dolce Bites: Top Restaurants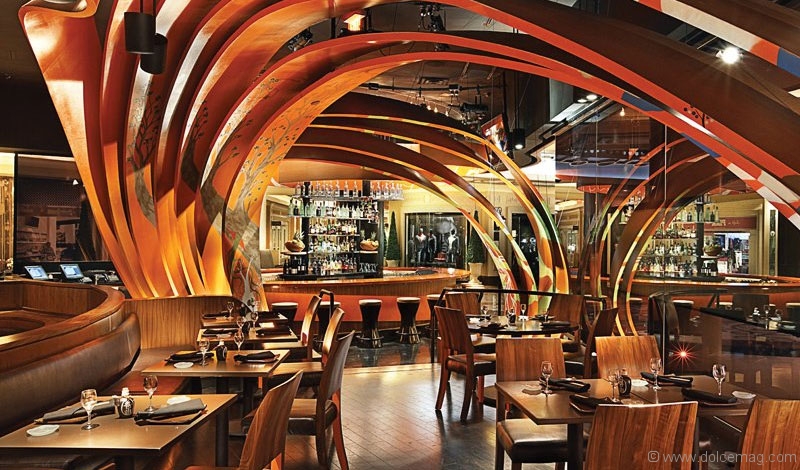 Fire, friction and spark! It seems as though as soon as controlled heating was invented, the art of gastronomy stuck its tasty foot in the door. Since then, culinary evolution has formed an unbreakable bond with contemporary design and has never stopped to reinvent itself, maximizing the unforgettable experience of dining visually, tastefully and soulfully.
1. Koi Restaurant
Fall under the spell of the stars while dining in the romantic ambience of an absolutely gorgeous contemporary dining room and sushi bar. Branching out to booming cities such as Las Vegas, Los Angeles, New York and Bangkok, Koi Restaurant has a reputation for upscale clientele. It is not unusual to spot a celebrity schmoozing at this upscale hot spot. Koi Restaurant's charming interior draws in a stylish crowd with its ravishing entrance, smooth stone booths and dim-lit walls, outlined with an exotic bamboo décor.
At Koi, the culinary expertise of the Orient is at its peak. Blending ancient traditions with distinctive Japanese cuisine, Koi offers a rainbow selection of succulent freshwater fish, including yellowtail, toro and octopus. Feeling adventurous? Dive in and tickle your taste buds with Koi's signature Hamachi Fusion, sprinkled with a soy citrus sauce and a decadent truffle essence. www.koirestaurant.com
2. Sushi Samba
Shake it up at Sushi Samba! Las Vegas is the city that offers all of life's finest desires, and Sushi Samba is no exception. The modern arches and vivid interior hues pop right out, revolutionizing your entire eating experience. The menu doesn't just feature raw food; its wide-variety menu caters to organic food supporters and discriminating critics who may prefer a fully cooked meal. Also located in Chicago, Miami and New York, Sushi Samba has a steady following. www.sushisamba.com
3. Grass Restaurant & Lounge
Let the pleasant scent of melted gorgonzola cheese and grounded fresh figs wrapped in prosciutto seep into your nostrils like the scent of the freshly cut grass that surrounds the interiors of Grass Restaurant and Lounge. Grass Lounge blends elements of Mediterranean and Asian cuisine to bring forth a unique style in fusion foods. The green-friendly eatery lives up to its name as it offers savoury vegetarian and vegan alternatives. www.grasslounge.com
4. The River Café
Dive deep into the tantalizing menu of oceanic delights and delicious entrees at the River Café. Snuggled under the Brooklyn Bridge, overlooking New York's regal skyline, the River Café's breathtaking waterfront view tops off the delectable dish of your choice. Dip your fork into fresh Mediterranean Branzino Fillet, stuffed with chorizo sausage and shrimp, paired with juicy vine tomatoes and tangy melted lemon confit. www.rivercafe.com
5. Sepia Restaurant
With touches of the classic elegance found in an old sepia photograph, Chicago's Sepia Restaurant extends a refined sense of culinary tradition. A true passion for rendering the experience of fine dining is apparent in its timeless interior and meticulous detail in each and every dish. The principal owner, Emmanuel Nony, opened Sepia in light of the organic food movement by supporting local and artisan farmers and utilizing only the
freshest ingredients.
Although the culinary craftsmanship stems from tradition at Sepia, executive chef Andrew Zimmerman puts a contemporary spin on it with his strong sense of creativity and direction in the kitchen. This can be found in Sepia's exquisite Potato Gnocchi with venison ragù, topped with a zesty orange gremolata. Pair this scrumptious course with a tasty glass of Clivi "Galea" D.O.C. Collio Orientali del Friuli for a notable dining experience. www.sepiachicago.com
6. Megu
Embark on a rare contemporary quest at Megu where culinary flavour reaches great heights. Bringing fresh cuisine from Japan, Megu's fine dining menu offers a rare treat of delicious seafood delights. Try delicious Salmon Tartare, a decadent caviar dish drizzled with ikura sauce and served with wasabi mousse.  www.megurestaurants.com