The Castle on the Lake – Simcoe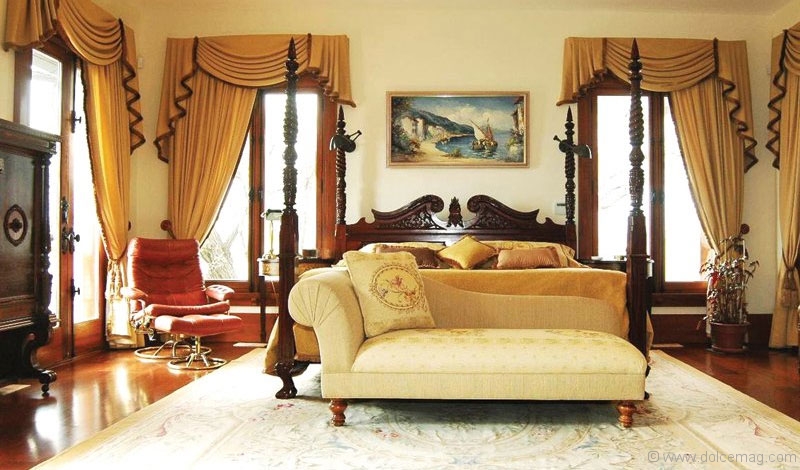 Imagine a majestic castle on a lake, wrapped in nature and tucked away from the sounds of the city. You open its doors as your guests pour in and the sound of a piano fills the background. As you welcome your visitors with hors d'oeuvres and bubbling champagne, they marvel at the elegant stone fireplace and heavy timbered archways that frame your grand entrance.
A home beyond your wildest dreams, The Castle on the Lake does exist – and much closer than you might have guessed. Nestled in a gated cul-de-sac on the shore of Lake Simcoe, this quaint Keswick sanctuary is a picture of serenity. "This place could inspire writers and poets to compose masterpieces," says Barry Tsur, owner and designer of the estate. "It has a soul."
With decades worth of vision and experience in both building and selling homes as president of the revered Newbold Developments, and chairman of Savvy Realty Corp., Tsur designed this house as a place for him and his wife to retire. For nearly two years, he worked closely on the project to ensure that every detail was attended to – and the dedication paid off. The Castle on the Lake is equipped with everything from a secluded breakfast room overlooking the lake to a fully stocked exercise room adjoining the master bedroom.
Soaring cathedral ceilings, hidden alcoves and cosy fireplaces bring the outside in, while nickel-finished faucets and handpicked accents complete the home, cocooning it with warmth and character. In fact, the entire estate is artfully adorned with rare antique furnishings that Tsur and his wife have collected over a lifetime of travel. Above all, it is the painstaking detail woven throughout the regal château that makes it so fascinating. One such feature is the winding wrought-iron staircase that graces the front foyer – a replica of the one in the 17th century Palace of Versailles. "I have expensive taste, I love the good things in life, and the way I built this home reflects that," says Tsur, who also developed the divine waterfront properties next door, creating a multi-million dollar gated enclave. "I know that it will last well beyond my lifetime."
Life, however, has its own way to determine destiny. After just two years, Tsur's wife chose to join her children who moved to live overseas, leaving them with the difficult decision to sell the culmination of his dream. "I want someone else to be able to enjoy this place because it gave us a true sense of the good life and made us very happy," he says. The estate is being offered for sale to one single owner, or alternatively, as a fractional ownership for at least seven prospective buyers. As the name implies, this form of ownership offers the benefits of owning a holiday home for just a fraction of the price. Maintenance costs are shared between owners and each buyer is entitled to a number of weeks' use. "It's really a great way to own a home because you really form a bond with the other owners. You become a family," says Tsur.
Prospective buyers can look forward to the addition of a theatre room, children's play area and cigar room once the property is sold. For discerning guests, Tsur will be offering Platinum Services, which include a gourmet chef, personal chauffeur, tickets to the theatre, and a butler for an added cost. "It's like staying at your very own Four Seasons," he says. www.thecastleonthelake.com