Life of the Party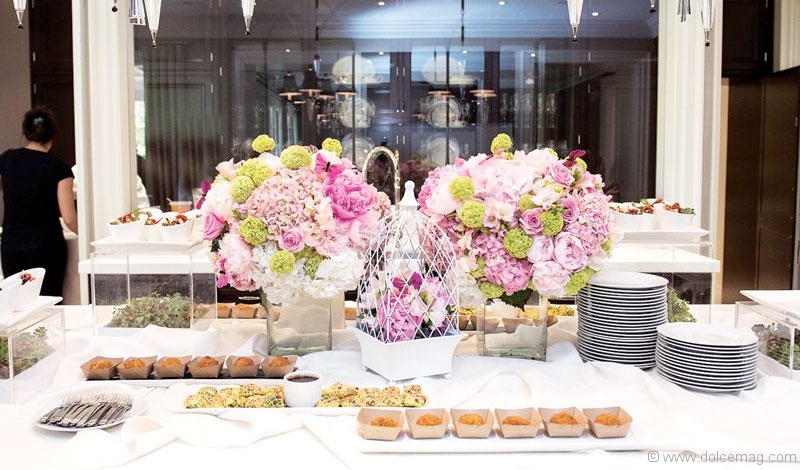 Make your next gathering or special occasion a memorable one with the endless possibilities granted by Pusateri's cutting-edge culinary team
Pusateri's Fine Foods has wowed the palates of discerning customers in search of artisanal and specialty foods for decades. But the family-run business isn't just Toronto's premier luxe grocer — it's the city's best answer to full-service catering, event planning and coordination.
Just ask catering directors Lee Kelly and Daniel Galletti. With access to the finest ingredients and seasonal bespoke menus that reflect the hottest culinary trends, and to a state-of-the-art kitchen, floral department and a bottomless list of resources, the catering department at Pusateri's goes above and beyond the traditional role of garden-variety caterers.
From breakfast get-togethers and corporate lunches to private holiday parties and blown-out affairs, Kelly and Galletti first dazzle the imagination with customized menus crafted from clients' wish lists. They then conduct site checks for day-of logistics and go on to organize rentals, musicians and entertainment, and lush floral arrangements so that hosts can enjoy a complete and stress-free experience. "No matter how big or small, we can facilitate any desire; we never say no to a request," says Kelly. "We've even gone as far as hiring contractors to cover an outdoor pool with Plexiglas to mimic the effect of dancing on water," adds Galletti with a proud smile.
The cutting-edge catering team, led by corporate chef Tony Cammalleri, can also execute an intimate sit-down dinner party with chefs and waiters, or provide at-home cooking classes complete with paired wines and recipe cards.
Apart from new menu items that include sweet and savoury nodini (bread knots) and tantalizing holiday hors d'oeuvres, Kelly and Galletti are excited with the endless possibilities deriving from Pusateri's impressive commissary, which has the capacity to feed up to 1,000 people in one night.  The 15,000-square-foot kitchen facility houses revolutionary Rational ovens, an in-house butcher, 60 on-site chefs and separate production rooms where foods are prepared for store-level consumption and private catered events all in a quality-controlled environment.
Whether you're staying in with friends or throwing a memorable party, Pusateri's has all the ingredients to enliven your next gathering down to the very last detail.