The Jewel of Beverly Hills – Success with Peter Marco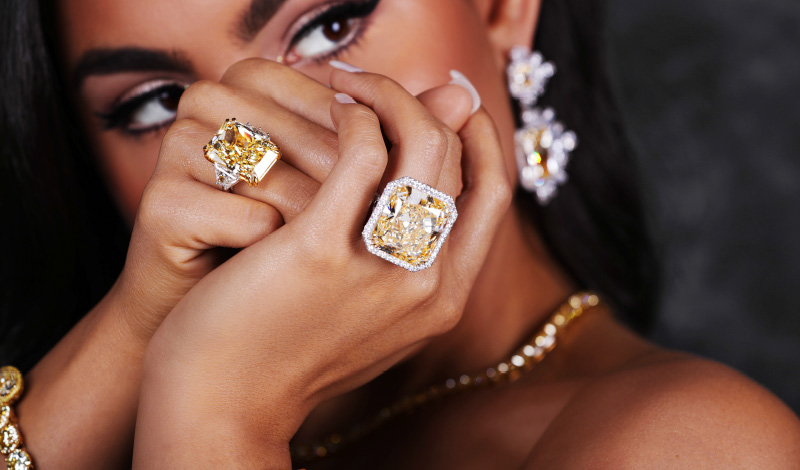 Peter Marco's humble beginnings, hard work and positivity have made this luxury jewellery store the real gem on Rodeo Drive.
There are few success stories quite like Peter Marco's.
Known as the pre-eminent jeweller of Beverly Hills, Marco began life in the projects of New York City, coping with challenging circumstances along with his mother and his sister. Now he owns the most recognized jewellery store in one of the most glamorous cities in the world, catering to royalty, Hollywood A-listers and superstar athletes.
While most other world-class jewellers tend to hide the product inside, the impressive show window at Peter Marco Extraordinary Jewels on Rodeo Drive displays spectacular diamonds, jewellery and watches. This uniquely brash approach is reflective of Peter Marco's own character: big, bold, outgoing and larger than life.
In a recent interview with Dolce, Marco spoke of his childhood in a world that, at first, was not very kind to him. "We struggled in New York, with no food on the table," he recalls. "I remember wanting a glass of milk and could only have water out of the tap, and having to put cardboard in my shoes because my feet were so wet because my shoes were falling apart."
Marco's story is one of hard work. He began his career with a summer job at 14 cleaning laboratories and offices for a jeweller; there the glittering gemstones and diamonds caught his eye and captured his heart. Eventually he was promoted to jewellery production to learn the exacting craft, and by the time he finished school he was working in sales. He spent 50 weeks a year on the road, initially in the U.S., then throughout Europe and Asia.
Through his travels, he began to see and experience life in a different way — and this influenced him much more than his success. "The only beach I saw growing up was the roof of my apartment complex in New York, where I lay in the sun," says Marco. "Then I'm in Hawaii, and you appreciate it so much. It was a combination of things that made me see the possibilities of life. Being so poor and then being exposed to so many things that were so beautiful made it all so much more valuable to me. At a young age, my mind started racing as it showed me a whole other part of life."
This opening up of life was made possible by Marco's passion for jewellery, his natural affinity for selling and his commitment to craftsmanship.
"You have to have a passion. I've been doing this for 40 years, and when I'm working on a piece, I still get so excited," says Marco. "Of course the quality has to be there — everything has to be the best. And then there is the value. I still look at pieces and ask myself if I would buy it for my wife. Then we go through the work and expense to internationally certify every piece we sell — many others do not do that. So the colour, the clarity and cut of every stone we sell has been certified, and our customers love that."
"It's not boats, cars or homes; the luxurious life is giving back to the world and to people. It's being able to help and give back, and to have love and happiness"
Looking back, Marco still feels that international experience and exposure is the foundation of his success. "Peter Marco is international, so our exposure is international," he says. "The opinions we get on likes and dislikes are international, and that's a huge advantage. As a designer we're exposed to clientele from around the world — Russia, China, Japan, Saudi Arabia, Europe — and we get ideas from them. I have designers from all over the world that I work with, and this gives us a vast variety of different tastes to create beautiful pieces."
Marco's personalized services, attention to detail and contagious personality make him a perfect fit for Beverly Hills and, more specifically, Rodeo Drive. In a recent survey, his store was voted Beverly Hills's most courteous, friendly and welcoming store.
Beverly Hills is one of the most competitive environments for jewellery in the world, servicing clients who also know their product and what separates the best from the rest. Aware of his many years in the business and his extensive worldwide network of rare-collector contacts, Marco's clients come to him for their most unique requirements. "When I need a stone, I can find a stone that no one else in the world knows exists," says Marco.
Success has afforded Marco and his wife the opportunity to give back, with special attention paid to children and animals. The company is involved with a charity that distributes thousands of bald dolls containing inspirational messages to kids living with cancer, and Operation Smile, an international medical foundation assisting children born with a cleft lip or cleft palate.
The jewellery business is, at its core, a happy one; pieces are often given to mark births, unions, anniversaries and significant accomplishments. Marco gets to experience some of this first-hand.
"I love optimistic people, and I'm a people person," says Marco. "I'm fortunate that I'm involved in intimate times in people's lives, like a marriage, anniversary or so many beautiful occasions. I'm also fortunate for the happiness I can bring people through my work, whether through design, quality or workmanship. I just love bringing happiness to people."
And what does la dolce vita, or a good, luxurious life, mean to Marco? "It's not boats, cars or homes; the luxurious life is giving back to the world and to people," he says. "It's being able to help and give back, and to have love and happiness."
For years now, Peter Marco has made many people all over the world smile, and it's clear that the hard-earned success of this gem of a man will continue to do so for years to come.