James Goldstein "Mr. L.A." – The Eccentric Millionaire & Style Icon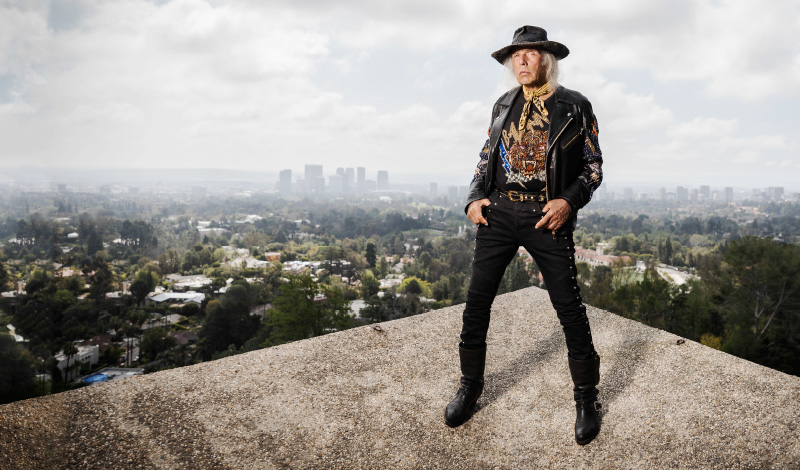 Dolce travels to the City of Angels for an exclusive with the mysterious James Goldstein.
In Los Angeles, land of the rich and famous, there is a man who often can be spotted in the front row at fashion shows, courtside at NBA games and mingling at exclusive celebrity events, always attired in his distinctive "couture cowboy" style. Even in a room full of celebrities, his individuality makes him stand out.
Referred to as "the mystery man," the mysterious James Goldstein makes frequent appearances at high-profile events alongside some of the world's most famous people. He's not a Hollywood executive or a music man, so Goldstein's connection to the celebrity world is not known to many outside the L.A. scene. Still, his unique presence garners a ton of attention — on Instagram he has 74,000 followers and counting. In fact, since his 20s, Goldstein has been photographed with influential people, ranging from athletes, actors and musicians to his favourite, supermodels, including Mick Jagger, Cher, Steven Tyler, Scottie Pippen, Sylvester Stallone and the late Hollywood sex symbol Jayne Mansfield, with whom Goldstein had a brief romantic relationship back in the '60s.
So who exactly is James Goldstein? In short, he's an American millionaire who has gained notoriety in the areas of fashion, basketball and architecture. The twist is that Goldstein does not work in the fashion industry, has no professional connection to the NBA and is not an architect. He is, however, a style icon, an NBA superfan and a visionary who has worked with designers to make his home an architectural landmark. He may be a mystery to the rest of the world, but here in Los Angeles, he's "Mr. L.A."
Behind his piercing blue eyes and gentle smile, Goldstein's kind and likeable personality might surprise some with assumptions about the kind of people who lead lives as glamorous as this. Dolce's first impression of Goldstein: cool, calm and collected. We were invited to his home situated atop a hill in the affluent city of Beverly Hills, Calif. In his presence, it is immediately clear that the Wisconsin-born Goldstein radiates confidence and is unapologetically himself. His trademark sense of fashion combines western style with high-end couture; he wears python-skin cowboy hats and leather boots complemented with bold colours, daring designs, edgy details and unique prints by today's most celebrated designers. Goldstein takes great pride in his audacious image. He has a particular taste for European fashion, and his favourite designer is luxury fashion house Balmain.
To those who know him, this unorthodox style doesn't come as a surprise. Goldstein, or "Jim," as his friends and family call him, is not only possessed of an energetic spirit, but is also a man of great intellect who challenges many of society's restraints. "Jim was a rebel, very much influenced by the changes brought about by the social revolution of the '60s. But he was a quiet, reserved, considered one," says long-time friend Sandy Marsh. "At his best, Jim offers up a sharp wit and often an unconventional, thought-provoking response. Jim has been truly authentic in living his life for what it is that he passionately values. James is true to what he has wanted his life to be and has no regrets about it."
Goldstein attends approximately a hundred fashion shows each year both in the U.S. and Europe. While he considers himself a fashion expert rather than a designer, he has dabbled in the industry, giving advice and suggestions to renowned designers. He also served as the inspiration for a clothing line created by his friends in Italy, offering his expertise in both design and trends.
Goldstein regularly travels to Paris and Milan to visit top designer stores and peruse the menswear and womenswear, as his style is inspired by both. "I try to inspire the men's fashion world, because I've always resented the fact that men aren't as flamboyant. Women's clothing has so many more possibilities than men's clothing," says Goldstein. "I detest the business suits, white shirts and neckties that the majority of men wear. I think it's ridiculous. I don't understand why men have to be so regimented in wearing the same things. I watch sports shows and see all the announcers and coaches wearing conservative suits and ties, and I'm thinking, Why? This is a sports event. It's all about having fun. Why do they have to be so regimented?"
Goldstein's iconic style is well known to the sports world, particularly in basketball. Dubbed the "NBA superfan," Goldstein has attended thousands of NBA games, and in more than 20 years, he hasn't missed a single NBA Finals game. He is a usual sight courtside, almost always accompanied by a young female companion. Add to that his outgoing style, and it's no surprise that over the years he has captured the attention of numerous people, resulting in close relationships with NBA executives, athletes and celebrities. If you Google "James Goldstein" you will find countless photos of Goldstein posing courtside with celebrities such as Shaquille O'Neal, Stephen Curry, Rihanna, Lil Wayne, Kourtney Kardashian, Kanye West and Drake, to name just a few. Goldstein has invested a substantial amount of both time and finances in the NBA. For years he has travelled from state to state to watch basketball games live, with a ticket costing as much as $12,500 USD. Multiply that by the hundreds of games he attends every season, and it's quite evident how dedicated a fan he is.
Goldstein remains mum on the subject of how he amassed his wealth, as he believes work is the least interesting thing about him. Indeed, judging by the way Goldstein spends his free time, he may be right. However, it is reported that he makes his money through real estate investments.
Goldstein's love for basketball began at an early age, when he was growing up in Milwaukee. He began watching NBA games at the age of 10, and at 15 landed a job recording game statistics for the Milwaukee Hawks. "At the time, everyone was focused on college basketball; no one was watching the NBA. I loved it so much that I remember writing my term paper about the NBA, and then when I went to college, I used to tout the NBA to everybody, and nobody understood me. Eventually, the rest of the world caught on, so I take special pride in the fact that I've been watching almost the entire history of the NBA and appreciated it for what it was before most of the world did," says Goldstein.
And there's more to be admired about this L.A. icon than his wealth, his fashion sense and his love for basketball. His true legacy, perhaps, lies in his extraordinary artistry. It's no secret he has a talent for design — this is evident at first sight, in his distinctive personal style. But his home is proof that Goldstein is more than just a guy with good taste; he is a genius. His concepts have been built into the architectural masterpiece that is the famous Sheats-Goldstein Residence.
"I try to inspire the men's fashion world, because I've always resented the fact that men aren't as flamboyant"
At the age of 18, Goldstein arrived in California to attend prestigious Stanford University. A close friend often invited him to Los Angeles, and Goldstein quickly immersed himself in the alluring culture of the county. Eventually, the panoramic views, beautiful women and vibrant social scene inspired him to make a permanent move.
After finishing school, Goldstein settled in a high-rise condo in West Hollywood, but after acquiring an Afghan hound named Natasha, he quickly realized that Natasha needed more space than the apartment provided. "My apartment had a spectacular view of Los Angeles, and I didn't want to give that up," says Goldstein. "I knew that any house that I found would have to have a great view. I wanted it to be modern architecture, and I wanted to have a swimming pool. Those were my requisites when I started looking for a house — because I'm never willing to settle for anything in my life except for the very best."
Goldstein searched for two years before discovering his dream home, although in fact he had previously seen the Beverly Hills property from a distance and been fascinated by its unique, striking design. After making a few calls, Goldstein was invited to inspect the home. In less than a minute, according to Goldstein, he fell in love with the house. He was eager to make an offer, but to his disappointment, learned that someone else had it under contract. Luckily, fate stepped in. "About 10 days later, the real estate broker called me and told me the other buyer tried to lower the price, and I stepped in at his original price and got the house. It was one of the most important things I've ever done in my life," recalls Goldstein.
"I have spent so many years and so much time in working on the house. Once the house had been improved to the point of perfection, I decided I don't want it to end up in the hands of some other individual. I want it to be open to the public. I want the public to be aware of what good architecture really is"
The Sheats-Goldstein Residence is widely known from its appearances in movies Charlie's Angels, The Big Lebowski and many more. The home has also been featured in countless music videos, fashion spreads for Vanity Fair, Vogue and Dior, and celebrity events such as Rihanna's 27th birthday. But fascination with Goldstein's home goes well beyond its Hollywood status. It is an architectural treasure praised for its dramatic features, strategic details and overall, its modernist design.
Designed and built by famed American architect, the late John Lautner (who apprenticed with Frank Lloyd Wright), the home was originally built for the Sheats family. Goldstein purchased it in 1972, and since then has continued revising and perfecting it, working with Lautner until his death and then with others to create the epitome of elegance and minimalism that he envisions. He has quite literally transformed his home into a work of art; he has promised the Sheats-Goldstein Residence to the Los Angeles County Museum of Art after his death.
Despite the renown of the Sheats-Goldstein Residence on the big screen, its location remains exclusive. Unless you have been personally invited and given directions by Goldstein, there's a great chance you'll get lost trying to discover it. The residence offers a spectacular view of Los Angeles, giving you the illusion of staring into infinity — you're not likely to find an equal to this view anywhere else in the city. Almost every room in the house offers an exit to the outdoors, which Goldstein has transformed into a four-acre tropical jungle requiring full-time gardeners to maintain. But even indoors, the home mimics the feeling of being outside. All that separates you from nature and the steep hills of Beverly Crest are the retractable glass walls. This is not a home for acrophobics.
"After I had lived in there for about seven years, I decided it was time to start to perfect the house," says Goldstein. "It's been almost 40 years now, and there's been construction going on somewhere on the property ever since. I got used to the noise and lived in my house for several years without any windows — the house was wide open. I've endured a lot of hardships because of the construction, but at the same time, being there every day and watching what was going on actually led to some things being done to perfection that might not have been done that way had I been living somewhere else. I've never redone any of the changes. All the work that has been done has been a new project somewhere on the property."
The home is replete with surprise touches and unique furnishings, many designed by Goldstein himself. Lush, fresh flowers imported from Hawaii provide accents throughout the home. The living room is perhaps the most recognizable room. As noted, it has appeared in several blockbuster Hollywood films and is decorated with portraits of Goldstein posing with celebrity friends such as Karl Lagerfeld, Snoop Dogg, Jay-Z, Brad Pitt, Kate Moss, Naomi Campbell and others. Among these is a photograph of a nude Pamela Anderson emerging from the custom-designed rooftop infinity pool.
Goldstein's bedroom extends out toward the Los Angeles skyline; the glass walls can be retracted to reveal that you are at the pinnacle of the house, with nothing beneath you but a sheer drop over the hills of Beverly Crest. The bedroom also showcases Goldstein's impressive clothing collection, which includes pieces by some of the most respected designers in fashion.
Goldstein has a reputation as a reveller and a connoisseur of the nightlife, and recently he realized a long-time dream by opening a nightclub of his own — but on his own territory and on his own terms, in true Goldstein fashion. "For many years, I had in the back of my mind a desire to design and build my own nightclub, because I've always been an avid nightclub-goer. I've attended nightclubs all over the world, and so the idea of designing my own club and having it on my property was something that fascinated me," says Goldstein. "Once I acquired the house next door, my prime interest … was to build a tennis court, and I had another place in mind on the property to build the nightclub. But when I started in on the tennis court, I realized it made sense to build the nightclub underneath."
Located beneath the tennis court, Goldstein's private nightclub, Club James, features retractable glass walls, a phenomenal view of the city, floor-to-ceiling TV screens, a DJ booth, lasers and a concrete bar to match the club's all-concrete interior. The response to Club James has been phenomenal, says Goldstein. In a short period of time, the club has become famous not only in Los Angeles, but also in Europe, where he frequently travels. Both the tennis court and Club James have been the venue of choice for many splashy events hosted by high-profile organizations such as the NBA, the Grammys, Nike, Lacoste and many more. A-listers like comedian Kevin Hart and DJ Calvin Harris have also hosted parties here.
Currently, construction at the residence continues indefinitely, with plans to build a terrace with professional cooking facilities, a dining room area, a lap pool, a screening room and a guest house.
"I still feel like a young person, I still interact with young people, and I'm going to continue living the same kind of life I've been enjoying"
Goldstein has dedicated much of his life to perfecting his estate; more than just a home, it has become his passion. Considering his substantial investment in it, naturally Goldstein wants to ensure his legacy lives on. And so, it was announced in February 2016 that the fashion and sport aficionado was gifting his $50 million estate to the Los Angeles County Museum of Art (LACMA).
"I have spent so many years and so much time in working on the house. Once the house had been improved to the point of perfection, I decided I don't want it to end up in the hands of some other individual. I want it to be open to the public. I want the public to be aware of what good architecture really is," says Goldstein.
Goldstein had been in talks with various institutions interested in acquiring his home. One day, two women from LACMA visited to look at his clothing collection for an exhibition they were hosting on the history of men's fashion. "I had read about how LACMA expressed interest in collecting houses, but I never read about any follow-up, and I said to them, 'What happened to LACMA's plans to acquire houses?' The next thing I knew I got a call from the head of LACMA, and we started discussing the possibility of me donating the house to them," recalls Goldstein.
The partnership includes a restrictive agreement on what LACMA can do to the home and how they must operate it. To stay true to the home's legacy, LACMA will operate the Sheats-Goldstein Residence in the same way Goldstein has: in addition to being open to the public for architectural tours, it will remain an event space and be accessible for fashion shoots and the filming of movies and music videos.
"Jim's exceptional generosity has launched an entirely new collecting area for LACMA of singular architectural homes, which are an important cultural legacy and represent some of the greatest examples of Southern California art," said Michael Govan, CEO, and Wallis Annenberg, director, in a statement from LACMA. "This landmark gift means that LACMA will be able to build on our already significant holdings of objects designed by important architects, as well as a world-renowned collection of California design, to enhance access for the public through programming that connects the disciplines of architecture, film, fashion and art."
What you see is what you get with James Goldstein. Perhaps that is what makes him so special. Truly one of a kind, he delights in navigating life with little concern for what other people think. With his enviable free spirit and zest for life, it's no wonder "Mr. L.A." has been so successful in achieving his ultimate goal: living freely. "I'm leading the kind of life I want to. My age hasn't slowed me down," says Goldstein. "I still feel like a young person, I still interact with young people, and I'm going to continue living the same kind of life I've been enjoying."