Manny Khoshbin: Making his Mark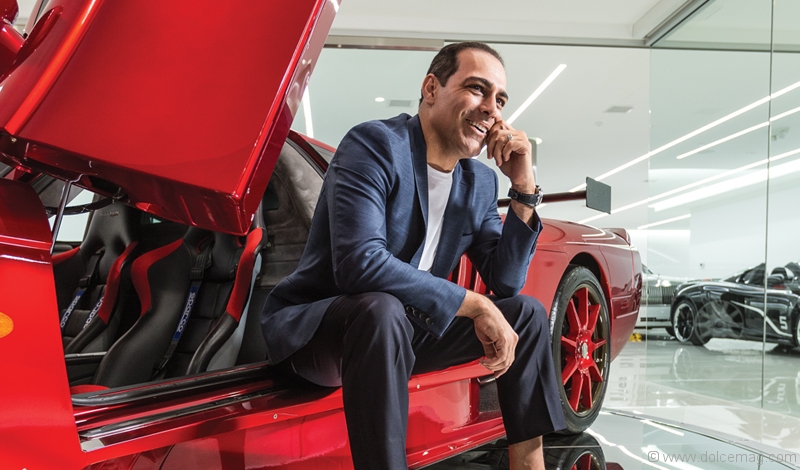 Perseverance has always been a guiding principle in the life of Manny Khoshbin. The real estate mogul from California invites Dolce Magazine to his home to talk about the cars he loves and the family he cherishes, and how taking risks got him to where he is today.
Behind all remarkable success stories stands a brave and determined lone star, one that has scaled mountains of struggle and gut-wrenching failures — all in the pursuit of a dream stowed precariously away in the future. One such story belongs to commercial real estate entrepreneur and foreign car collector Manny Khoshbin, who went from zero to a hundred million by following the No. 1 rule in his playbook: never give up.
On a bright, sunny day, the skies an azure blue, Khoshbin invites members of the Dolce Magazine team to the pristine headquarters of the Khoshbin Company before personally driving them to his sun-drenched mansion in one of America's wealthiest neighbourhoods. The seaside community of Pelican Hill in Newport Beach, Calif., sways with towering palm trees and soft, salty breezes as Khoshbin glides his milk-white Rolls-Royce Drophead onto the driveway, the home's Spanish archways, topiary gardens and Pacific Ocean vista coming into view.
The no-holds-barred entrepreneur has undoubtedly secured a prosperous future for himself and his young family, which includes his wife, Toronto native Leyla Milani, a former model/actress and hair care company founder; their two children, Priscilla, 4, and Enzo Pasha, their newborn boy; and two dogs, Coco and Lupe.
But it's Khoshbin and Milani's hard work, strong values and positive outlook that have earned them their keep, all while remaining humble and grounded. Married for five years after a whirlwind courtship, the couple still looks at one another in a way that proves true love is more powerful than money or fame. "One of the things that first attracted me to Manny was his devotion to his family," says Milani, 34, who finds balance in life and work with a positive attitude and strong support system. "Besides the cars and all the glitz and glam, I saw right away that Manny has a great heart. What you see is what you get with him, there's no facade."
With his welcoming smile and her envy-inducing mane, the power couple is a shining example of the American Dream cranked at full blast: there are the private-jet escapes and the gallery-worthy gadgets, the couture clothes and the $25-million cache of foreign supercars to match. It's a California dreamin' lifestyle — one achieved after clearing the clouds to allow the sun to shine through. "You have to get out there and work hard because failing is part of the process that gets you to success. I myself have failed over and over until I found my niche in real estate," says Khoshbin, 45, who currently steers a commercial real estate portfolio of about 40 buildings and one million square feet of property in the U.S. With the market reaching a peak, last year he sold all his properties in Texas, his biggest holding.
An early riser, Khoshbin starts his day at 4:30 a.m., clicking through emails from his property managers, assessing the stock market and uploading photos of his whereabouts and prized possessions to his followers — close to 600,000 and counting — on social media. Recently dubbed an "Instagram Influencer" by Forbes, Khoshbin's prolific posts are most often accompanied by inspiring and motivation-filled messages and success tips that have resulted in a legion of fans regularly reaching out to him for advice in the areas of business, life and fast-moving cars. Having made most of his money in the recession, Khoshbin knows a thing or two about coming out on top in tough times. Several years ago he shared his knowledge by penning the book Manny Khoshbin's Contrarian Playbook: How to Build Your $100 Million Real Estate Portfolio from the Ground Up, which outlines strategies on how to enter the real estate industry and build a solid portfolio.
Bursting with infectious optimism, an eye for beauty and a genuine love for his wife and children, Khoshbin proves he's the real deal in and outside the boardroom. "Attitude is everything," explains Khoshbin, who spends time playing with his son in the early morning hours before dropping his daughter off at school. "You can wake up in a bad mood and just not do anything and nag and moan, or you can get up, do 10 push-ups and jump in the shower, put good music on and smile. There are two choices, and the choice is yours on how you begin the day." By 9 a.m., when he rolls up to his privately held commercial real estate company, he's energized and ready to take on anything.
But waking up to an enriched life wasn't always the gold standard for Khoshbin, whose first experience after moving to California at the age of 14 meant sleeping in a station wagon with his parents and three siblings. Originally from Iran, the family came to the U.S. to avoid Khoshbin's impending draft to the army — something his father was strongly against after seeing his own brothers return with horrible injuries. After an arrangement for the family to stay with a friend of his father's went south, the Khoshbin family endured months of getting by in their makeshift home on wheels — a situation Khoshbin still remembers in vivid detail: his dad having to move the car every night to evade patrolling police; the bananas they ate, because they were the cheapest source of food. "To be honest with you, it was tough; I'll never forget those times, especially because my youngest sister was only a year old and I remember her crying all the time and being cold. That time didn't last too long but even one week is too much — and we spent a couple of months in that car."
Throughout it all, Khoshbin observed his father's unrelenting drive to triumph over adversity in order to provide for his family. His father showed him how to aim high with just $2,000 in his pocket and an unlimited grasp on the idea that we cannot become what we want if we remain what we are. "It's just mind-boggling to think about the decision he made; I don't know if I'd have the courage to do that today. What I took from my father was to be gutsy and not to be afraid to take risks. He also taught me to not take any shortcuts, and that's always been my guiding principle: to walk a clear, straight line." This core value has always proved invaluable to Khoshbin, who kept his integrity intact during the Great Recession of 2008.
Reflecting back, those months of living without a secure roof over his head are most likely the incentive behind Khoshbin's desire to succeed in real estate. In a way, he's subconsciously worked his whole life to achieve a level of greatness that would lighten the load of responsibility he felt from being the reason his family moved to a new country. Today, Khoshbin's parents are beyond proud of his efforts, and even tell him to take it easy. "They tell me all the time to slow down, to stop buying buildings because I have enough to last me a lifetime," laughs Khoshbin, who has since purchased a four-acre ranch for his parents to enjoy. "But it's not about the money — I like to challenge myself and see how far I can push myself — it's in my DNA.
" Every year, Khoshbin makes it a point to write down his daily, weekly and monthly goals because, he says, the key to changing your life is having a solid plan.
As a teenager, Khoshbin busied his mind with thoughts of the future while most of his peers monkeyed around in class. At 18, he opened up his own business after just two weeks of college and a previous job collecting shopping carts at Kmart. He called his first business UWP — Unlimited Wholesale Products — and the concept involved buying peanuts and cashews, candy and trail mix from Price Club, packaging them in eight-inch polyester bags and selling them to hungry salespeople. The endeavour was going well until he sold a packet of nuts to a health inspector, who later slapped him with a big fat rulebook and a notice to comply with health and safety regulations. Khoshbin then moved on to what he thought was the next chapter of his budding entrepreneurial journey: buying a gas station after a friend of his dad's mentioned how he could get a loan with just 10 per cent down. His entire life savings — just a little over $20,000 — soon vanished after the loan company turned out to be fraudulent. "At that point it was 1991, and I was back to zero," recalls Khoshbin, who, despite the setback, kept his eye on the prize.
Then one day he saw a man get out of a convertible Porsche and decided to ask him what he did for a living. That question would go on to be the impetus of a thriving career for Khoshbin, as the man responded, "I do loans and real estate, and I like your personality, your energy. Come work with me." After nine months of learning the ropes of a loan office at the mortgage firm, Khoshbin parted ways and opened his own mortgage company, investing in distressed and bank-owned properties. The taste of success soon danced on his tongue after he raked in close to $300,000 in just one year.
He bought a home and his first commercial property, a supermarket, in 1996, two years after skyrocketing rates forced him to close his mortgage company. Luck, however, was still hesitant to cross over to his side. A supermarket chain that opened up next to his sealed his misfortune as a loss of sales and foot traffic put him in the red. By 1998, he was teetering on the brink of bankruptcy and facing $180,000 in credit card debt. He sold his house, his cars, and rented wheels from Budget. "The hardest part is when you make it, when you go up and fall from that high," admits Khoshbin, who had been pulling in about $20,000 a month from the supermarket.
Three months later, his floundering supermarket finally sold for $185,000, but before paying off his debt he invested the cash into the stock market. Within six months his selection of stocks proved fruitful when they ballooned to $700,000. "I always tell people: take risks, but educate yourself so that they are calculated risks. That way, if it turns out to be the worst-case scenario at least you're prepared." Khoshbin was back in the game, and he bought two homes and a shopping centre to keep the money ball rolling.
By 2000, he made his first million after remodelling the shopping centre and putting it on the market. "I had to pinch myself," says Khoshbin, who remembers going to the ATM and seeing a seven-figure balance for the first time. "I've had lots of ups and downs, I've gone twice to zero — actually, minus zero — and now I was 29 and a millionaire — just one — but I've been able to multiply that by buying more properties."
Today, Khoshbin's penchant for discovering distressed properties that have the potential of adding value, and his forte of buying and selling at the top of the market, has propelled him to an approximate net worth of $130 million. His latest investments include purchasing a $29-million, multi-level office building with two restaurants on the main floor and an expansive marina with 24 boat slips. Naming it Khoshbin's Landing, the property, says Khoshbin, has significantly increased in market value since he purchased it last December. He also recently debuted a members-only cigar lounge for those looking to unwind in a private environment after or in between a long day at work. With hostesses on hand to retrieve cigars from cedar lockers, teak wood accents and comfortable lounge chairs, the climate-controlled lounge is reminiscent of a day spent sprawled on the deck of a yacht. The idea came to Khoshbin after realizing how much he loves to relax with Cuban Montecristo cigars to help melt the tension and stress that comes with living and breathing the life of a real estate mogul.
"As great of a successful businessman that he is, he's always supported me and made me feel like I can be that good and great as well. He's always made me feel equal to him," says Milani, who graduated from the Fashion Institute of Design and Merchandising in California before planning the roots of her own success in 2010.
She founded her company, Leyla Milani Hair, after several modelling and acting stints and landing the role as briefcase model "number 13" on the popular game show Deal or No Deal. Even after the show ended, "Lucky Leyla" continued to receive fan mail about her real and lustrous, dark and full hair, which cascades over her shoulders. That's when she decided to bring beautiful hair to the masses with non-damaging clip-in hair extensions before adding tools, products and hair care to the Leyla Milani Hair collection. Available at over 100 salons and beauty supply stores worldwide, her No. 1 selling product is the Miracle Brush for women and kids, which has sold over 500,000 units worldwide just through the power of social media. Earlier this year, Milani embarked on her second venture, #HAIRtamin, a nourishing hair supplement company in partnership with Lilly Ghalichi.
Like Khoshbin, Milani has had her own fair share of obstacles in life. After leaving Iran, her mother brought Milani and her six-month-old sister to Toronto, where she spoke little English and worked two jobs to support her girls and give them the best life she could. All on her own, Milani's mother moved them to Beverly Hills after she was offered a job as a registered nurse in California. That same resilience and work ethic worked its way into her first-born. "I fell in love with her entrepreneurial mind," gushes Khoshbin. "She started her own denim line at 18, and even though that fell through, she got back up. Apart from her gorgeous looks she's crazy smart and motivated, she likes to dream big and work hard — and she's a great mother too."
Together, the couple gives back by supporting a variety of charities, which include TACA (Talk About Curing Autism); Water.org, which delivers clean drinking water to millions in developing countries; and CHOC (Children's Hospital of Orange County). Milani, who sits on the board of the hospital, successfully chaired its annual gala with guest John Legend two years ago. "We were six million dollars up that year alone," says Milani proudly. Khoshbin also recently arranged a visit to his office for a child with cancer whose dream is to sit in a Bugatti.
As the proud owner of a super-limited-production automobile fleet, Khoshbin's collectibles boast customized modifications that secure their exclusivity and high resale value. Some of the vehicles that can be found in his gallery-like office include four McLarens, a Bugatti Veyron and a Bugatti Veyron Mansory, three Rolls-Royces, a twin-turbo Saleen S7, a Porsche 918 Spyder and a rare Lamborghini Aventador. Within the next six months he'll be the proud owner of 11 new cars alongside his current exotic arsenal of 13.
The latest hypercar to join Khoshbin's collection is a never-been-done-before Pagani Huayra in collaboration with Hermès. A devotee to the French luxury brand's craftsmanship in clothing and leather goods, Khoshbin flew Hermès designers out to Italy to meet founder Horacio Pagani in his atelier so they could band together in the making of his dream car. When Khoshbin's Huayra Hermès Edition reaches him by the end of this October, he'll light up the streets in his specially made, chocolate carbon fibre masterpiece featuring full Hermès interiors and, to commemorate the two brands that came together for the first time to bring Khoshbin's vision to life, the flags of Italy and France displayed on the car's rear-view mirrors.
"Maybe it's a symbol of achievement but it's not to prove myself," says Khoshbin, who describes his car compendium as no different than works by Picasso. "I like to collect cars because they give me a sense of [financial] security, but more than anything, I love them because they're beautiful to look at."
Underneath Khoshbin's David August tailored clothes and shiny cars is a man who's never forgotten how the secret to success is the power to attract it. On his rise to the top he's always lived big, renting beautiful cars and extravagant homes at premium prices. He had a knack for working it backwards because it pushed him to aim higher than his budget and get motivated to make more money. His mentality has always been one of confidence, a quiet self-assuredness that has always released him from what could hold him back. With sheer determination and drive, Khoshbin has achieved a status most of us can only dream of. "To build an empire, you have to hustle and get out of your comfort zone. It's about breaking the routine," says Khoshbin. "There's no difference between ordinary people and the likes of Bill Gates or Mark Zuckerberg — they just stuck their necks out and challenged themselves instead of settling with whatever they had going on. I'm not a billionaire — hopefully someday — but I've been able to reach a level of financial freedom from sheer hard work and reinvesting, and taking risks when others were fearful to do it."
Photography By Jesse Milns