Martin Brudnizki – The Simple Life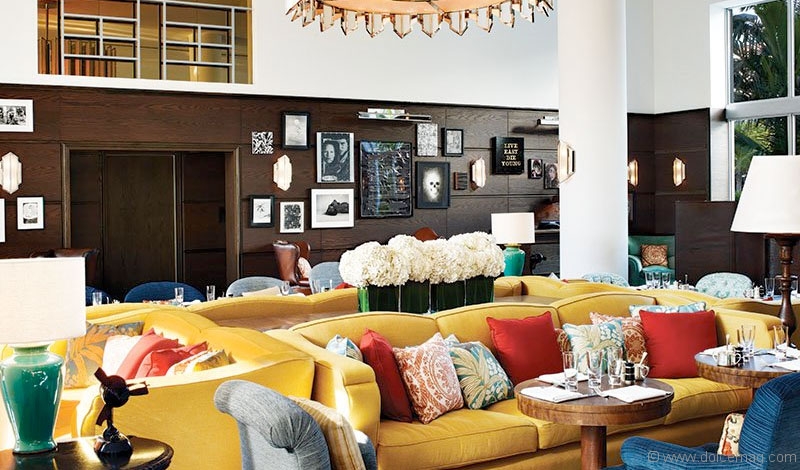 From the timber-panelled dining room and silver-leaf screens at Mayfair London's historic Scott's restaurant, to the ink-black Venetian plaster panels and polarizing white marble floors at Manhattan's esteemed Le Caprice, a Polish-born, London-bound restaurant renovator is showing the world that the right design can awaken what should have never fallen asleep. His paradigm is far from perfect, but that's just the point. And it's precisely why Martin Brudnizki has become one of our generation's most sought after social interior mainstays in New York, London — and now Toronto.
With his honeycombed hair, alabaster complexion, watercolour blazers and staple sneakers, it's fair to say Brudnizki's unmistakable style is as emblematic as his atmospheric architecture. "I think architects and some designers forget that the space actually has to be created for someone to use. I think hard about how I want people to feel in a place," Brudnizki says from his New York satellite office.
"We don't have to try too hard," adds the founder of Martin Brudnizki Design Studio (MBDS). His distaste for overly engineered interiors that receive far too much praise in this more-is-more day and age has made him a drop of oil in a glass of ephemeral water. Oddly, in an effort to avoid the avant-garde with his perennial, simplistic approach, he has become just that — a defector of the new status quo. "Think about atmosphere, think about materiality. Keep it simple. It's so easy to overdo things." This modest mentality in a world prolific with pièces de résistance is the breath of fresh air Brudnizki brings to a post-recession, carbon-dioxide climate. 
After receiving formal training at The American University and working for some of the U.K.'s leading architects and designers, Brudnizki affirmed his own aspirations in 2006 by opening MBDS in London. It was a risky move to make in such a cutthroat design capital, but the fearless bar-trender has never been ruled by repercussions. "When you're scared or worried, you're sort of in a dark cloud. You're not going to see the opportunities."
Today MBDS is one of the most desirable studios in the industry with a widening geographic scope and a portfolio rich with renowned restaurants, bars and private clubs, from chef Jamie Oliver's expansive culinary collection to club king Nick Jones's Miami Soho House, and other food-for-thought spots like The Ivy Dubai and Cecconi's West Hollywood. "It's an emotional process for me. I feel it, I design it."
On the road at least 50 per cent of every month, Brudnizki's best sleeps are spent under the terracotta roof of a family-run, Roman-inspired villa in Sardinia, Italy, where imperfection pervades and a quaint garden ambles down to the sea. "Everything is wrong about it," he says of Hotel Cala Caterina, "but that's the charm of it. It just is what it is. You have a bathroom you can hardly get into and then there's some sort of weird massive walk-in wardrobe. It's peculiar." His personal preference speaks volumes about a designer whose main priority isn't to induce a jaw-dropping reaction, but to create an atmosphere, a feeling, a mood, that's so pleasant it's addictive.
Whether it's drinks at a bar, food in a restaurant or a good night's sleep in a hotel, Brudnizki believes people today have come to expect more. "They expect a journey and you give that to them." His most recent sojourn has taken him to Toronto to extend the Drake Hotel brand to a brand new Bay Street location that sets the bar high. "Toronto is like a playground, every architect has done something here," he says. Drake One Fifty, a stand-alone restaurant slated to open this summer in the financial district, "is a first for Toronto," he adds. From rare black-and-brown Spanish cork ceilings to a pronounced performance space and custom video art, "it's going to be difficult for anyone to do something that will top this."
At the end of the day, the sweet life is an effortless one. "I've come to the point in my life where I really don't like too much fun. I like it simple. It's the simple pleasures."
www.mbds.com