Heather Segreti: Curiosity, creativity and a dash of mind reading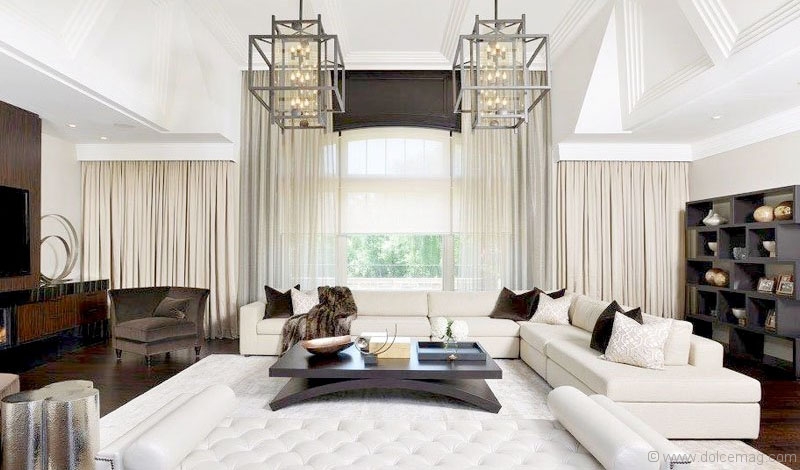 "I have to be able to read in people what they can't really see in themselves"
— Heather Segreti
It was 2009, and Carlo and Dora Baldassarra were weathering a brainstorm. The couple was in the midst of dreaming up the design concept for their custom 10,000-square-foot home in Kleinburg, Ont. They were craving something that spoke a different architectural language than the traditional Italian designs that seemed to be gobbling up the rest of their neighbourhood.
"They wanted a more transitional look," says Heather Segreti, interior designer, who sat down with Dora over a mug of green tea to try and coax their new home from the abyss of scrambled ideas. "They had images in their mind that they relayed to me, and it was my job to make their vision become a reality." Sparks flew, ideas bloomed and by the time they had reached the dregs of their tea, the blank canvas of the Baldassarras' home was beginning to look promising, and the paintbrush was in Segreti's hands.
Four years later, the estate is complete — and after Segreti put all her design secrets to use on the project, it's just begging to be explored.
It's an interior concept that gathers together simplicity and luxury, two of the themes that the Baldassarras hold most dear. Statuario marble, the priciest variety to be ordered by square foot, plays a vital role in the home — particularly in the kitchen, where the intricately panelled marble backsplash and countertop take centre stage, and in the master ensuite, which boasts a floor entirely built of the rock. To the untrained eye, the understated elegance of these creations betrays no hint of the painstaking process it took to bring them to life: imported from Italy, the slabs of statuario were strategically pieced together to mesh flawlessly.
"Some people might not see that connection," says Segreti of minute details such as this that often go unnoticed. "But they'll feel that connection."
The showstopper, Segreti admits, is the great room. With its sky-high ceiling and angularity, the room is a testament to Segreti's flawless melding of classic and contemporary. Without a colonial pillar in sight, it's a successful stray from the neighbourhood norm.
"When I look at my home, I say, 'That's the house I was looking for for a long time,'" says Carlo, who moved in with his wife this past March. As the owner of Sora Construction for over 45 years, Carlo understood how vital it was to take the building and design process slowly — a decision that paid off many times over. The house, which holds three guest bedrooms on the second floor to accommodate four grandchildren and another on the way, is the materialization of what the Baldassarras envisioned four years ago.
And with a slew of sought-after features accenting the home — from the heated driveway to the wall-mounted home-automation devices, which allow Carlo to control the property from the likes of Florida or Italy, to the three-door garage that houses Carlo's Ferrari 458 Spider, to the ensuite bathroom decked with a waterfall shower, heated towel rack and waterproof TV — Segreti didn't miss a beat of the couple's unique style. When asked what inspires her to include these concepts, the designer claims it's her endless curiosity that allows her to really listen to clients and uncover which features will complement their lifestyle — a process she explains is almost like mind reading.
"When [the client is] telling me something, I'm listening to them but I'm also watching their body language. I'm looking at what they wear, I'm looking at what they show me in images that they like," Segreti explains. "I have to be able to read in people what they can't really see in themselves."
Makeup & Hair: Gianluca Orienti/judyinc.com using Keratin Smooth Heat Protection Shine Spray to protect hair and TRES Two Extra Hold Aerosol Hairspray for a long-lasting style.
Heather Segreti: Source List
Downsview Kitchens
Kitchen, Master Ensuite millwork vanity and panelling,
Master Bedroom headboard wall, Basement millwork,
Basement kitchen, Bathroom vanities throughout
www.downsviewkitchens.com
Bisazza Glass Tiles
Master Ensuite wall tile
Powder Room wall tile
www.bisazza.com
Direct Interiors
Living Room sofa, Living Room side table, Dining Room table, Dining Room sideboard
and console, Kitchen fixtures, Dining Room, Living Room and Office fixture, Hallway scones, Main Floor Powder Room lighting, Master Ensuite wall sconces, Living Room coffee table, Living Room chairs and display cabinets, Kitchen table and chairs, Counter stools, Great Room sectional, Coffee table, Chairs, Bench, Accessories
www.directinteriors.ca
Kravet Fabrics
Sectional fabric in
Great Room
www.kravetcanada.com
Robert Allen Fabrics
Drapery and upholstery fabric, Master Bedroom, Living Room, Dining Room,
Spa Bathroom
www.robertallendesign.com
Joanne Fabrics
Drapery and upholstery fabric, Master Bedroom,
Sectional in Basement, Drapery in Kitchen,
Guest Rooms
www.joannefabrics.com
Prima Lighting
Great Room light fixtures,
Exterior light fixtures,
Kids Bedroom fixtures,
Guest Bedroom fixtures,
Spa Bathroom fixtures
www.primalighting.ca
Troy Lighting
Great Room light fixtures
www.troy-lighting.com
Corbett Lighting
Master Bedroom light fixtures
www.corbettlighting.com
Hinkley Lighting
Exterior light fixtures
www.hinkleylighting.com
Hubbardton Forge
All basement fixtures, Theatre
Kitchen, Pool Room, Lounge
www.vtforge.com
Toto
Master Ensuite infinity sink, Toilets throughout Spa, majority of Bathrooms
www.totousa.com
Kohler
Master Ensuite Bathroom, Main Floor Powder Room
1 & 2 toilets, Leaf vessel sink in Powder Room
www.kohler.ca
Subzero and Wolf Appliances
Main Floor Kitchen
www.subzero-wolf.com
Zucchetti
Master Ensuite shower set (including rain head), Spa Bathroom shower set, (including rain head)
www.zucchettidesign.it
Aquabrass Fixtures
Kids Bathroom faucets and shower sets
www.aquabrass.com
Cantrio Koncepts
Main Floor Powder
Room #2 sink
www.cantrio.ca
Blanco
Kitchen main and Basement,
Laundry sinks main and Basement
www.blancocanada.com
Tartaruga Design
Main Floor Living Room
www.tartarugadesign.com
Town & Country Fireplaces
Main Floor Great room,
Main Floor Living Room, Basement Lounge
www.townandcountryfireplaces.net
Ciot Tile
Main Entry Statuario marble,
Slabs for kitchen counters and powder rooms
www.ciot.com
Caesar Stone
Master Ensuite counters, Kids Bathroom counters and shower jambs, Basement fireplace, Basement counters
www.caesarstoneus.com
Stone Tile
Spa Bathroom wall tile,
Spa Bathroom mosaic tile at mirror and shower, Inlays in floor, Kids Bathroom tiles, floors and walls, Kitchen feature wall
www.stone-tile.com
Crystal Tile & Marble
Master Ensuite white marble floor tile, Spa Bathroom white marble floor tile
www.crystaltilemarble.com