Vaclav Vaca: Mirror, Mirror, on the Wall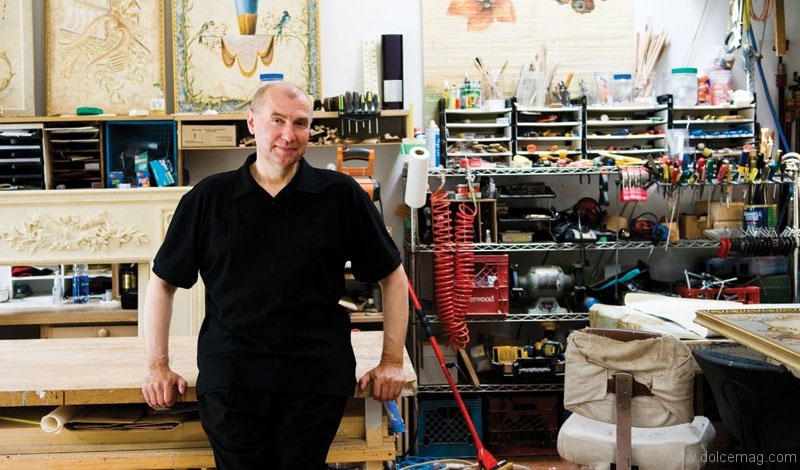 Sunlight slants and sweeps through a quaint studio set west of downtown Toronto, dancing shadows away to reveal the beauty of art from times passed. Gilded mirrors gleam with antiquity, as reproduced furniture, painted panels and murals take the discerning eye of beholders back to an epoch when indulgence and individualism was in its time of power. A distinguished artist lifting decorative arts with every stroke, owner of Interior Visions Vaclav Vaca sits peacefully upon a stool, behind him a cart brims with acrylic paints, palettes, hundreds of paintbrushes and other tools, which draw a journey into the heart of the Enlightenment era.
It was a splendorous time the 18th century, an historical age where inspiring art was born and soon after immortalized across the world as admirable works of art. As these treasured heirlooms sparkle with sentimental value to the most distinguished artist, they are quickly integrating into the mainstream as must-have touches within modern décor settings. "Classical art has the power to transcend time," reflects Vaca, as his hand brushes over an Italian raw wood frame textured with authentic embellishments, gleaming with gold leaf finishes and poignant with distresses. "There is a sense of beauty that artists and craftsmen achieved in the 18th century, and we're still living off it," says Vaca, a professional reproduction artist carving his way to the top.
The age of reason and change lives on today, as decorative art is catching aflame within the interior design industry. Homeowners across the country are in search for an artist that can capture the gracefulness and delicacy of sculptures, bronze work and porcelains, and the grandeur of Baroque style during the reign of Louis XV. "Every single person who invests in a piece of 18th century-inspired work will be in love with it today, and 300 years from now. An intricate mirror or storytelling panel are essentially the missing pieces of every home," says Vaca.
Spending most of his days and nights in his studio, Vaca bases his masterpieces on 18th century design to reflect its mirror image upon his furnishings. Spilling with finished projects and those in between, Vaca's workstation boasts imperial mirrors, perfected frescos and panels – which can "take up a few years to complete," – garnished with vivid portraits of days long ago. "Everything created is a matter of feeling," says Vaca, his eyes twinkling blue. "It comes from a mysterious source that somehow becomes a part of you as it is expressed through your work."
Deep in the world of art for over 40 years, Vaca was first a professional ballet dancer and then a painstaking musician, rhythmic with instruments from the piano to the violin. "Curiously, they are incredibly related to decorative arts," explains Vaca, who uses traditional methods mixed with modern tricks. "You are using different tools but you are trying to achieve something beautiful, whether it's a beautiful line, a beautiful colour or a beautiful melody."
Born in a small southern village in the Czech Republic, Vaca flourished during his latter years while living and studying in Prague, a place where his appreciation for art grew while learning its history. "What I love most about Prague is its history and historical continuity. Not only did I learn about the traditional arts of France and northern Italy, I could paint the 18th century with a feeling of how to give modern pieces antiquity and a sense of design," says Vaca, who travels to Paris and Tuscany several times a year to fuel his inspiration with the world's greatest architectural nuances and to collect vintage fittings. Today, Vaca reflects on his first moments in Canada, when being lost in translation was deflected with his life's passion. "Art is something that you don't need language for. It's something that when you walk into your home, your words are taken away and replaced with happiness – that's the beauty of art," he smiles.
www.vaclavint.com
416.788.1448