Marc Lepine's Atelier: The Passion And Joy Of Creative Cooking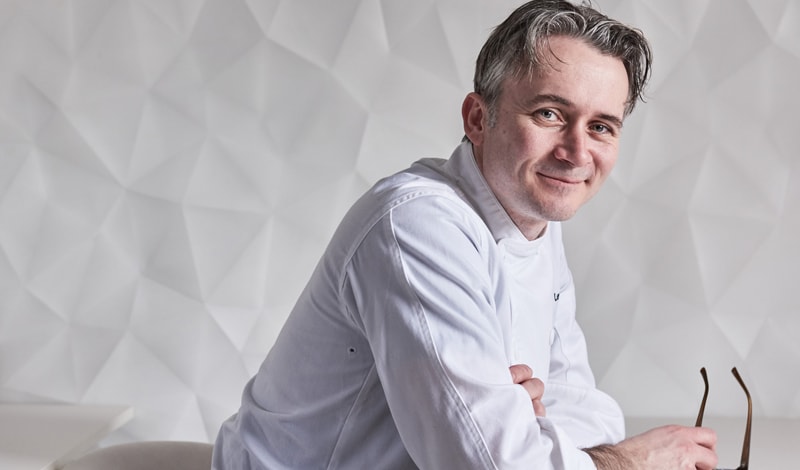 The mastermind behind Atelier in Ottawa shares his journey with food in his breakout book, Atelier.
For those parents facing frustration with their children's tastebuds, which may seem restricted to anything inside a cellophane bag or cardboard box, take solace — there is hope.
And it comes from Marc Lepine, one of Canada's most revered chefs, the mastermind behind Atelier in Ottawa, one of the country's most acclaimed restaurants, and the only person to have won the Canadian Culinary Championships twice.
"The food I grew up with has no bearing whatsoever on the dishes I now create at Atelier," writes Lepine in his book Atelier, published late last year. "Most of my childhood pleasures were for the cellophane food groups — potato chips, factory cakes and pastries, over-salted, artificially sugared quasi-food. I didn't know what a tomato tasted like until I was 20. Truly."
Atelier is Lepine's debut cookbook and an essential read for the chefs of today and tomorrow, cooking professionals, tastemakers and foodies, offering recipes, advice, cooking philosophies and kitchen stories. The book is complemented by stunning visuals by award-winning photographer Christian Lalonde. It also details Lepine's personal journey and growth from popping open tubes of potato chips to becoming a culinary connoisseur.
Growing up in Kincardine, Ont., on the shores of Lake Huron, Lepine's early passions were chess and music, specifically the piano, which he played upward of 14 hours per day, covering everything from Guns N' Roses to Chopin. He worked part-time in kitchens throughout high school, beginning as most do by washing dishes and eventually cooking breakfasts on weekend shifts.
A turning point in his life occurred when a high-school guidance counsellor, struggling to give him direction and hearing he'd worked in a kitchen, gave him a brochure for a cooking school in North Bay, Ont.: Canadore College's culinary arts program, which claimed that 98 per cent of its graduates got work.
"That statistic appealed to me," writes Lepine. "I could make a living as a cook, at least more easily than at music. I just supposed that one day I would learn to like real food."
"I encourage you to explore your creativity by challenging your boundaries"
His passion for cooking grew, and during his last year at Canadore, Lepine entered an international student competition, where the chef instructor and coach, Daniel Esposito, gave students complete freedom to create their own plates. "I didn't do well at that competition, in fact, I bombed," writes Lepine. "From that moment, I knew this was what I wanted. Chef Daniel's passion for his profession had inspired me. I had progressed beyond the basics, and I was learning to think creatively. This is the best part of my job."
Great professional achievement often has humble beginnings, and for Lepine, the eventual introduction to "real food" came in the form of a Caprese salad, which he discovered while plating at north Toronto's Shark City in the late 1990s after working in Ontario's Muskoka region, as well as in Italy and France.
"I was tired, and a little embarrassed, of being the chef who didn't eat anything, so I started with this pretty salad," recalls Lepine in his book. "The mozzarella was mild, the tomatoes were small and firm, a variety called Roma, and I even liked the basil. I guess you'd call it an epiphany that night at Shark City. After that, I tried everything, one dish after another, with an insatiable appetite. For the first time in my life, I was hungry."
Atelier tells the story of the work and play of the 45-seat restaurant of the same name, which serves a 12-course tasting menu every night. It shares its philosophy, methods and some of the staff's favourite dishes, showcasing the restaurant's innovative expression through food. The book is divided into three sections: "Origins," "Vision" and "Inventions," the last of which features four seasonal menus.
Most clearly, the book communicates the joy and passion Lepine has for food and cooking. "I encourage you to explore your creativity by challenging your boundaries," writes Lepine in his introduction. "I hope this book gives you the tools and confidence to be playful with your own cooking."