Iris Apfel
Fashion Icon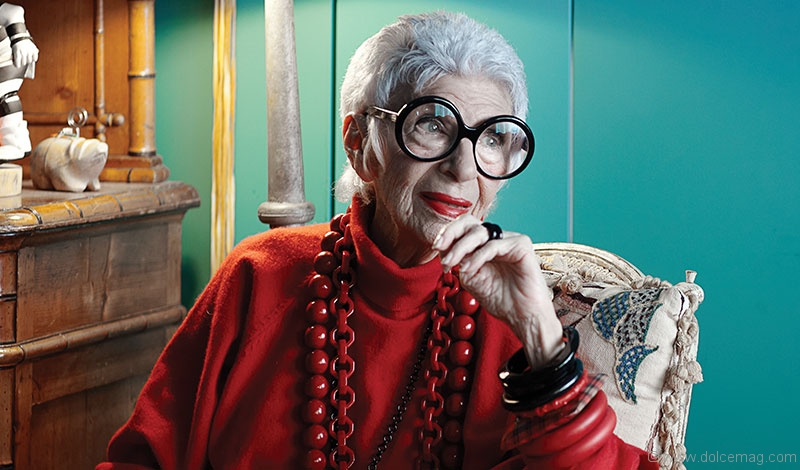 Iris Apfel
Fashion Icon.
Chances are, if you know anything about fashion, then you know the name Iris Apfel. If you don't recognize the name, you will probably recognize the crop of silver hair, the thick-rimmed circle eyeglasses and the pop of colour from her impeccably eclectic taste in clothing and accessories. And if you're not familiar yet, then right now is a good time to get acquainted with the fashion industry's most senior and stylish maven, often dubbed the "rare bird in fashion," and who refers to herself as a "geriatric starlet." Tongue-in-cheek titles aside, our curiosity has been piqued, and we can't get enough of the eye-candy that is her choices in bright colours, the way she matches prints, and the stack of bangles and baubles that clank and dangle from her wrists, neck and lobes. We want to know more. In her mid-nineties now, Iris Apfel's fashion fame didn't arrive until she was in her eighties, despite her having an interest and eye for fashion that spanned decades prior.
In her early years, Apfel cultivated her creative eye through interior design and had a successful business until she and her husband started their small but prestigious fabric company. Throughout this time, Apfel gathered and collected fashion that she loved and in 2005, the Metropolitan Museum in New York decided to throw together a small exhibition of Apfel's fashion "collection" — although she refers to it simply as "having fun with fashion." The exhibition was very small and received almost no promotion. Yet, as it is with most beautiful and uncommon things, the eye-catching and enviable clothing collection created its own buzz and spread like wildfire.
At 95 years young, we want to know where Iris Apfel gets her exuberance, spark and wit. More importantly, us "younger" people who need three cups of coffee just to make it through lunch really want to know … where does she get the energy? Since 2005, Apfel has gone on to write a book, has made numerous public appearances and has been cited as the inspiration behind a number of designers and collections. She has also started her own accessories line called Rara Avis, has a footwear brand and handbag collection, an eyeglasses line that takes after her own stylishly iconic pair, had a documentary made about her — aptly named Iris — and is a centrepiece at celeb parties and in the front row at Fashion Week. She's working with prestigious museums on more fashion exhibitions and is heavily involved in her "fashion camp," where she teaches youth about all aspects of fashion and the fashion business world, expanding their understandings and interests.
"It's important to know who you are and be yourself, and don't try to be someone else"
Apfel's favourite thing about being a fashion darling is what she inspires in designers and in other women when it comes to fashion chances and personal style. She takes her role as a fashion maven with playfulness and freedom. Says Apfel, "I was never in fashion before, but I love it and I'm doing well at it and being appreciated for it, so I'm ecstatic! What makes me most happy right now is that I'm still here and I've been so fortunate at this age to have all of these new careers."
Some other words of wisdom from Iris Apfel when it comes to a happy outlook on life? Break the rules! Or, at the very least, bend them. Whether it's in your career, in life choices or in marriage (Apfel was happily married for 67 years), she believes in being flexible and being true to who you really are.
"I think anytime you try to follow rules with human behaviour, you get into big problems because nobody is exactly alike. I don't have any particular rules. Rules are meant to be broken, and every situation is different. I don't like trends. My style hasn't changed much over time. It's just matured. I keep clothes that I love forever! I was married 67 years, and I still have the dress I wore with my husband Carl on our first date. It still looks as wonderful now as it did then. If you know who you are, you don't have any violent sea changes. It's important to know who you are and be yourself, and don't try to be someone else. Part of learning is getting the experience that goes with the answer. When I was 19, I tried to do the things to please my family. And then I decided it was ridiculous and that I was very unhappy. I had to live with myself and not for other people. You've got to be happy inside."
And what about keeping that youthful enthusiasm, energy and glow? She claims that her work and fashion projects are her fountain of youth. She muses to us, "Different things make different people happy. For instance, you see all of these advertisements about retiring and going to communities where all day long you play golf and tennis and bridge and you go to dances. That would make me so miserable! But that doesn't mean it's not wonderful for those people. It's all a matter of knowing who you are and what pleases you. You have to do what pleases you. There are no rules to being happy — you just have to learn to think for yourself and in some way be a free spirit. I am very busy! And that's what I want to be doing, it's what makes me happy."
And sometimes, amidst the noise and chaos, the truth is really as simple and quiet as that.
photo by Andres Hernandez