Peter Mansbridge
Canadian Broadcaster CBC News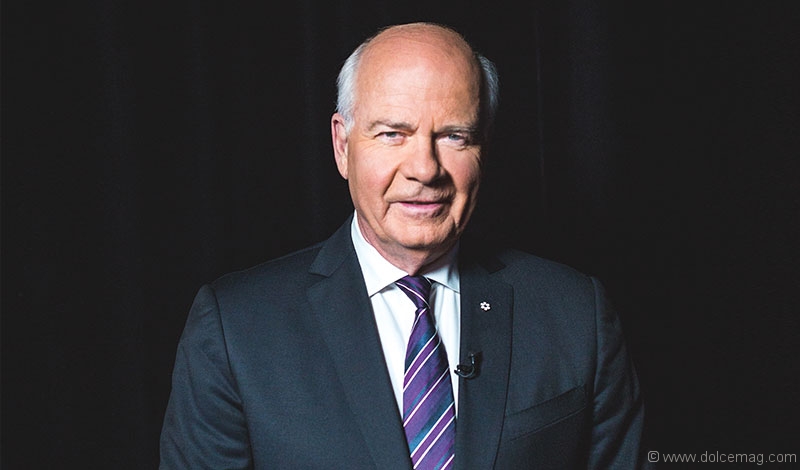 Peter Mansbridge
Canadian Broadcaster, Chief Correspondent for Cbc News And Anchor of The National.
Over the past 20 years in Canada, one person has been viewed by more Canadians than any other person, and it's not a queen, prime minister or even Wayne Gretzky or Drake.
It's Peter Mansbridge, anchor of CBC's The National since 1988.
Do the math. The National draws an average of three million viewers per week. Multiplied by 20 years, that's more than 30 billion sets of eyes who have tuned in over the past 20 years to watch Peter Mansbridge. Most notably, it is Mansbridge that Canadians immediately turn to as the credible, authoritative voice of big news, making him an influential national changemaker these past two decades.
Not a bad legacy for a guy discovered making flight announcements at age 19 in Churchill, Man., which caught the ear of a CBC executive. Lana Turner sitting at a diner counter in Hollywood has nothing on that story.
But in the ever-evolving world of technology, perhaps the advancements in communications are the most radical, touchable and visible — and Peter Mansbridge, as Canada's foremost communicator, is seeing it firsthand and can provide us with the most intelligent insight.
"I grew up with three-channel, black-and-white TV," says Mansbridge in an exclusive interview with Dolce Magazine. "I've seen it all, from the birth of cable to five hundred channels to mobile digital on demand. I will say this, though: Canadians want massive amounts of information now and they get it, and I think that's a very good thing."
This is indeed an incredible time in technology, and specifically communications, and Mansbridge welcomes it.
"All the advancements in technology are good for our business," says Mansbridge. "But I say this only if they are handled properly and that's the challenge. Where are we going to be? I honestly don't know but I will tell you that I am as excited as the next person trying to figure out what the next 'big thing' will be."
"Canadians want massive amounts of information now and they get it, and i think that's a very good thing"
Mansbridge takes a very personal look back at his career when asked by Dolce, a particularly reflective time for him as it has been announced he will retire following his coverage of Canada's 150th anniversary on July 1, 2017.
"I've gotten to work with real professionals in the very top level of television and journalism, how fortunate is that?" says Mansbridge. "I've worked with great women and men who really know how to do their jobs. This has afforded me incredible opportunities across the country and around the world to cover amazing stories. I have literally been everywhere — far beyond announcing flights out of Churchill, Man."
Born in London, England, in 1948 and moving to Ottawa as a child, Mansbridge joined the CBC in 1975 as the network's Saskatchewan correspondent for The National, eventually relocating back to Ottawa in 1976 as a parliamentary reporter. Following a decade of political coverage, he became the substitute anchor for Knowlton Nash and was so valued by the CBC that Nash retired as anchor to keep any American network from stealing Mansbridge. He debuted as the sole anchor of The National on May 1, 1988.
An avid golfer and involved with many charities, he is the father of three children and has been married to actress Cynthia Dale since 1998; they live quietly in Stratford, Ont., far away from the media spotlight. "I am a journalist," he says. "That's the way I want to be seen, not as a TV celebrity."
Mansbridge has been one of the most travelled correspondents in television history and an eyewitness to some of history's most important events. "With this comes memories," he says. "I've been on exciting stories and some very horrible stories. These cause emotions and the challenge is to tell these stories well, which is my job."
Mansbridge remains remarkably grounded and modest, always striving for something new and expanding his horizons. "I don't think you ever realize you've accomplished all your goals as a journalist," he says. "You always want to get to that next story and find new ways of telling stories. There's always a new challenge and I hope I'll always look at things that way."
When asked by Dolce what he has learned that he wished he knew 20 years ago, Mansbridge doesn't hesitate in pointing to technology and the sheer pace of change.
"I wish, like we all did, that we had a better sense of where technology was taking us all," says Mansbridge. "I honestly couldn't tell you what is one year down the road or five years, but I will say it's all good."
As he moves on to the next phase of his life, Mansbridge retains his sense of optimism and embraces the challenges before him. And as always, he will remain a communicator.
photo by geoff fitzgerald