Rhiannon Traill
The Economic Club of Canada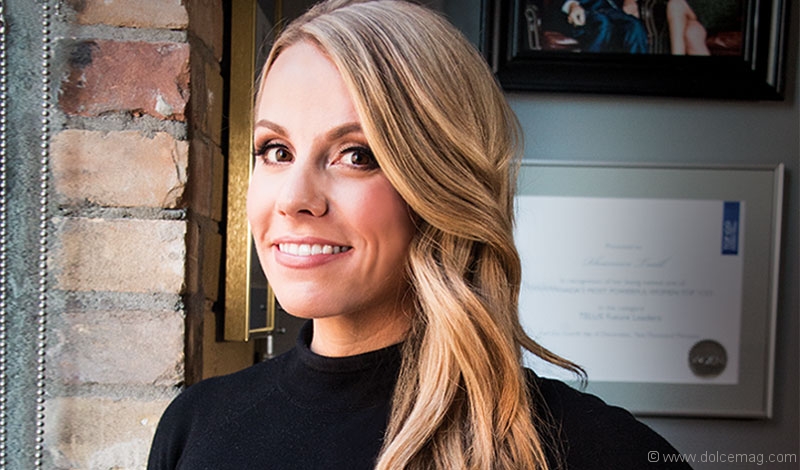 Rhiannon Traill
President And CEO, The Economic Club of Canada.
You know you're officially interesting when you're a mother, an entrepreneur, the president of the internationally renowned Economic Club of Canada, constantly rubbing elbows with the most powerful elites in the world — and only 32. Basically, when you're Rhiannon Traill.
On paper, when you learn about Traill's accomplishments in her youth camp that gives scholarships to young entrepreneurs every August, her success in launching the Junior Economic Club series and launching the first financial literacy tool kit that addresses and helps the Inuit people of North Canada — you can't help but be impressed by her overall passion to be a resource for the young Canadian voice in the financial world.
Weeks shy of graduating from Ryerson University, Traill happened to have a chance meeting with one of the founders of the Economic Club of Toronto, who invited her into an entry-level coordinator position. It was the height of the economic crisis and she knew how hard a good job was to come by. Making an executive decision, Traill decided to defer her master's degree and take the job. From there, a series of events happened that catapulted Traill from entry-level to president of the organization in a few short years. Her own ambition and enthusiasm granted her the role of VP after just two years and when the president of the club at the time had his own ambitions and success in running for public office, it was Traill who was hand-selected to take over. She was still very young and a very new mother, but with a strong support system in her family, she dove into the role head-first, an act that she recalls as "the scariest thing I'd ever done, to be honest."
Besides having to adjust to the new roles in her life, Traill also speaks very candidly about the discrimination she faced due to her age and the role she was in. She clarifies that she sees much more "age-ism" than sexism in her career, but doesn't let it throw her off track. While in the beginning, she believed in "laying low" and letting her work speak for itself, she now approaches the situation with a confident and positive aspect that resonates.
"True happiness and confidence comes from within and whatever you dream of in life, it can be yours if you're willing to go out and get it on your own"
"I understand that I'm extremely privileged to be the age that I am and be a part of these conversations. So, if I have to prove myself, then that's OK," she says. "I know I belong in the room and that I have something valuable to say. If I walk into a room and people are questioning me because I look too young, then I understand that I have to set it up so people understand why I'm here and what I've been able to accomplish since I got here."
And it is this conviction and confident point of view that has allowed Traill to accomplish all that she has. Besides a successful national rebranding of the Economic Club of Canada and starting a Junior Economic Club series that's six programs deep with a three-year waiting list, Traill also has her hand in a variety of projects, all of which involve her passion for giving the youth of Canada a "seat at the table," as she says. "Especially when it comes to important economic conversations and ideas, their voice needs to be heard," she adds enthusiastically. Traill and her team of very busy and very passionate women also have a youth camp every August that allows young entrepreneurs to partner up, receive mentoring on building a business plan and then pitch their ideas to a panel of CEOs as a competition for scholarships and grants. But Traill and her vision do not stop there. When Traill says that she is passionate about educating the Canadian youth and giving them a resource, she means all of Canada. Her latest development is a financial literacy tool kit that focuses on the Inuit population and provides lesson plans and games that address many of the financial obstacles in the community. Traill is rightly very proud of the program and the connections and relationships forged during the project.
"We wanted a real and complete program," says Traill. "It's being developed to live on the website of Inuit Tapiriit Kanatami, which is the national voice for Inuit in Canada. Their organization will host the tool kit on their website and it's being translated into Inuktitut as well right now so it will be available in Inuktitut, as well as French and English."
And with all those things to clutter up her schedule, she's still not done! With a TV show in the works that brings together young, concerned Canadians and high-profile people to discuss their economic concerns (she also writes, produces and hosts this show), expanding her Inuit financial literacy program with an "exchange program" camp, and continuing to progress and expand the national platform of the Economic Club of Canada and the Junior Economic Club, this young mom is doing it all! And while she cites so many people being her inspiration throughout her journey, we are truly inspired by her.
"I wish I knew that the only person you can hold responsible for your own happiness is yourself," Traill says. "True happiness and confidence comes from within and whatever you dream of in life, it can be yours if you're willing to go out and get it on your own."
photo by carlos a. pinto