Creating a Lasting Bond – Lifetime Developments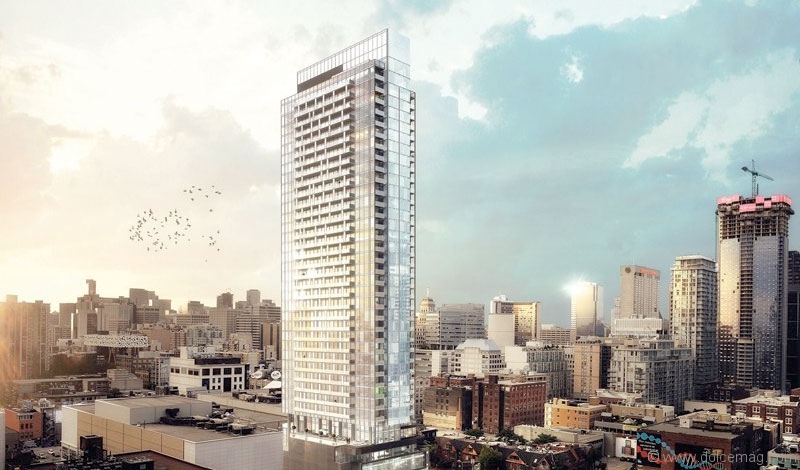 Lifetime Developments releases the final units of their highly touted project, The Bond Condominiums, with an aim of connecting residents to the community
Brian Brown knows that in the modern era of condominium development it's not enough for a developer to simply build a tower and walk away — not if you want it to be successful, that is.
"For us, it's not about just building the building and then moving on," explains the vice-president of Lifetime Developments from its Toronto office. "It's about building a building and knowing how it is going to change the neighbourhood in the years ahead, long after we have done our job."
So when the Lifetime team set out to create their latest development in the heart of the Entertainment District, they knew it would need to reflect the connection that the residents had with that transformed area. The Entertainment District is now an area with world-class dining, high-end retail and easy access to entertainment, including theatres, concert halls, clubs and venues such as TIFF Bell Lightbox, Ripley's Aquarium and the Air Canada Centre. "What's so great about the Entertainment District is that it's so many different things to different people at different times," Brown says. People no longer just work and play in this now coveted Toronto neighbourhood — they also call it home. A project would need to echo that connection. It would need to create a bond.
The result of that vision is The Bond Condominiums, a gleaming crystal tower on Adelaide Street between John and Widmer streets, designed to give residents of all walks of life a deeper connection with the community they call home. With a variety of unit sizes, from smaller studios to three-bedroom suites, The Bond caters to the whole spectrum of lifestyles, from bachelors and bachelorettes to budding families with young children.
When it first launched in 2011, strong sales helped propel the project into early construction. Riding that wave of success, Lifetime has recently gone back to the city and gained approval for additional height. Two more storeys have now been added, bringing the total to 42. "What that allowed us to do was to introduce suites that had previously been sold out to the public," Brown says.
To usher in this final phase of development, Lifetime has introduced the Connected Campaign. This promotion will feature the new suites on the two additional floors, as well as the terrace suites on the seventh and eighth and the $4-million penthouse on the 42nd. While the new storeys will feature units that were sold at launch, Brown explains that the terrace units will feature unique access to large patio spaces, some well over 1,000 sq. ft., that are situated down a private hallway by the outdoor pool, along with a golf simulation room, billiards room and fitness facility on the amenity floor. "So instead of having a four-foot balcony," Brown explains of terrace units, "they now have space that they could walk out onto and entertain on in a much different way."
Lifetime turned to Core Architects to give The Bond its clean, modern, standout design. The Bond's 42 storeys rise from a multi-floor podium that will house retail and office space. This moves the residential units higher, which, when combined with the building's shape — long from a north-south perspective, and narrow from an east-west perspective — provides stunning views of the cityscape and the waterfront to every suite.
When Sam Herzog and Mel Pearl founded Lifetime 30 years ago, they started with housing subdivisions. About a decade ago, however, they switched their focus toward the burgeoning condo development scene in Toronto. In the last eight years, they've created over 15 projects and have sold over 6,000 suites.
But with every project, they've always adhered to what Brown describes as a "holistic approach" to building development. This policy ensures that every one of their developments supports causes that are important to the neighbourhood in which they are built. On the Liberty Market Building project, for example, they subsidized rent for artists that were previously working in the building prior to Lifetime's revitalization plan, allowing them to remain tenants even when rents increased. At Karma Condos, Lifetime and its partner CentreCourt Developments donated $5 for every person that preregistered for the project. The total amount raised was then donated to three different local charities including Wellspring, Sketch and the Ronald McDonald House Toronto. "We try to find different things that make sense for each project in each community," Brown adds.
In 2014, Lifetime launched its own foundation, Lifeline, that raises funds to support charitable organizations and initiatives focusing on Toronto's homeless and most in need communities. In the last year alone the Foundation raised over $100,000 and provided support to organizations such as Covenant House, Second Harvest, Breakfast For Learning and Eva's Initiative. "Lifeline was an important milestone for our organization and we are tremendously proud of what we have accomplished in its initial year," says Brown.
The Bond's latest campaign, The Connected Collection, reinforces Lifetime's dedication to the Entertainment District and celebrates other key individuals who have played an influential role in the district's evolution. The campaign will include a series of short interviews with notable individuals to the area, including Charles Khabouth, Zark Fatah, Matt Barnes and Hanif Harji, in addition to the opinions of others who have made the district their home, place of work and venue for entertaining.
"It's about celebrating the Entertainment District and hearing from key individuals that have truly shown a connection to this world-class city," Brown says. "We're very excited about it, because it shows how diverse and exciting this community and district really is."
But while the Entertainment District continues to flourish, space is at a premium. The release of The Bond's final units is one of the last opportunities for interested buyers to call this coveted area their home. Knowing long ago that this would be an area on the rise, Brown and the Lifetime team devoted their attention to detail and a distinguished design. "This is truly an exciting opportunity for people to live where their life is," adds Brown.
Photography courtesy of Gladstone Media – Doug Izon