The Naturelle – Michael Bonacini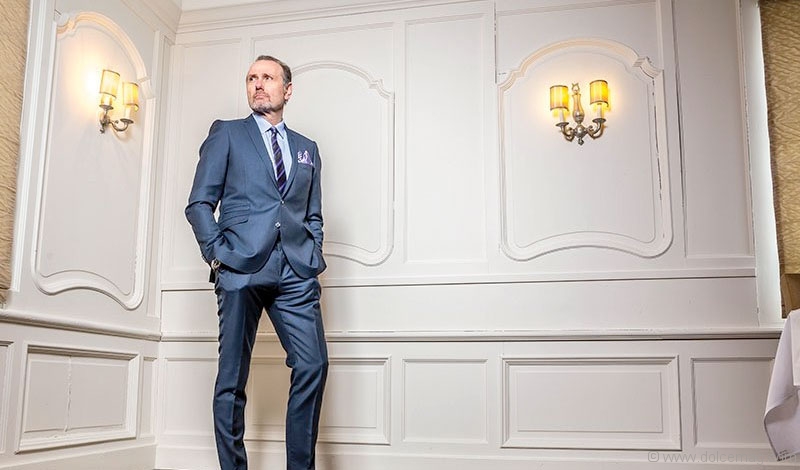 One word almost dashed Michael Bonacini's shot at national television stardom: "delayed." In early July 2013, the chef-turned-restaurateur was in Calgary on business regarding a new venture with Hudson's Bay. It was the night before his audition for a judge position on MasterChef Canada and he was set to fly home. But this was also the day of the record-breaking storm that hammered Toronto — the one where hundreds of passengers were rescued from a flooded GO Train and a Ferrari floated along Lower Simcoe. His flight was pushed back before being rerouted to Ottawa; he didn't land in Toronto until 5 a.m. A mad rush saw him just make a spot on Citytv before he walked through the doors of the SoHo Metropolitan and saw 30 or so other chefs from across the country all waiting for their turn to audition. "It was the perfect storm in many ways," he quips.

Bonacini's life is one dotted with close calls and almost-didn't-happens. But as the half-Italian, half-Welsh co-owner of Oliver & Bonacini Restaurants sits casually in one of the private dining rooms at Auberge du Pommier, the French cuisine pillar of the culinary empire he built with long-time partner Peter Oliver, he looks like a man who had it planned all along. He effortlessly rocks a fitted Tiger of Sweden suit that would be at home in Justin Timberlake's wardrobe, and with his salt and pepper goatee he could pass as Robert De Niro's more sophisticated brother. He's relaxed, cordial and accommodating, asking periodically if anything is needed: More water? Something stronger, perhaps? He's often described as an absolute gentleman and is coming as advertised. It's everything you'd expect from the man who helped pioneer modern fine dining in Toronto, who brought restaurants such as Jump, Biff's Bistro and Canoe, which is consistently ranked as one of the country's best, to the city. But if you questioned his younger self about whether he aspired to build this business into the prodigious powerhouse that it is today, he would have flatly told you "no."
"I always wanted to have my own restaurant — that was always part of my dream," he says. "But if you asked me 10 years ago if I could see myself being in partnership, having 11 restaurants, three significant event spaces, seasonal venues, other partnerships in the industry, a company that went from $12 million to $20 million to $70 million, pushing now $80-90 million a year in revenue, I would have said I can't see that happening."
But it did happen, and it doesn't seem to be slowing down.
This year marks a pivotal time for both Bonacini and the brand he helped build. In a partnership with INK Entertainment, O&B is stretching its wings and moving beyond Ontario to the booming Prairies where, sometime in late spring, it's launching a new restaurant/lounge and an event space at Hudson's Bay's flagship store in downtown Calgary. As of Jan. 1st, O&B also took over the food and beverage service for the Trump Hotel Toronto, and it recently partnered with foodie favourites Pizzeria Libretto and Porchetta & Co. Within 48 hours, Bonacini adds, they're hoping to land a deal that will bring a fourth location of iQ Food Co., a partnership launched in 2011, to the city.
While the business continues to grow, and he continues to count his blessings ("I am very, very lucky," he frequently says), it's his latest television venture that could have the most personal significance. The 55-year-old celebrity chef is one of three judges on MasterChef Canada, the Canadian iteration of the popular cooking challenge that features home cooks from across the country braising, baking and puréeing for the crown of "master chef." The show's already a hit, earning the title of Canada's most-watched original program. Its fourth episode even beat out the Olympics in the primetime ratings wars after pulling in 1.8 million viewers. It's not Bonacini's first foray onto the small screen — he makes regular appearances on Citytv's Cityline and was one of a handful of chefs featured on Food Network's Cook Like a Chef — but with the popularity of MasterChef Canada he's transitioned from a big fish in the Big Smoke to a star known nationwide. Just earlier this afternoon, Bonacini was leaving the TD Bank Tower after a meeting with Canoe's executive chef, John Horne, when he noticed two women pointing as he walked by.
The new-found recognition is flattering and charming, and he'd be lying if he said he didn't enjoy it, "but I'm very Canadian with it all and I take it in stride," he says. "I pride myself on being grounded and humble and straightforward, and not a diva in any way, shape or form." (Although his wife, Valerie, might say differently, he jests.) For a while, he didn't even like watching himself on TV. It made him uncomfortable to see himself on the screen, and he's been known to walk out of the room or plead with his family to change the channel if his face ever popped up. But lately he's warmed to the idea, noting it gives him a chance to evaluate his performance and make adjustments. "I think it allows you to be more of a critic to yourself," he says. "Something I constantly do is critique myself — who I am, my leadership, my mentorship and all that."
Bonacini's fellow judges on MasterChef Canada are "Demon Chef" Alvin Leung, who is trumpeted as one of only two self-taught Michelin star chefs, and Orderfire Restaurant Group owner Claudio Aprile. They represent different styles of cooking and bring their own judging flavours. "I think Michael's a very pragmatic, cool and very firm voice on the show," says Aprile, who owns Toronto's Origin and Origin North restaurants. He's known Bonacini for two decades, since he apprenticed at North 44, rival to Centro, where Bonacini was executive chef in the early '90s. Aprile explains that "his persona is very much built on respect and credibility. He's a very intense man at the same time, but he's very stately. He's your consummate gentleman. Everyone says that about Michael."
Bonacini's class and sophistication translates into a father-figure archetype on MasterChef Canada. His appraisal of contestants' dishes can be frank and unsugar-coated, but his comments are honest and practical, and he steers away from the condescending backhands of more merciless judges. He explains that others describe him as the "student's professor," the one they want to please — which is fitting, considering his balance of experience and demeanour. "Look," says Bonacini, "we're all human beings and we all want to be recognized for doing something well. In business today you have to have a certain amount of empathy, a certain amount of compassion, but I like to also think that my judging style, my commentary, is straightforward, no nonsense and matter of fact. Take it for what it is, use it and use it wisely, because once I've said my piece I don't want to see that same mistake twice."
He expects it from the home cooks because he expects it from himself. Staggeringly high service standards are one of the staples of the O&B brand. Even though he projects calm, cool and collected, Bonacini is an absolute stickler for precision and quality. He is classically trained and has cooked in some of London's most highly regarded kitchens, including at the Dorchester Hotel, where he worked under Swiss chef Anton Mosimann, who brought the Dorchester two Michelin stars. He knows full well what it takes to achieve and maintain a top-tier establishment and refuses to abandon those values. Many O&B restaurants still use the string technique he picked up at Centro to ensure all tables, chairs, cutlery and glassware are lined up exactly. This meticulous consistency is fanatical, and he knows it, but, "The difference between success and failure, at times, can be walking that line of insanity," says Bonacini, a proponent of Mosimann's cuisine naturelle style.
For Bonacini, "paranoia" is an essential survival instinct for business practitioners. And it's not a bad one to have, especially with his ever-swelling celebrity. Last year, news of Gordon Ramsay's New York flagship restaurant The London losing its two Michelin stars shook the culinary world. Bonacini knows that heavy is the head that wears the crown, and seeing those on pedestals fall from grace makes a juicy read, but it's a burden the best must willingly embrace. "Anyone in business fears failing, fears that the tide is turning, that you're not who you once were, that you've become second spot," he says. "You've got to keep at it and driving, and that takes constant, constant mental energy." He explains that the O&B employee handbook, of which Oliver is the biggest "proponent" and "narrator," outlines their unwavering, admittedly obsessive principles. Shoes, for example, must be polished before every shift — no exceptions. Mediocrity, he explains, "creeps in." It starts with dirty shoes, next it's a wrinkled shirt, then your cook's not seasoning properly. It's all downhill from there. "That is the kiss of death," Bonacini says.
Bonacini is no stranger to failure. In his early days in London, England, he wasn't sure if he'd ever open his own restaurant — he was turned down for a business loan dozens of times by the banks. "It was impossible," he says of the difficulties of toiling to open his own establishment. That dream didn't begin to materialize until George Minden, whom he met on an American promotional trip for the Dorcester, brought him to Canada in 1985 to helm the kitchen at the Windsor Arms Hotel. Even years later, after he partnered with Oliver and opened a string of successful restaurants, Bonacini found he was susceptible to setbacks. There was Steakfrites, which they opened in 2002 after the success of Biff's Bistro; it closed in 2004. The hipper, postmodern Square followed in the same space later that summer, but the much-talked-about venue subsequently closed before the year was out. "Every time we cut one loose, it hurts. It does hurt," Bonacini explains. "But again, what doesn't kill you makes you stronger."
Even Canoe, an unquestionable jewel of Canadian fine dining, nearly never came to light. In 1993, O&B had just formed and launched Jump in Toronto's downtown, "a barren wasteland when it came to restaurants," Bonacini recalls of the time. "This was in the height of the recession. It was in a commercial office tower. It was unheard of." It was the biggest risk of Bonacini's career, but the venture proved fruitful. Cadillac Fairview soon approached O&B to open a similar venue on the 54th floor of the TD Bank Tower. The pair, however, turned down the real estate developer — three times. "We walked away saying, 'Look, we have a very successful concept at Jump, we need to focus on it, we're not ready to focus on another project just yet,'" Bonacini explains. It was a move of both discipline and strategy that led to an offer too sweet to pass up. They signed on, and the rest is history.
Today Bonacini's role is quite different with O&B. While he's still a chef first, he's also a "quasi-businessman-restaurateur-entrepreneur" involved with hiring management, menu direction and restaurant design and construction. He still cooks from time to time, for TV spots or charitable events, such as at the annual Oakville-Trafalgar Memorial Hospital Candlelight Ball, which he's catered for the last six years, and at a recent celebrity chef gala for the Red Deer Hospice Society that featured himself and fellow Canadian culinary icon Massimo Capra. And he always whips something up when entertaining guests at either his family's Yorkville condo or their 172-acre property in Caledon, where he enjoys working outdoors, growing herbs in his garden, chopping firewood for use at Auberge and tending to his small vineyard of 400 vines of Late Harvest Vidal, which, he says, is mostly for esthetics. "I see myself as a bit of Renaissance man," he adds. "I just love being outside in the summertime."
While he's completely dapper today, he explains that his love of fashion was dormant for years. It wasn't until MasterChef Canada that his affinity for style rekindled. On top of Tiger of Sweden, he appreciates the good fits of Hugo Boss and Armani ensembles, and prides himself on his shoes. He's currently wearing a crisp pair of chocolate Allen Edmonds oxfords — "Standard issue," he jests — but also favours footwear by reputable English brand Church's. Although never one to be swayed by a label, "I have to admit, last year I bought my first ever pair of Prada shoes." He picked them up on a whim for half off at Holt Renfrew at the urging of his son. "It's the first time I've ever got into Prada, and I have no regrets."
Bonacini, like many gentlemen, is also a car guy. "I love classics," he says. He's owned a '52 Ford Sunliner and a jet-black '62 Cadillac Eldorado. Back in England, he drove a handful of Volvos, including a P1800, the famous steed of Roger Moore on The Saint. Today, however, he's left with one: a powder-blue 1982 Fiat Spider. The plan is to give it to his son when he finishes university. The Mercedes ML350 Bonacini currently drives keeps him content and there are no plans to acquire any more classics in the near future. From time to time, though, he'll ponder owning a vintage Ferrari. "Something along the Dino line," he says. But, as is his style, he remains reserved. "I think that will probably never happen."
Sure it won't, Michael. Sure it won't.