Lydia McLaughlin-Editor In Chic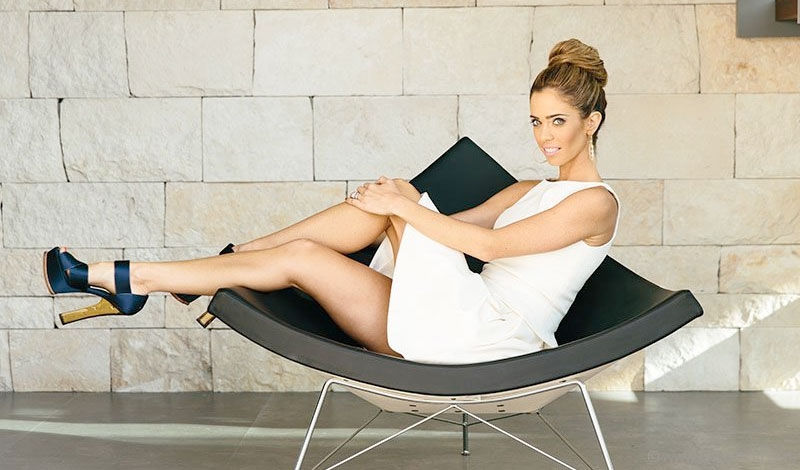 There was something different about the new girl. Her smile, while tweaked with nervousness, was brighter than the others'. She was younger; she was quirkier. Her posture was confident, but not cocky, and when she spoke there was almost always an infectious laughter scattered throughout her words. Lydia McLaughlin was bringing something different to The Real Housewives of Orange County: she was bringing "real" back to reality TV.
And today, on a sunny afternoon, this 33-year-old millionaire has put aside some time to chat. McLaughlin, who famously joined Housewives in 2013 only to even more famously duck out after just one season, is a wife, a mother and the managing editor of Beverly Hills Lifestyle magazine; a co-owner of boutique graphic design firm SKYLAB Media Group, Inc. and its affixed art gallery; and she's the creator and designer of her brand-sparkling-new accessories line, Lydia M Jewelry. She has a big resumé and an even bigger heart, so what prompted her to join Housewives in the first place?

"I wanted to be a different voice," she explains. "When I got offered the role, initially I said no. I spoke to the producers and told them I'm not a typical housewife; I'm not dramatic. I've never had plastic surgery. But they said that they liked that, and they wanted me to just be me. So I took it as a chance to be a different voice — a role model, maybe."
Viewers were smitten with the young mother and entrepreneur, and it's no wonder: McLaughlin's life contains all the ingredients of a storybook romance. She claims it was love at first sight when her 21-year-old self laid eyes upon Doug McLaughlin, the man who would one day become her husband, when they were both volunteering at the Newport Beach location of the youth mentoring organization Young Life. ("He didn't remember my name," she recalls with a laugh. "He called me Linda, and it was heartbreaking. I was like, 'We're going to get married. My name is Lydia.'") They now live in Dana Point, Calif., with their two sons, four-year-old Stirling and two-year-old Maverick. During their time onscreen, the wholesome happiness of the McLaughlin household refreshed and inspired; they were a glass of sparkling water in the midst of reality television's muddy mayhem.
So, why quit? "I really did do the show because I wanted to be a positive influence, but if I'd returned for another season, it would have been because I like the red carpets, the fame, the glamour — and those aren't the reasons why I did it in the first place. I didn't want to see my values being compromised." Her words ring with a sense of honesty, undoubtedly inherited from her grandfather, Canadian media tycoon Geoff Stirling, who passed in December at the age of 92. Renowned across North America as the man who sparked NTV, Canada's first 24-hour news station, Stirling put his hometown of St. John's, N.L., on the map as a source of broadcasting eminence.
"He's just a magical man full of wisdom and confidence," says McLaughlin, who aims to visit her hometown on the Rock twice a year with her three boys. "I think I have a lot of him in me. He was all about standing up for what you believe in, and believing in yourself, and always questioning why things have to be certain ways. That was always engraved in us." Although she's kissed the Housewives scene goodbye, McLaughlin tells me she's not finished with reality TV just yet. There's a show of her own possibly in the works, this one promising fine wining, dining and mingling with Hollywood's brightest lights. "My husband and I have Beverly Hills Lifestyle magazine, and that's really our real life," she says of the luxe publication, which celebrates its sixth year running this spring. "It's very glamorous and fun and so we're interested in pursuing that as a reality show."
Following McLaughlin's personal trend of "being a different voice," the show proposes to breathe elegance and excitement into the plasticized landscape of reality television. Viewers would be given an insider's look at the glitz, glamour and humour that touch each glossy page of BHL, which happens to be an official magazine of the Academy Awards. While the unnamed, unconfirmed show sits in the purgatory of "if and when," McLaughlin fills her days not only behind the scenes of the magazine, but by getting lost in the gold links and Swarovski crystals of Lydia M Jewelry. "It's for any woman who likes a little sparkle," she says of the handmade, Orange County-based collection, which gives 10 per cent of its revenue to iSanctuary, a non-profit jewelry organization that employs victims of human trafficking. "I'm really involved with it; every piece, I've touched and looked at and made sure that I love it."
We've been on the phone for half an hour, and I'm inspired. I'm also spinning. Now I'm itching to know: how does she balance family and four successful businesses, while flashing cameras trail her every step? "It's important to know what charges you up," she says when I ask. "If you do that at the start of your day, you'll be more present in situations. My brother loves to meditate, my husband likes to go on drives — for me, it's journalling."Journalling? Not a deep-tissue massage or the swipe of a credit card — just a pen and paper? "It keeps me energized and focused," she explains. "I feel like in this day and age, we're constantly distracted by our mental to-do lists, and it robs us of the joy of the moment. By writing it all out each morning, I'm able to truly enjoy what's happening in my day. When I'm playing with my kids, I'm truly with them, and if I'm working, I'm kicking butt and getting it done and just giving my true, real best."
Take a peek …
In her closet
"Like every woman, I'm a big fan of shoes and handbags. I'm really into timeless pieces, but for the trendier stuff I go with, like, Zara or Urban Outfitters — that type of vibe. And then if you put that with, say, a Louis Vuitton purse and red sole shoes, you can get away with it."
In her passport
"I'm part Italian, so we go to Positano on the Amalfi Coast in Italy every summer. That's my favourite. I love to travel — I love seeing other cultures. My husband and I have been to so many places; before we had kids we would backpack through Egypt and India, the Dominican Republic, Australia … I definitely think it's important to see the world."
In her happy place
"I love a bubble bath, and I have a cup of tea every night before bed — Earl Grey with milk. I love chocolate-covered almonds. And gel nail polish — I think it's awesome. And I like a good workout."
Behind the scenes of Beverly Hills Lifestyle
"Gosh, we have so many funny celebrity stories. One celebrity was wearing a robe while we were interviewing her, and she just took her robe off. She's like, 'It's awfully hot in here!' And of course my brother, Jesse Stirling, was doing the interview, and he was like, 'Do not look down, do not look down!' That was really funny."