Fast Times with Alexander Shnaider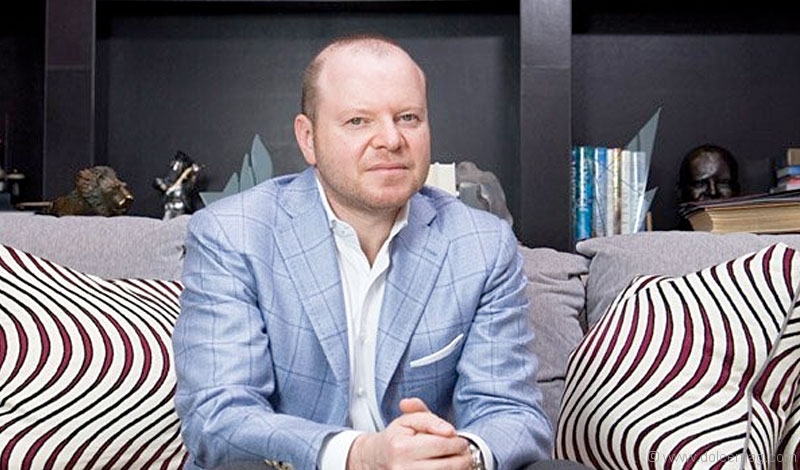 Bruce Springsteen's raging '80s song "Cover Me" sets the stage for a lyrical morning. The Boss's baritone vocals are crooning through the sound system of metal mogul Alex Shnaider's sprawling Bridle Path abode as he insouciantly poses for his cover shot. This steely parallel wasn't planned, but as Shnaider's story proves: not many things in life are.
Unlike the U.S.A.– born rocker, Shnaider's roots are in St. Petersburg, Russia — and like a pulsating stereotype, the vodka-punctuated bar in the background substantiates it. Which brand is the billionaire's favourite? "I like them all," he says in a smooth Eastern European accent that's capped with a facetious smile. Evading the cliché, he opts to pour himself a glass of water from the mini fridge.
Shnaider makes the creamy block of stone behind him look malleable as he melts into it and crosses his leg in the Katherine Newman designed home he shares with his wife Simona and their three daughters. It's the edifice of entrepreneurial stardom. Candid family photos are juxtaposed with highbrow art in gilded frames; fashion-focused books, such as Masterpieces from the House of Fabergé and Carolina Herrera, add class to glass coffee tables; and 12 massive onyx columns kiss the ceiling of a great room too grand for words. The stone was imported in pieces from Iran and aligned on-site, vein-to-vein, says Shnaider, who looks like he walked off a Russian runway in his pale blue Tombolini blazer and A.S. embroidered cuffs. The worn, Red Bendel bracelet around his wrist seems innocuous as it rivals an IWC Schaffhausen watch but, at the price of warding off the evil eye, it becomes invaluable. With two dinners ahead of him — one personal, one business — an early start at the gym and a meeting at noon, Shnaider's days are as crammed as his library's wall-to-wall bookshelves. He only speaks when there is something to say and, when he does, his voice resonates in a room that would much rather seat a hundred than a handful.
His immaculate mansion on Millionaires' Row, yen for yachts, fondness for fast cars or proclivity for private jets are the tangible regalities that media-shy Shnaider has become best known for. His 40th birthday bash — arranged by Simona — became a newsworthy spectacle when word spread that Gloria Gaynor, Boney M. and Wyclef Jean performed for him at a Toronto Pearson International Airport hangar that was transformed into a high-flying nightclub. It was pegged as the type of party most people only attend in a state of REM sleep, with a sea of VIPs on the guest list. The bash, he admits, was a memorable one, but Shnaider says his 30th and 35th fetes take the cake. While these dreams are indeed his realities, there is a side of Shnaider that many have yet to meet.
"Clearly there's been some luxurious, opulent parties over the years but what's great is that, just as much as those parties exist, you'll find Alex and his family very often doing just regular things," says Daniel Tilis, former high school friend and current chief operating officer of Shnaider's international investment holding company, Midland Group. "He's actually quite normal," he adds. Tilis paints the picture of a man who takes his daughters to the neighbourhood Menchies, TiVo's sports games when he's too busy to watch and prefers run-of-the-mill road trips to remote locales. As someone who has witnessed his friend evolve from boisterous classmate to Canadian billionaire, Tilis isn't surprised by Shnaider's stratum of success. "He was definitely someone who was always focused and serious. Each of us knew that we wanted to succeed in something different, some with business, some at maybe something more scientific, and most of our friends have done relatively well, but no one has done as well as Alex."
Shnaider, who recently took some time out to attend his high school reunion in Toronto, still resembles the young, blue-eyed boy whose parents emigrated from Russia to pursue the Canadian dream when he was four. That aspiration arrived in the form of an existing deli they bought and ran for almost a decade to make ends meet. "I watched them work very hard seven days a week," says Shnaider, who initially wanted to be a firefighter. It was there, under fluorescent lights and the watchful gaze of his parents, that he performed medial tasks and "learned how to be punctual, responsible and resourceful." This comprehensive life curriculum was bestowed upon him at an impressionable age. "Most importantly, I learned how to interact with all kinds of people, which is the key to running a successful business," he says. It was a key that opened a lot of doors.
Following high school, Shnaider went on to educate himself in economics at York University, where he received a bachelor's degree in 1992. From there, the 23-year-old travelled to Zurich to work for a steel trading firm and explore business opportunities at an age where failure wasn't a limiting fear. "Being in my 20s, I was willing and able to take risks that today, being older and more experienced, I probably would not act upon," says Shnaider, 44, who serendipitously met engineer Eduard Shifrin in Ukraine and began pondering steel mill prospects. In 1994, the pair became business partners and established Midland Resources Holding Inc., a company that facilitated the trade and distribution of steel products sourced from Ukraine. "As we grew, we continued to diversify into real estate development, electricity distribution and other investments, such as agriculture and retail," he says. Shnaider shifted Midland's profile from steel and commodities trading to purchasing and operating steel mills in Eastern Europe, a decision he believes was one of his best. Sales began skyrocketing and suddenly he found himself among Canada's canon of self-made billionaires, repeatedly referred to as the country's youngest. "I was fortunate to be in the right business, at the right place, at the right time."
While Shnaider is a testament to the steel industry's lucrative lustre, he's also the first to point out that the trade is far less firm than some may assume. "It's a very difficult and volatile business with turbulent ups-and-downs," he says. "I have had to face many challenges to get where I am today, but the most recent — and certainly one of the toughest — was the global economic downturn in 2009." Due to the Internet and the rapid flow of information, Shnaider consistently has his eye on maintaining the company's success and diversifying its portfolio. His attitude seems to be one of cognizance without concern. "We formed Midland in an extremely volatile economic climate, so I'm accustomed to these challenges," says Shnaider, who believes strong assets and low debt levels have placed Midland at an advantage in precarious conditions.
Among his sweeping portfolio is a recent real estate endeavour that he launched with one of the world's most notable trademarks in the spring of 2012. With Donald Trump's brand power and Shnaider's financial backbone and entrepreneurial astuteness, Trump International Hotel and Tower Toronto, which has been peppered with high and low reviews, is positioned to endure the test of time. "To say that Trump Tower was not an easy project would be a massive understatement. One is never fully aware of all the potential consequences in a venture of this scale," says Shnaider, chairman of Talon International Development Inc., Midland's privately held real estate subsidiary that funded the majority of the $500 million mixed-use super structure. "In many ways it has exceeded our expectations, as we made no compromises on executing our vision," he adds. His goal of developing a piece of real estate that would leave a lasting legacy materializes itself in the 65-storey stone, steel and glass building that boasts a posh spa and a sky-high restaurant on the 31st floor and has been deemed Toronto's tallest. "Alex Shnaider has been terrific in every sense of the word. His business acumen is sharp and he has a great level of creativity that adds to any of his endeavours," says Trump, who will be project manager. "He has been a joy to work with," he adds. Designed with the familiar five-star Trumpeties, the tower's residential suites begin at the price point of $1.5 million.
Though his business ventures have broadened, at least one of Shnaider's core passions has persisted. According to his 1987 graduating yearbook, Shnaider — who famously bought Jordan Grand Prix in 2005 for $50 million and sold it two years later for $109 million — has always revered the racing world. His grad comments reveal that his favourite pastime was "fast times," his favourite expression was "But officer, I'm really sorry!" and his chief asset was his "Turbo." Though he's upgraded and expanded his auto collection substantially since then, "Alex was someone who, even in the early years, had a nice vehicle — not necessarily a new one — but still would have had a nice car," says Tilis. "Formula One is the pinnacle of motorsport so I thought it would be a fun and exciting project to take on," Shnaider says of the team he renamed Midland F1 Racing before selling.
While wealth may have put Shnaider in the driver's seat of many luxurious cars, he makes it clear that it's not the dollar bills that drive him. In fact, he's hazy about the first time he was deemed a billionaire — a big word for someone who came from small beginnings. "I can't recall that precise moment, so I guess it did not leave any impression on me," he says. Philanthropy has become both an interest and a duty of the Shnaiders, who have donated millions to hospitals and Jewish causes that are meaningful to them. It's an example he hopes to instill in his daughters. "Whether they follow in my entrepreneurial footsteps is less important to me. The main thing is that they grow up to become good people who make positive contributions to society," says Shnaider. "That would make us proud." While their mansion has certainly been the site of several fantastical affairs, it's also often quietly used as grounds for fundraisers and decisive meetings. Just last week their great room played host to a team of doctors and hospital executives.
Above all others, Shnaider's library says the most about him. The bookshelves alone tell the story of a well-read man who leads by example yet fervently follows the fascinating lives of other trailblazers, from Monet and Picasso to Bob Dylan and Steve Jobs. "I don't really see myself on that level; I'm just someone who was able to put his education, connections and experience to good use and become successful." Inside the intimate space, there are also photos of Simona, a Swarovski crystal Donald Duck statue given to him by a good friend, a Rolls-Royce model car and several sentimental centrepieces. A book titled Steel Traders of the World in the background is especially poignant, as it points to a man who makes the cut. "I wouldn't change a thing about my life," he says.
---
Q&A with Alex Shnaider
Q: What is one lesson you hope to instill in your three children?
I believe that children should be raised to care about their communities and support as many good causes as they can. They should be taught at an early age to help and to give, not only to take.
Q: What is your favourite holiday?
I love the decorations and festive mood in Toronto around Christmas and New Year's. It always feels special.
Q: Do you see yourself living in Canada for the rest of your life, or do you have plans to return to Russia one day?
We chose to live in Toronto because it is an ideal place to raise a family and live comfortably. I do not see myself ever living in Russia again. My parents emigrated from Russia when I was four years old so that we could have a better life, and we found it here in Canada. There's no reason to go back.
Q: If you could be a city, what city would you be?
I love Barcelona — the architecture, the ocean, the climate, the food and its soccer team. It has such a vibrant energy.
Q: Some people say that money can't buy happiness, how do you respond to that statement?
They are right.
Q: What is the best thing about being Alexander Shnaider?
Living life on my own terms. Waking up every morning excited by the prospect of new possibilities and challenges.
Q: What does la dolce vita mean to you?
Spending leisure time with family and friends and having the health and means to enjoy every moment.