Pusateri's: Flavours of Fall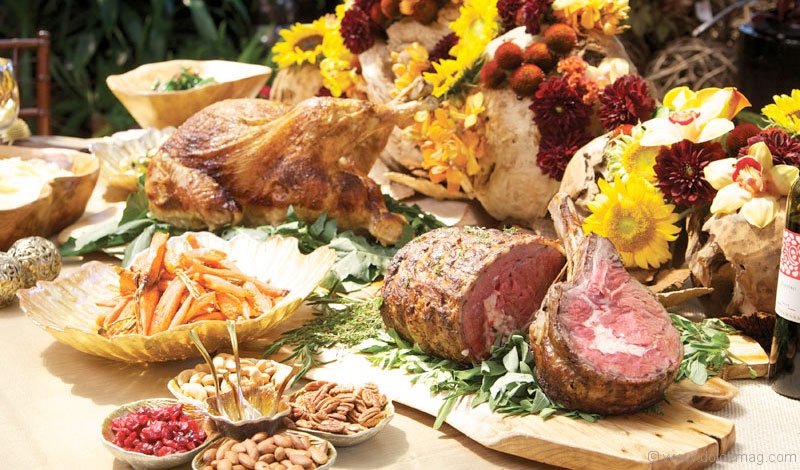 Foodies craving festive flair throughout this season of thanks have good reason to be grateful. Friends and family come to life in the presence of succulent, aromatic dishes and classic, warm décor. Set the standards for high style with Pommery-crusted prime rib and ancho-roasted carrots complemented by floral scores of yellows, burnt oranges and burgundies.
Ingredients
8 lbs prime rib
Horseradish Marinade
125 ml prepared horseradish
125 ml Pommery mustard
1 tbsp chopped rosemary
1 tbsp chopped thyme
1 tbsp chopped garlic
2 tbsp soy sauce
2 tbsp Worcestershire sauce
2 tbsp olive oil
Mirepoix for Gravy
1 cup carrots washed and diced to 1" thickness
1 cup celery washed and diced to 1" thickness
1 cup onion washed and diced to 1" thickness
3 cups red wine
1 litre unseasoned beef stock
2 pieces bay leaf
1 tsp whole peppercorns
2 sprigs rosemary
2 sprigs thyme
1 tbsp cornstarch
3 tbsp water
Directions
1. Combine all marinade ingredients and rub over prime rib. Sit for 24 hours.
2. Add all the mirepoix ingredients to the bottom of a roasting pan with rack.
3. Add salt and pepper to prime rib and transfer to rack in roasting pan.
4. Transfer to oven preheated to 204 C (400 F) and bake for 1 hour or until prime rib is light brown.
5. Lower oven to to 148 C (300 F) and slowly bake. Cook to desired colour using a meat thermometer to check internal temperature of prime rib.
6. Transfer the prime rib and rack to another tray and cover lightly with foil. This is also known as "tenting." Let the tented meat sit for 15–20 minutes.
7. Strain all the liquids on bottom of roasting pan (discarding the solid ingredients) into another pot. Skim as much oil as possible. Bring pot to a boil then whisk in a slurry made from mixing the cornstarch and 3 tbsp of water. Reduce heat and simmer for one more minute as gravy thickens.
8. Season gravy with salt and pepper.
9. Slice meat and serve with gravy.
---
Ancho-Roasted Carrots
Ingredients
3 lbs carrots
1 tbsp ancho powder
2 tbsp olive oil
1 cup honey
1 tsp sliced garlic
2 tbsp butter
salt & pepper to taste
Directions
1. Peel and cut carrots in half, leaving the tops on. Wash well.
2. Steam or boil carrots for 1 minute, then drain.
3. Toss carrots in olive oil and add salt, pepper and half the ancho powder.
4. Roast in oven preheated to 176 C (350 F) for 20 minutes or until golden brown. Set aside.
5. Heat up honey in a pan set over medium heat and reduce by half. Add the remaining ancho powder, then garlic and butter. Season with salt and pepper.
6. Add the cooked carrots to the honey glaze and let simmer for 25 seconds or until glazing occurs.