Luxury Magazine: Dolce's Sweet 16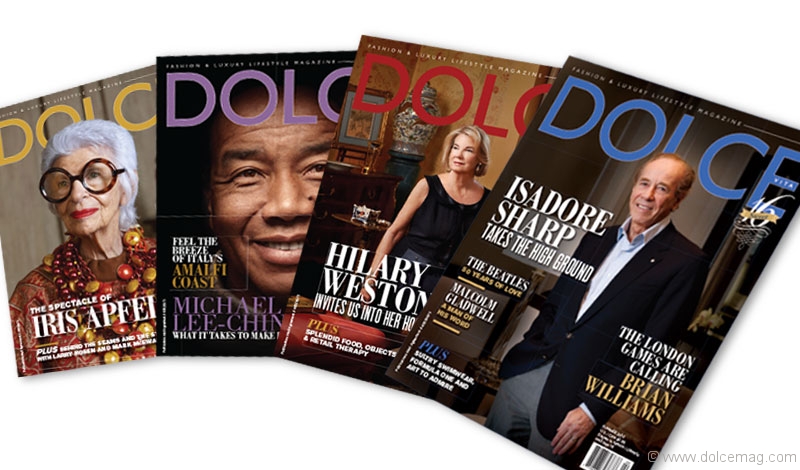 Luxury magazine is the perfect description for Dolce Vita. For over a decade and a half, this luxury publication has been unveiling exactly what it is that the affluent and aspirational reader wants. Complete with luxurious features on home décor, high fashion, celebrity events, and more, Dolce continues to be a leader in the luxury magazine industry.
Founded by siblings Fernando Zerillo and Michelle Zerillo-Sosa in 1996, Dolce is now celebrating its 16th birthday. The luxury publication continues to flourish because of passionate and loyal readers who want to experience the sweet life, day in and day out. That's what Dolce gives people – a taste of everything sweet.
In times when the economy is in rough waters, people wonder how luxury items can even be an option. But during the recession, luxury did not disappear; it was merely redefined in our lives. Dolce's readers buy a designer handbag if it really catches their eye, or a timeless jewelry piece that they can't live without. They spend what they have on what's worth it. And Dolce makes it its goal to find out what the must-have items are in order to guide readers in the right direction. This luxury magazine continues to be successful after 16 sweet years because it is committed to showcasing the best people, services, and products.
Dolce creates something special for aspirational readers, standing in as a wish list or vision board to help them get everything they want out of life. It takes its readers from the Amalfi Coast to St. Lucia, with blissful photos and beautiful travel stories. It features well-known artists and entrepreneurs who are as inspirational as they are famous, creating celebrity profiles with depth. What makes this luxury magazine different is the way it defines the good life. It isn't just about sparkling rings and your favourite things – it's about making a difference.
During Dolce's 16 years as a luxury magazine, many groundbreaking and inspiring figures have been featured. From Hilary Weston to Michael Lee-Chin, they all continue to remind us that living the good life means something different to everyone. Weston teaches us that your life becomes more colourful when you stop to listen and learn from other people, while Lee-Chin inspires us to be committed to a cause and live by our values. To these Dolce role models, the good life is about having passion, spending time with family, and looking outside of ourselves to lend a helping hand.
"In my eyes, Dolce Magazine is meant to spark passion that pushes readers to get as much out of life as possible and to give just as much back," says Fernando Zerillo, co-founder of Dolce Publishing Inc. "The success stories of our fine candidates showcase an ideal balance between work and play, family and friends."