Alan Pourvakil – W Studio: The Art And Beauty Of Handwoven Carpet Design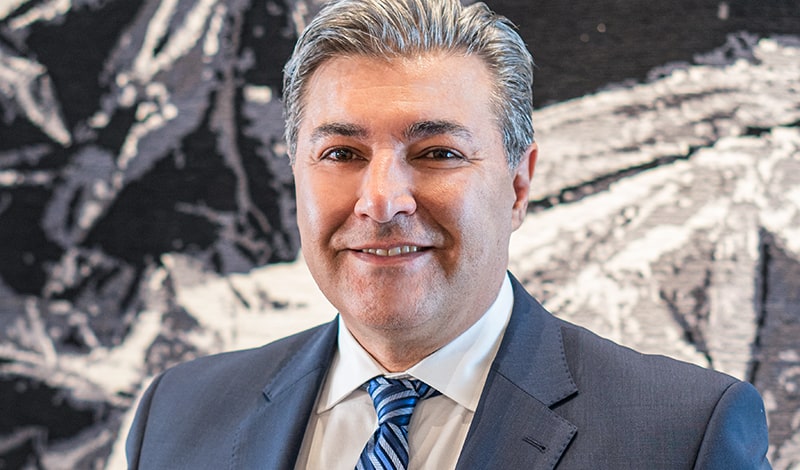 Now is the perfect time to find the carpet of your dreams without leaving the comfort of your home or office.
Already secure of its place in modern history, 2020 may also be remembered as the year that gave us a better sense of appreciation — for personal relationships, small daily rituals we took for granted and essential workers. Appreciation has always been important to Alan Pourvakil, founder and creative director of the award-winning Toronto carpet design house W Studio, especially for the interior designers and architects who are the core of his business, as well as the fine art enthusiasts who proudly display his pieces of artistry in their homes.
"The foundation of my business is the thousands of extremely talented interior designers and architects with whom I have worked," says Pourvakil. "I'm very visual and see the visions of these designers and architects. I listen to them and put creative possibilities back in front of them for their clients' considerations. I cannot stress enough the importance of having an interior design professional working on your behalf."
Born in Iran, Pourvakil personifies the definition of "refined gentleman": gentle, dignified and proud of his craft. His artistry and designs have won more than 30 national and international design awards, including the America's Magnificent Carpets Award for best contemporary design.
Always inspired by art, history and culture growing up in Iran, Pourvakil fully realized the beauty of a fine carpet and how important it is in any home. Through his intuition and experience, he can create a feeling through his carpets of great energy. "In many ways, a carpet can shape a room for wall colours or furniture and it harmonizes a room," he says. "We are designing art for your fifth wall — the floor. With some bigger sizes, carpets are the largest piece of art you have in your home, which has a tremendous impact and can create a room where everyone feels comfortable."
W Studio draws from numerous sources for its points of reference on any project, including the realm of furniture in a room, and, above all, art. The company's expertise matches a carpet to a client's décor and to suit specific tastes and lifestyles, while at the same time invigorating the feeling of a room, creating spaces that are close to everyone's heart.
To that end, Pourvakil sees himself somewhat as a matchmaker in a client's home, marrying homeowners to great works of art and always with attentive personalized customer service to ensure the entire experience is flawless. "It's almost like choosing a partner or a roommate. It's not just buying a carpet; it's something you live with for years to come and should lift your spirit," he says.
Working with such talented designers and architects results in W Studio carpets that tell stories, define trends and evoke emotions. "Eighty per cent to 90 per cent of our business is with designers and architects, and they have taught me everything I know," says Pourvakil. "Our job is to combine designers' visions with clients' personal likes and dislikes. Through the design trades, we can design the carpet of your dreams together."
W Studio's carpets are divided into two collections: The W-Artisan Collection, which is hand-knotted and hand-sheared using the finest natural materials such as Tibetan wool and Chinese silk. It features beautiful handwoven designs made by the finest artisans working in the industry today. The second collection is the W-Dream Collection, featuring state-of-the-art high-definition custom-printed carpets that can be used as wall-to-wall installations, area rugs or acoustic wall art. An important step within the creative process of both collections is the research required toward the achievement of the desired result on behalf of clients, which is then adapted to a wide range of designs and materials.
"It's Almost Like Choosing A Partner Or A Roommate. It's Not Just Buying A Carpet; It's Something You Live With For Years To Come And Should Lift Your Spirit"
Its reputation allows W Studio to partner with the best, and The W Studio Artist Series brings new perspectives and never-before-seen creations to life by working with such artists as Christopher Bates, Les Ensembliers, Mohammad Mofrad, Ariel Muller, Karim Rashid, Samara Shuter, Regina Sturrock and Peter Triantos.
"We are constantly reinventing ourselves and coming up with new designs and collections, and currently we are re-merchandising the studio," says Pourvakil. "As such, we are clearing out some of our one-of-a-kind pieces of handwoven art at prices never seen before."
Its entire inventory is also available online 24-7, with a huge overstock sale offering 50 per cent to 70 per cent in price discounts. Designers and customers can also work virtually with W Studio via a FaceTime walk through its showroom. For its Canadian clientele in the spirit of giving back to the community, when customers purchase a carpet online from the overstock selection, five per cent of the net purchase price will be donated to the customers' choice of a food bank in their local community.
Customers are also able to experience the carpet of their choice in their homes for a couple of days to ensure complete satisfaction. And Pourvakil also offers full refunds to guarantee the perfect piece is selected. He invites anyone to text him at 647-967-9290 or email him at askalan@wstudio.ca for personalized service. "If people take pride and want to own something valuable that is extremely exclusive, W Studio is the place," says Pourvakil proudly.