Chef's Table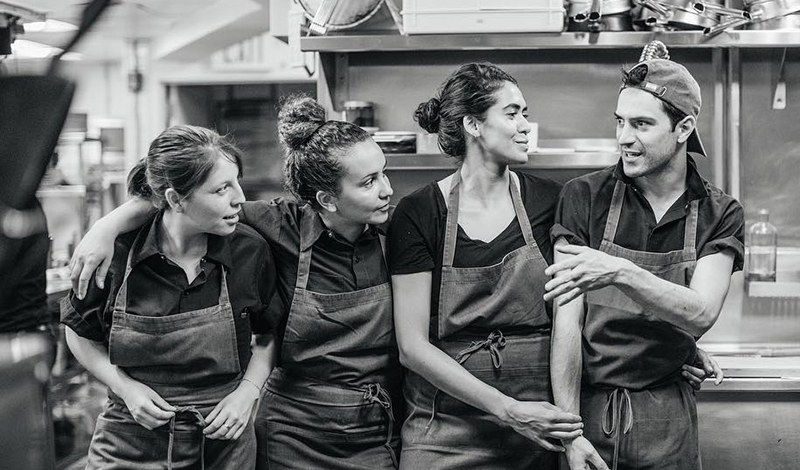 The world's best chefs are getting younger and more creative, and Dolce has spanned the globe to shine a spotlight on three of them and their individual passions.
COSME'S DANIELA SOTO-INNES — NEW YORK CITY
There has always been great debate in the world's best kitchens about what ingredients make the best recipe, but for Daniela Soto-Innes of Cosme restaurant in New York, there are only two essential ingredients: love and joy. It's a philosophy she takes seriously, paying close attention to her kitchen staff 's state of mind, cheering them up when they're down or stressed, playing music and even doing warm-up exercises with her cooks.
Perhaps we should all add love and joy to our recipes, as Soto-Innes was recently named the elit Vodka World's Best Female Chef, and at just 28 years old, she is the youngest chef ever to receive the award.
Arriving in Texas from Mexico City at the age of 12 years, her passion for food and Mexican cuisine comes from her mother, aunt and grandmother, who always told her to put love and joy into her cooking — and that happiness (and great food) would be the end result.
Cosme holds down the No. 25 spot in the World's 50 Best Restaurants list and is among the most notable in New York City, where former U.S. President Barack Obama once popped in for a surprise visit. Her success with Cosme and her other New York restaurant, Alta, is leading her to open two more, Damian and Ditroit, both in Los Angeles, when conditions are right again. Put Daniela Soto-Innes on the front burner as a chef to watch.
LOLA'S KAMILLA SEIDLER — COPENHAGEN, DENMARK
At Kamilla Seidler's new restaurant, Lola, in Copenhagen, cooking great food and creating culinary excellence are only half the equation. Returning to the kitchen after a two-year absence to advocate for equality and sustainability in Denmark, while Lola is already garnering rave reviews for the international influences in its cuisine, it is Seidler's program for the vulnerable in society that is attracting equal admiration.
Called Lola Impact, it is a job inclusion and training project that targets people on the periphery of society. The project gets them involved in culinary courses, strengthening not only their cooking techniques but also their life skills, helping them build relationships and integrate back into society.
It is a passion for Seidler that she calls "social gastronomy" — creating great dishes, while still focusing on social issues. She put this into play when she moved to Bolivia seven years ago to open a restaurant and culinary school for underprivileged young people that went on to become the best restaurant in the country. And even before Lola opened last November, Lola Impact had already held courses for two groups of vulnerable girls.
Lola's setting is almost as spectacular as what Seidler creates in her kitchens. It is located in a renovated mill dating back to 1669, along with two other buildings, one of which is used to promote social inclusion through communal dining at long tables.
The restaurant's innovative dishes, such as Pupusa and Kimchi — featuring an El Salvador–inspired cornmeal flatbread filled with refried beans and topped with kimchi and horseradish sour cream — are already adding something original to the Copenhagen dining scene, as Seidler's influences from her international travels are translated to her creations.
Lola and Lola Impact are two parts of the greater good that share equal importance in the life of Kamilla Seidler.
CENTRAL'S VIRGILIO MARTINEZ — LIMA, PERU
There is so much more to Virgilio Martinez and his Central Restaurant in Lima than just outstanding food and creative presentation, which have made Central the No. 1 restaurant in Latin America three times.
Sustainability is at the core of the restaurant's existence — and more than just the concerted effort to manage waste, reduce costs and minimize a carbon footprint. Central is recognized throughout Latin America for its efforts. For Latin America's 50 Best Restaurants 2019, sponsored by S. Pellegrino & Acqua Panna, Martinez's Lima flagship restaurant achieved a sustainability rating of 98 per cent as part of the audit completed by Food Made Good Global. And no restaurant has ever received a higher score. Martinez's passion for sustainability also extends to the traceability of food sources, often a challenge given the diverse topography of Peru, which chefs are just beginning to understand. And he extends that knowledge with his considerable personal charm to his diners.
Martinez often educates guests on unusual products, such as wild roots and flowers, or plants that are used for dyes, medicines and food, focusing on nature, social ecosystems and accessibility, and extending beyond where an ingredient is grown.
The Central team takes a proactive approach to sustainability, with recycling, composting and closing the loop of waste ingredients just the onsite start of the sustainable commitment. They leave their comfort zone of the restaurant's walls in Lima and explore for themselves in the fields and countryside exactly how hard or easy it is for an ingredient to arrive at their kitchen. And they all have intimate knowledge of the farm-to-fork process.
This is the type of dedication to his craft that has made Virgilio Martinez a culinary superstar in Latin America, both in his kitchen and in the fields of his country.