Zoran Properties: Zoran Churchin – A Penchant For Property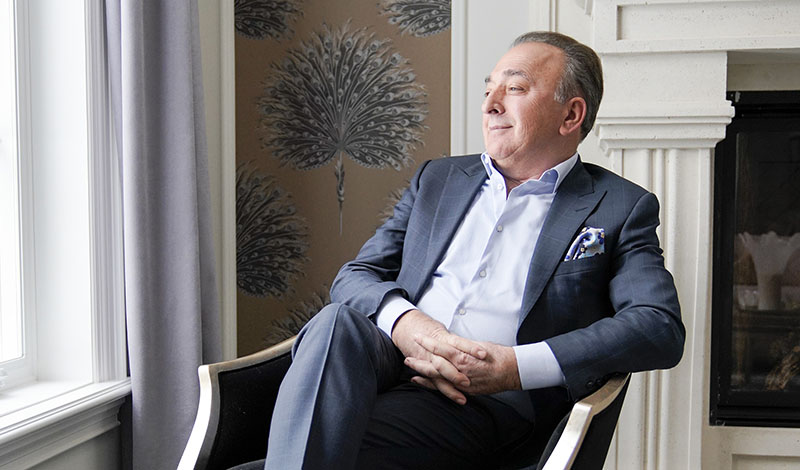 Zoran Churchin, president and CEO of Zoran Properties, discusses three decades of buying, selling managing residential and commercial properties, giving back to the community and instinct-led investments.
Zoran Churchin has been in the business of property management, real estate and investment for more than 30 years. In that time, he's grown a portfolio that consists of residential, commercial and medical condominiums, as well as plazas and office space. "Throughout my career, being in this industry has allowed me to find what to sell and what not to sell before anybody else," Churchin says. "I've always used that knowledge, paired with a sense of instinct."
Churchin set up his first business in 1988. "I was building houses and renovating plenty of other ones," he explains. Just over 10 years later he expanded into property management, after building two custom homes for a lawyer he met. His interest in the trade has flourished ever since. Five years ago, he started a different company, Zoran Realty Partners, where his first purchase was a large, seven-acre plaza in Mississauga, Ont. He has already put in an application to the City of Mississauga to transform that plaza into 1,600 condominiums and 140,000 square feet of retail space.
Churchin thinks of himself "as a negotiator," always looking for potential opportunities for him and his future investment partners. That skill, paired with his keen instinct, has seen him purchase office buildings for lower-than-asking prices. He's also managed to fight off competition for certain properties. "This year, I found another plaza in Etobicoke, Ont., in an excellent area. The owner ended up having 13 offers," he explains. "I couldn't believe it, but the reason they chose me was because I had an interview with the vendor. After talking with him and telling him about my experience in property management, they accepted my offer."
As well as finding success with lowering an asking price, he is skilled in improving a property's occupancy. Take his current office building, for example. When he purchased it, Churchin says the occupancy was only at 45 per cent. But three years later, after working with potential tenants, it stands at almost 90 per cent.
Alongside his impressive portfolio, Churchin is also a philanthropist and has dedicated a lot of his time and energy to improving his community. For 12 years, he held the role of president at a Serbian Orthodox church in Mississauga. During that time, he went on to organize the fundraising, construction and development of a new church, spending two and a half years on the site overseeing the complete process. As a result of his contributions, he received one of the highest civilian orders from a Serbian Orthodox church.
"Throughout My Career, Being In This Industry Has Allowed Me To Find What To Sell And What Not To Sell Before Anybody Else"
He's also politically engaged and has worked as part of the PC party, running three times for candidacy in the Mississauga area. "I was fortunate that I always had a job. I've never been out of work. I'm the kind of person who always finds something to do. What I wanted to do in politics was be in a position where I can make a change for better. And I always thought, Even if I can make 10 people happier than they were before, that would be a success for me." Though he wasn't elected, he says the experience was invaluable and spurred him to want to help even more.
With a seal of confidence spanning 30 years, a track record of making his partners profit and an ever-growing portfolio of properties, Churchin's success is only set to continue. "If my partners invest money with me, their investment will be looked after 100 per cent, as if it were my own," he says. "Whatever I gain, they are a part of that."