The Zenith of Zagato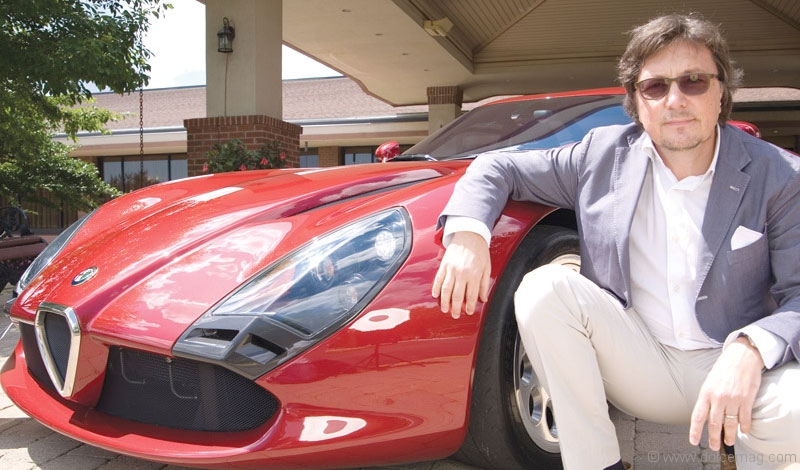 Andrea Zagato ambles into the Delta Meadowvale Hotel and Conference Centre, unperturbed after a long night of successively delayed flights at a New Jersey airport. Affable with a smile, smart with custom wooden eyewear and subtly stylish in business casual, the Milan-based maven makes his way to a lounge area off an echoing main lobby. The Mississauga, Ont. hotel is the command centre of Alfa Canadese, the 2012 convention for North American Alfa Romeo owners, an annual gathering he's been cordially invited to and wholeheartedly agreed to attend. A practical appearance, one that supports Alfisti coming together to celebrate an iconic brand; a sensible attendance, one that solidifies a partnership that has stood the test of time. "It's lasted for so long because it was the beginning of everything," says Zagato, the current head of his family's eponymous automotive design company.
Carrozzeria Zagato first came onto the scene in 1919, an entrepreneurial move by his grandfather, Ugo Zagato, during economic uncertainty in a postwar Italy. Having mastered sophisticated aeronautical techniques at an aircraft company, he was equipped with the know-how to design lightweight, aerodynamic car bodies. Years passed, more precisely a decade, before the company's competence and alliance with an admired brand catapulted it to the likes of legendary. Those halcyon days of the '30s, when some of the most celebrated auto entrepreneurs and drivers coalesced on the open-road racetracks of Mille Miglia, defines the zeitgeist of Zagato. "There was a famous engineer, Vittorio Jano, that was building the reputation of Alfa Romeo through racing. And he did it with two partners that became two friends: one was Enzo Ferrari, who was fuelling the engine of the Alfa Romeo, and the other one was Ugo Zagato, my grandfather, who was doing the bodywork of the Alfa Romeo. These three men built the reputation of the company over a span of 10 years by winning all the races they participated in. As you can imagine, they became very famous."
Today, Zagato excitedly gestures towards the entrance of the hotel, where beyond its doors a limited edition TZ3 Stradale is parked, surrounded by gaping bystanders. In all its camber and clout, the archetype is fashioned after original racing cars from the '60s, specifically the Zagato-bodied Alfa Romeo TZ and TZ2. "I had the idea to build the car you see outside here 10 years ago. And this is the kind of idea that you have in your drawer and then you say, 'I want to do that.' I have other ideas like that in the drawer that I still want to develop, and I'm sure I'm going to do it," says the third-generation CEO, who explains that his focus on a design-oriented leadership style closely resembles that of his late grandfather's. His father, Elio Zagato, who passed away in 2009, zoomed by plenty checkered flags throughout his days as a competitive race car driver. During his tenure as chief officer, he led the way in advanced signature Zagato features and developing an array of car models, such as the well-received Alfa Romeo Giulietta SZ. "My grandfather told me that if you want to succeed in what you're doing, you have to be consistent. That's what I learned from him. From my father, I learned to drive your life like you drive a sports car — with lightness, with a good attitude and without ever complaining."
Think Gucci making love to an exquisitely tailored Armani suit and you'll grasp the zenith of Zagato. The company continues its coachbuilding legacy, forming symbiotic relationships with illustrious marques to produce exclusive prototypes of Aston Martin, Rolls-Royce and Bentley. Earlier this year, the design firm revealed a haute couture body on the BMW Zagato Coupe at the Concorso d'Eleganza Villa d'Este in Italy. "These are emotional cars," says Zagato, who embraces the luxury of minimalist design. The organization's electric commuter train in Masdar City, Abu Dhabi, and its 2013 hybrid to contend with congested European streets tailgate Zagato's feel of the future of automotive, which he says will include hydrogen-powered cars.
The TZ3 Stradale, strikingly clothed in a bespoke carbon fibre body, pays tribute to a recent joint venture that revived two sinking brands and delivered an iconic
car to the shores of North America. "You're talking to somebody who is the biggest fan of [Sergio] Marchionne's business strategy … he's doing a great, great job," says Zagato of the accomplished CEO of Fiat S.p.A and Chrysler Group LLC. Responding to circulating whispers that Alfa Romeo may soon cross the pond, Zagato is supportive and hopeful, noting strong American support for the
century-old brand.
With only three TZ3s currently available from a limited production of nine, the first one went to Eric King, a distinguished collector of Italian cars and board trustee of the Saratoga Automobile Museum in New York. The model exudes the trademark double-bubble roof and truncated rear. "The Zagato client is quite sophisticated. He has a very good knowledge of cars. We can say he's a low-key client, he's a little bit understated, he doesn't want to show off. But he's a silent client, competent and clever," says Zagato, who is married to Marella Rivolta-Zagato, granddaughter of the Iso Rivolta founder.
At the wheel of a company that has driven the automotive world to new echelons, Zagato thrusts forward at full speed with a clear picture of the future and a focus on his roots. "The company was established as an atelier for automotives and airplanes, and we try to carry on this tradition that was established more than 90 years ago."