John Staluppi's Cars of Dreams Collection Goes On The Block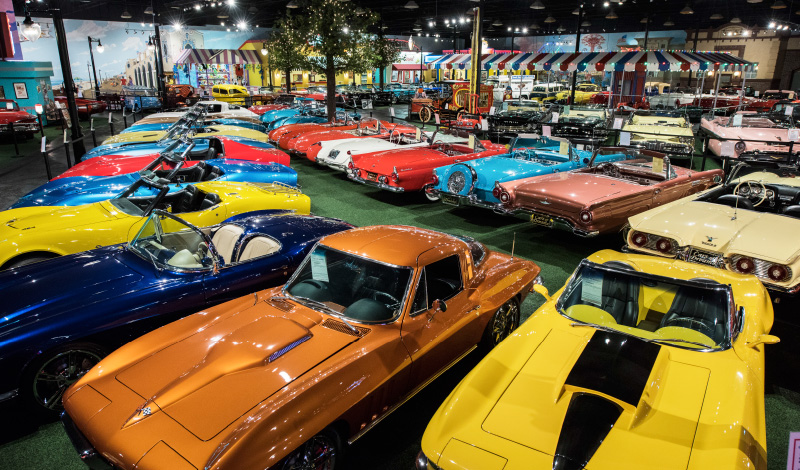 For the second time, famed automobile collector John Staluppi is selling most of his automobile collection so he can start all over again.
Among all collectors of rare objects, whether they collect vintage wines, hand-crafted watches or fine crystals, the common characteristic is unwavering passion. Philanthropist and entrepreneur John Staluppi, owner of one of the most admired and notable classic car collections in the United States, is no exception.
Staluppi's Cars of Dreams Collection will be a featured auction item of Barrett-Jackson, the leader in collector car and automotive events, at the 16th Annual Palm Beach Auction, April 12–15 at the South Florida Fairgrounds. Staluppi's collection features approximately 140 classic American cars — predominantly convertibles — from the '50s, '60s and '70s. This collection is recognized for the quality of the cars and for the meticulous care each of these beauties has received. So why exactly is Staluppi putting them up for auction? Dolce put the question to him in a recent interview.
"It's all about 'the find' with me," says Staluppi. "I'm all about finding the cars, buying the cars and collecting the cars. I'm not a long-range holder on anything. Even in the stock market, when I feel like selling — winning or losing, I'm selling. I enjoy finding the cars, bidding on the cars, buying the cars and working on the cars."
This might sound like a surprising philosophy, but Staluppi can't be wrong. After all, from his start as a gas station mechanic in Brooklyn, New York, he has built a billion-dollar automotive dealership empire that employs more than 3,000 people.
"Even though my family were electrical contractors, I had no interest in putting my hand in a plug and getting a shock," recalls Staluppi. "I always loved cars and I was a very good mechanic, and always wanted to open my own shop. So my family took out a mortgage on the home and helped me open my first gas station. That's how I progressed."
"I'm all about finding the cars, buying the cars and collecting the cars"
Inside every one of Staluppi's car dealerships is a sign that summarizes his outlook on his business and toward his customers. It reads, "Every visitor to our dealership is an honoured guest in our home."
"Car dealerships can be very intimidating environments for most people, as you're walking in to buy an expensive item — probably the second-most expensive item, next to a home," says Staluppi. "We want people to be relaxed. My guys do not say, 'Can I help you?' They say, 'Good afternoon, how are you? My name is John, what's yours?' This makes people feel a little bit more comfortable. So that's why we have that sign: so the customer knows how we want to treat people."
Staluppi has been a car collector for decades. A few of the crown jewels in the Cars of Dreams Collection are a '58 Dual Ghia Convertible; a '69 Chevrolet Camero RS/SS Indy Pace Car; a '65 Chevrolet Corvette Stingray Convertible; and a '63 Volkswagen Beetle, one of the cars used in several of the iconic Herbie the Love Bug films by Walt Disney.
For information on how to bid on Staluppi's highly sought-after Cars of Dreams Collection and other items at the April 2018 Palm Beach Auction, follow the link below.
Photos courtesy of Barrett-Jackson