The New Panamera Turbo Sport Turismo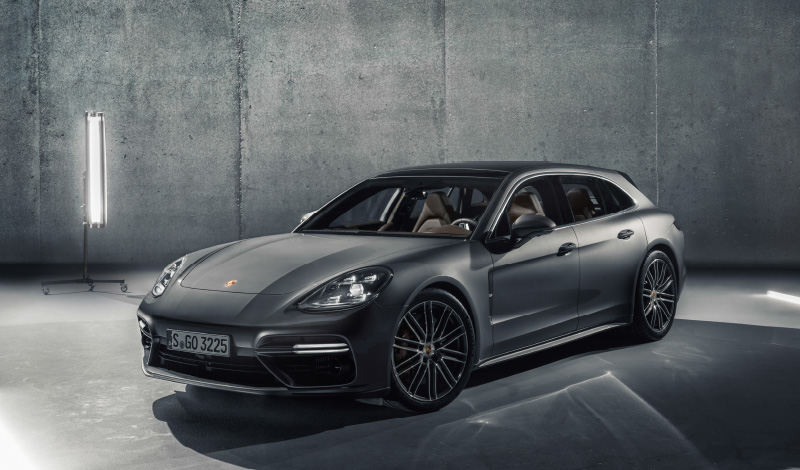 Porsche presents its sixth edition of the Panamera Turbo Sport Turismo, where luxury meets comfort.
Porsche's new four-door Panamera Turbo Sport Turismo is the sleek, unexpected version of the stereotypical green-friendly family wagon. A racier alternative with hatchback capabilities, thicker D-pillars and a more practical body of accessories than the original Panamera style, the Sport Turismo is low-riding, lustrous and outfitted with a longer roof to house a welcome panoramic glass sunroof.
This is the sixth adaptation of the Porsche Panamera Turbo model and easily maintains the sense of superiority and class of the previous five models. It's also the first model built off the Volkswagen Group's Modularer Standardantrieb-Baukasten (MSB), or "modular standard architecture." Its exterior, with a futuristic, glossy front and hatchback posterior, possesses the feel of a party in the front, business in the back, ideal for the flair of the usual Porsche motorist.
In 49 cubic feet, featuring foldable rear seats, the Sport Turismo holds a solid load for small families and travellers alike. The larger hatch provides a comfortable ride for daily activities, long trips on the road or a speedy weekend escape. With improved rear seating made for comfort, this model introduces a five-seat configuration for more passenger space.
The interiors of this lavish sedan also feature a PCM interface with navigation and a 12.3-inch touchscreen, a 10-speaker audio system and LED headlights. Including Bluetooth connectivity, Apple CarPlay integration, a keyless drive, two-zone climate control and a rear-view camera, this vehicle is high-tech from head to toe. With heated front seats, ventilated and massaging seating throughout, premium audio systems from Bose and a rear entertainment system, plus its lush leather interior and soft cushioning, makes this a ride you'll want to take every single day.
---
GENERAL SPECS
Engine: 4.0L Twin-turbocharged V8
Transmission: All-Wheel Drive 8-speed Porsche Doppelkupplung (PDK)
Horsepower: 550hp
Torque: 567 lb-ft
Performance Top Speed: 304 Km/h
Performance Acceleration 0 – 100 km/h time: 3.8 seconds
---
Beyond the alluring chassis of the Sport Turismo, its performance gear upholds the same luxury and intensity for which Porsche is known. Delivering perfectly weighted steering, smooth control and a ride that is as powerful as the exterior, the Sport Turismo is unparalleled. The reliable force of its carbon-ceramic brakes, a twin-turbo 4-Litre V-8 and EPA-rated fuel economy will guarantee fluid acceleration and drive.
Enjoy the features of a Porsche-exclusive 8-speed dual-clutch automatic transmission, engaging an even and assertive drive from start to stop. The Sport Turismo also features Porsche Active Suspension Management with adjustable-height air springs, Porsche Torque Vectoring Plus, Porsche Dynamic Chassis Control Sport that counters lateral movement with the help of electromechanical anti-roll bars, Power Steering Plus that intensifies boost at lower speeds, and the Sport Chrono package that adds the dashboard-top stopwatch and various driving modes.
Unlike any other models on the market, the Sport Turismo is the only luxury station wagon that's capable of performing zero to 100 mph in 3.8 seconds, eventually hitting 160 mph comfortably. In a price range starting at $109,700 for the Panamera 4 Sport Turismo and $117,400 for the 4S, the Sport Turismo's all-wheel drive at 330 horsepower makes it the car of your choice — whether you're a speedy traveller, CEO on the go or part of a family. Or, if you like, all of the above.
www.porschecentrenorthtoronto.ca
Porsche Centre North Toronto
165 Yorkland Blvd., Toronto, Ontario, M2J 4R2 (conveniently located at Highway 401 and 404)