Redefining Tradition – Josie Ho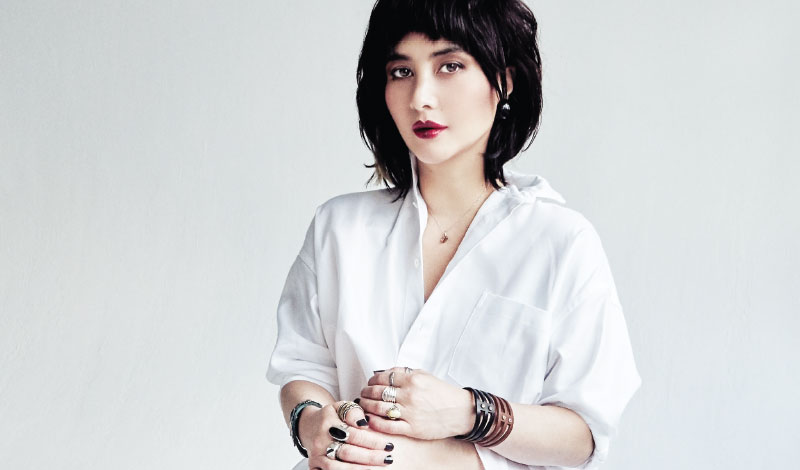 Singer and actor Josie Ho is celebrating her first Asia tour with her band Josie & the Uni Boys and her new TLC show, A Taste of Hong Kong with Josie Ho. Dolce spoke to Ho about her life and her career.
Q. When did you first have a desire to sing and act?
A. It came from my very early days, since I was 11. I'd always enjoyed moving people with tiny skits every day. I get a kick out of it. That's why I had the wild thought to perform my ideas in public.
Q. What was the inspiration for your band, Josie & the Uni Boys?
A. The name of our band, Uni Boys, came from my first puppy, who I felt so much energy from. He is a tiny little lion dog who has a huge personality. Our inspirations come from each band member in very different ways. We're a clash of people from different cultures — some very local, a few colonial Western, Eurasian. We all follow different types of music. But usually our guitarist comes up with demos first, then we'll go to the band room and jam the rest out.
Q. What is your process for making music?
A. It's really up to our producers, Davy Chan and C.Y. Kong. After we hand them our songs, they help each of us to find the best tone at the recording studio. Sometimes they suggest some wilder ideas for us. Then, it's pretty much the normal way every band records.
Q. What influences your fashion and musical style?
A. I've got strong influences from pop divas in Hong Kong from the 80s. I used to hang out with them all day throughout my holidays. And in the 90s, when I started to have pocket money, I spent it all on fashion books, CDs. And I've learnt from there.
Q. It's the tenth anniversary of your band. How much has it changed over the past ten years?
A. Our style has evolved a lot. We are all growing up and explored quite a few different styles of rock while featuring other artists on our last album. We've learnt and picked up new experience from others all the time. We're growing more mature, but still facing new opportunities. I find this very interesting. We never stop learning; we are a sponge. That's why I don't know if we've changed our style or not. It's so natural that we sway in the same direction.
Q. How did you find your tour of Japan?
A. It was a very interesting experience. People from Hong Kong love Japan and look up to their music and arts and culture so much. I was surprised our band kept our cool and really moved people. We played every show pretty well. We learnt about new rock and rock cultures from Japan. We were really proud and honoured to have played at those venues that were all rock and roll hall of fame places.
Q. What do you look for in an acting role?
A. Joy and pleasure. Whether there are enough twists and turns and fun with the performance of a certain role. Or if it's something that I've never tried before, I'll be curious to play that too.
Q. You've acted in a lot of action films. What do you like about those roles and characters?
A. I guess it's the superhero in me from childhood. It's the adrenaline rush and a bit of X Game spirit that motivates me to keep trying.
Q. What has been your favourite role so far?
A. I love each and every role I've played, yet I haven't found my favourite one yet. I want to do more period pieces. My features are convincing in those films. Unfortunately, no director has discovered that in me yet.
Q. What about your favourite scene?
A. My favourite scene was in a recent Hollywood film, Lucky Day. I had a chance to try something out of my control. I love taking risks! I had to put on a funny accent.
Q. You dubbed the voice of Marge in the Chinese version of The Simpsons Movie — what was that experience like?
A. It was such a pleasure and joy to portray Marge Simpson. I enjoy making that "quacky" sound — it cracks me up. And it's always fulfilling to do a perfect take. I really respect the original Marge voice actor a lot. She has dedicated her voice, throughout all these episodes. [For me] as a vocalist, it's too torturing for the voice.
"We never stop learning; we are a sponge"
Q. What are your hopes for your upcoming TLC show, A Taste of Hong Kong with Josie Ho?
A. I hope I'm a good tour guide. I hope people find me a very helpful Hong Kong person.
Q. You've lived in many different countries. Which is your favourite?
A. My favourite place to live is always Hong Kong. I also have this old tie with living in Canada, which was fun. But I tend to like smaller and more convenient cities, so Hong Kong, London and New York would be my dream homes.
Q. You've said in previous interviews that you weren't into school much, but more into sports and arts. What was it about sports and arts that compelled you?
A. Sports allow me to challenge myself physically, and it's an adrenaline rush. I like team sports. I'm the kind who is a great help to others, and I feel honoured to be that girl always. I like arts because I like to be totally absurd and ridiculous. I loved that teacher who was my partner in crime when it came to absurdity in my paintings.
Q. How do you define yourself?
A. I'm a singer who can act too. I have a really unique mix of nationalities. I am Dutch, Persian, German, Jewish and half Chinese. I like wild ideas, which doesn't impress most people. But I do believe one day the masses will get me.
Q. You've said that where you come from, there's a very traditional idea of what women should be like, but for you that's a boring frame of mind. How did you break the mould?
A. Good question! I'm from a traditional Chinese background from Hong Kong. We're expected to marry into a rich family and be a good wife and mother. I had my own idea of how I wanted to live my life. I know how to loosen up and have some fun. I'm into being an outstanding performer, and I really just want to only do that forever. If I'm lucky, someone might remember my performances in the future.
Q. You've won several awards, including a recent Best Supporting Actress award for In the Room. Which of your awards are most memorable?
A. Every award is a beloved one that reminds me that some people are still watching and recognizing my performances. But most memorable has to be getting three nominations for the film Purple Storm. I was very upset that I couldn't even make one. I was really into that role. I lived it for the whole 50 days during the shoot. I thought I did good, and most seniors in the business agreed, but I guess it wasn't my time yet. We've got to wait in line for those Hong Kong Film Awards. I hadn't enough merits then. Now, I finally know that, but I don't give a damn for that game anymore. I'm just enjoying the pleasure of acting, purely.
Q. You recently took part in the Pink Dot HK event (#pinkdothk), an annual gathering in support of the LGBT community. Can you tell us why it's important to support?
A. Yes, I do support Pink Dot HK, because I noticed at least one important issue: when your loved one is in hospital fighting a critical condition, most likely unconscious, [if you are an unmarried LGBT couple,] who can legally sign the papers to help them? It's usually your lover who lives with you that knows every little detail about you to help the doctors save you in urgent situations. This is just my own personal thought, which I think is a strong and practical reason to support this Pink Dot idea.
Q. What advice would you give young, up-and-coming singers?
A. Relax and sing the way you want to. Don't get all confused by soaking in everyone's ideas about you. They don't know you! Unless you are sure you have a good mentor.
Q. What does it take to be successful in the film industry?
A. I wouldn't know, because I've stopped chasing that and decided to have fun instead. Having joy in life and your work is bliss! Go with your bliss!
Q. You've been married for 14 years. What advice can you give married couples?
A. Be real! Just chill!