Ashley Longshore: Bold And Gutsy, Daring And Brave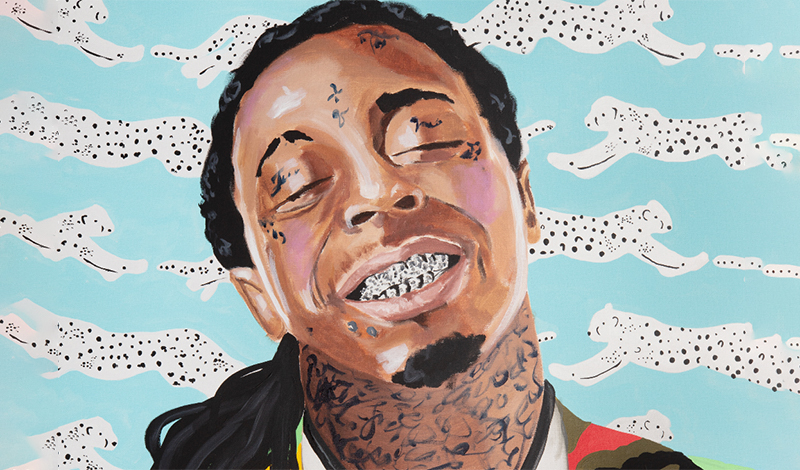 You've never seen this before. Like the artist herself, Ashley Longshore's own brand of vibrant pop art makes a lot of noise — and it's all infused with an incredible sense of fun. Huge canvases of icons, like her muse, Audrey Hepburn, and Kate Moss in a sassy nun's habit are just the beginning. Longshore is an artist, a gallery owner and a successful entrepreneur with brilliant ideas and collaborations that have made her a smart businesswoman, too.
When you're talking to Ashley Longshore, you want the interview to go on forever, because, well, what comes out of her mouth is just so out there that you never want it to stop. It's not just what she says, either; it's her delivery. With a southern drawl, she knows how to tell great stories — all sprinkled liberally with some epic swear words.
But one thing is for sure: Longshore is authentic. "I'm very trusting and I don't have anything but love," she says. "I don't care who you have sex with, I don't care what god you believe in, I don't care what colour your skin is."
She grew up in the American South, the daughter of an advertising executive and a stay-at-home mom. "I was always into activities like tap dancing and ballet," she says. But it wasn't until her later teens that Longshore discovered art on her own. "When I was 18 years old, I started painting and I found a joy that was so great; I'd never felt that."
"I think now, more than ever, we Have to appreciate all of our Unique attributes of who we are As human beings collectively, Celebrate all of the differences And just love them all"
Longshore knew pretty quickly that hers was not a life to be spent being groomed to become a trophy wife. "I knew marrying a rich man wasn't going to make me happy. And when I realized that nothing brought me as much joy as my art, I completely immersed myself in it."
And if there's one thing Longshore knows how to do, it's how to have fun. "I just want to play, I want to dance, I want to have fun," she exclaims. But don't underestimate her. "Do I run a multimillion-dollar company? Yes. Do I have a lot of pressure on me? You would not even believe it," she says. "But I operate well among all of that pressure and all of that anxiety." Asked what makes her a great businesswoman, she says simply, "The hotter the fire, the stronger the steel, and when you don't have two nickels to rub together and you're sitting around looking at a room full of your work, you know you have to sell these pieces."
Longshore is an Instagram favourite and feels she gets a lot of love there, because she puts up good energy. In fact, she regularly uses Instagram to sell her art. For Longshore, who owns her own art gallery, Ashley Longshore Studio Gallery, in New Orleans, it's a win-win situation, where she doesn't have to give some of her profits to an art dealer.
Longshore is busy and she's not afraid to work hard, sometimes putting in 16-hour days to create and deliver her mixed-media art. This practice has led her to many associations with high-end blingy brands, including Gucci, Rolex and Veuve Clicquot. Earlier this year, she was the guest judge onProject Runway, and designers had to create looks to celebrate her original prints. Recently, Longshore published her second book, I Do Not Cook, I Do Not Clean, I Do Not Fly Commercial, which highlights her life story and showcases her art.
One thing you need to know about Longshore is that she has loads of self-confidence and she likes to nurture it in others, too. Her most powerful message is, "Love yourself." And she pushes her own brand of feminism with logos like, "You are gorgeous" and "You are perfection" and "You are a queen." All of her clients love it: "My work is loud and over the top and it's not anything to be ignored," she says. "My collectors are the kind of people who love colour and big dinner parties and they still have this very playful side to them."
Longshore really wants to take care of the world by giving back and supporting her community. And it's so important, especially at this time, she says. Right now, she's handing out $50,000 scholarships through the Ashley Longshore Charitable Trust fund, and she's pumped more than $100,000 into her own community by donating to several different charitable organizations.
Her final words? "I think now, more than ever, we have to appreciate all of our unique attributes of who we are as human beings collectively, celebrate all of the differences and just love them all."