Murda Beatz: from small-town Canada to the international stage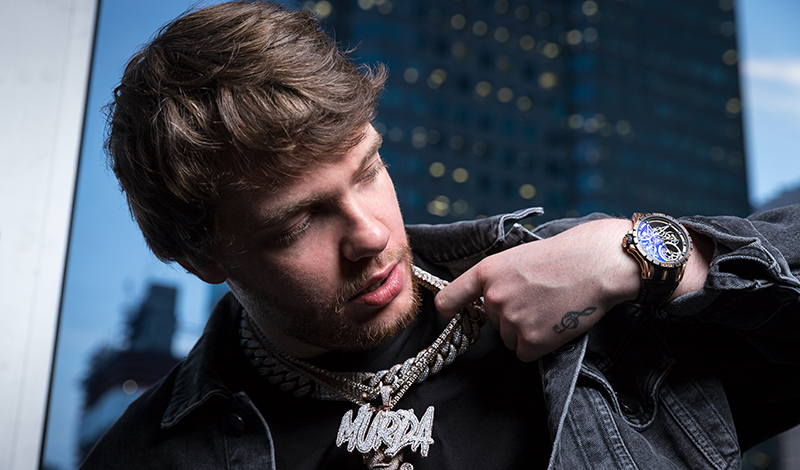 Shane Lee Lindstrom, better known as Murda Beatz, might have grown up in small-town Ontario, but that didn't stop his meteoric rise in the music scene.
Raised in Fort Erie, Ont., a small town that sits on the Niagara River, Murda Beatz was always familiar with the power of music. Growing up, he was surrounded by his dad's taste in classic rock and taught himself how to play the drums at an early age. Soon, he'd created his first beat, knew it was what he was destined to do and took the first step to making his ambitions a reality.
Fast forward to 2020, and Murda is an internationally renowned music producer, songwriter, DJ and beat-maker who's collaborated with the likes of Drake, PARTYNEXTDOOR and Nicki Minaj. Though his talent is highly sought after today, his beginnings were rather humble. "I was selling beats on the Internet for $50, $150, $250," Murda says. "I'd go to Western Union and pick up the money."
It was a time when Murda was just getting into producing records and doing mixtapes, but also a turning point in the industry, because streaming was changing the game. "Everyone was saying that music wasn't a good career choice, because it was hard to make money as a producer," he explains. "[Streaming] changed everything. Streaming builds up the numbers; it makes everything more accessible. And you can make money as a producer."
Whenever he makes his music, Murda ensures he's crafting something special, something that's distinctly his. "I have a signature chant I've been putting in all my beats since 2013," Murda says. "Just little things that people who are really big fans of music and study the game understand. When they hear that chant, they know it's a Murda beat. Whether it's the way your drums hit or the way your beat sounds, they can just tell." He also looks to other genres for inspiration, recently lo-fi, and how he can bring elements of those genres into the music he makes.
"I Was Selling Beats On The Internet For $50, $150, $250. I'd Go To Western Union And Pick Up The Money"
"I was going to start making a SoundCloud — and start selling beats for $50 — but at the last minute, I decided not to do it," Murda says, describing both a personal and a professional turning point. "I didn't want that to be my worth. So, I decided to stop selling beats altogether. I wanted to build that worth up, because I knew what I was able to make. I wanted to graduate from an Internet-based beat-maker to a real producer."
And graduate he did. In 2016, he embarked on big collaborations with PARTYNEXTDOOR, Gucci Mane and French Montana. In 2018, while chilling at Drake's house and playing NBA 2K, he made "Nice For What," a song that would debut at No. 1 on the U.S. Billboard Hot 100 and top the U.K. and ARIA Singles Charts. In 2019, his Floor Seats Tour was a huge success, highlighting guests like A$AP Rocky, and while in Toronto, local artists, including Puffy L'z, Chromazz and Young Smoke. "It was an amazing experience," Murda says. "The mosh pit was crazy."
"I Wanted To Build That Worth Up, Because I Knew What I Was Able To Make. I Wanted To Graduate From An Internet-based Beat-maker To A Real Producer"
Despite these milestones, Murda hasn't forgotten what it takes to climb to the top and has embarked on a number of projects to support upcoming talent. Recently, he signed English hiphop/pop artist Adam Halliday to his Murda Gang collective and is excited at the prospect of working with a fresh voice.
Even in quarantine, he's helping hopeful musicians. As well as releasing music under his own name, he released the digital drum kit Murda Beatz Quarantine Pack via music-production site Splice. He wanted the drum kit to inspire those in lockdown and offer a solid foundation for someone ready to make their own music. Since the kit went live, it's reported to have been downloaded more than one million times, with a portion of its proceeds going toward COVID-19 relief.
He's also been busy judging entries for Step Up to the Mic, a digital competition for upcoming artists. The prize for the competition includes a record label and management deal and the opportunity to collaborate with Murda, as well as songwriters, singers and rappers Starrah, Quavo and Takeoff.
And if that weren't enough, Murda is set to appear as a mentor on an episode of Forbes's Rap Mentors, where he hopes his input "inspires youth and anyone else who needs inspiration, inside or outside the music industry." He also recently donated $20,000 to the music department of the high school he attended, Fort Erie Secondary School, and is planning a visit when he can to see what instruments the school purchased and meet those keen to follow in his footsteps.
Photos By Jesse Milns
Shot On Location At One King West Hotel, Toronto
Fashion & Wardrobe Stylist: Ashley Galang
Hair & Grooming: Robert Amado / Amado Salon
Automotive Transportation: Policaro Group Porsche
2018 Porsche Panamera Turbo
Colour: Chalk
Wheels: 21-inch Exclusive Design
Wheels Painted In Black High-gloss
Price: C$189,980
Videographer: Daniel Cooper
Interview By Cassandra Giammarco