Barroso Homes's Posh-Haus: An Elevated Level Of Lifestyle To Home Ownership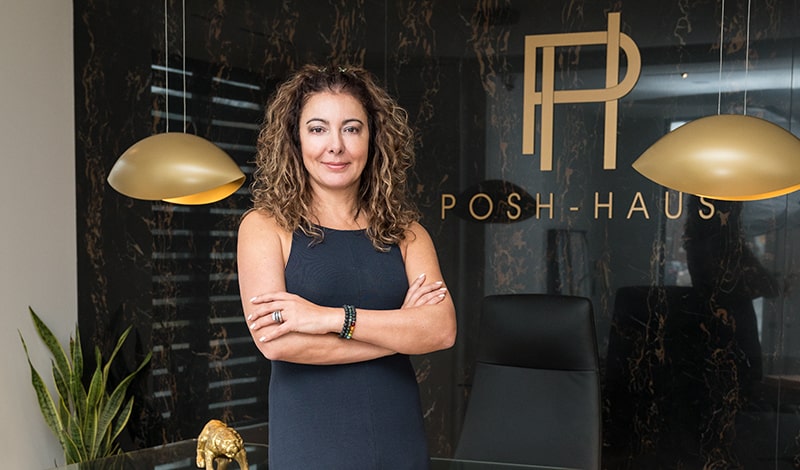 The personalized services of Posh-Haus property management and concierge experts make managing a luxury home easier by handling all the projects and finally getting rid of that 'honey-do' list.
Forty years ago, John Lennon observed that "life is what happens to you while you're busy making other plans," which may accurately describe the life journey of Rose Barroso, founder and president of Barroso Homes.
Over the past 17 years, Barroso Homes has become one of the most respected and sought-after designers and builders of luxury custom homes in the Greater Toronto Area. It has just launched its newest venture, Posh-Haus Inc., an exclusive property management service and concierge centre and yet another uncommon service offering befitting its stature as an industry leader.
Posh-Haus is a natural extension of the customization and exclusivity Barroso Homes has always brought with its distinctive dedication to exceptional customer service, which Barroso says begins with a deep understanding of her clients' lifestyles.
"Posh-Haus is a lifestyle," says Barroso. "If you're building a luxury home, you expect a different lifestyle. You can't worry, and your time is too valuable. And with Posh-Haus, you get the lifestyle you've always envisioned. We learned through Barroso Homes that customization means everything is very detailed and customer-focused, and this is what Posh-Haus will deliver in its lifestyle concierge services."
All homeowners are far too familiar with the many annual or seasonal chores that come with home ownership, which together begin to consume free time and weekends. Posh-Haus's personalized services and teams of concierge experts make managing a luxury home easier by handling all the projects and eliminating any concerns.
It offers three areas of customer care: property management, which includes renovations, updating, emergency services, pet sitting, mail pickup or deliveries and vacation checks; real estate management, which covers anything that needs to be done to a property, whether you are buying or selling, including property inspections or arranging packers and movers; and care programs, which include annual or seasonal projects such as general maintenance, pool openings and closings, patio setups or even that annual barbecue cleaning.
Today's smart homes all have touch screens, and a Posh-Haus menu will be on those screens to allow clients to simply touch and tell Posh-Haus what needs to be done. The responsibilities undertaken by Posh-Haus free up homeowners' time immensely by eliminating that nagging "honey-do" list. Out-of-sight, out-of-mind, convenient concierge services are done the right way, every time.
It is yet another example of how well Barroso understands her business and her clients in an industry that presented itself to her while she was busy making other plans. While she was initially passionate about languages and eyeing a career as a government translator, Barroso's husband was a home builder, who would review his construction plans and blueprints in the evenings. She began to notice those plans and offered design and building suggestions.
"My husband would give me explanations of what he was doing, and I thought maybe I could help him by offering suggestions such as using different colours on the plans for different procedures," she recalls. "And he said I could read plans as well as anyone, and my first home became a design project, as he told me I really made homes look beautiful."
That first project was renovating a small home in downtown Toronto, which sold in just days, and she was off in a new world for a few years until she moved into home building. Barroso had discovered a new language — the language of design. People speak through design, and it can become an expressive form of communications. In retrospect, she did in fact have a career in languages. But it is a language that is not verbal and is instead visual.
"Design is an expression of your personality. And my personality shines through when I design modern, simple, fun and personable homes; it's an expression of my personality," says Barroso. "You're speaking somebody's language when you're working on a design, and the key is to never push your design ideas, but instead listen to clients and speak their language."
"Posh-Haus Is A Lifestyle. If You're Building A Luxury Home … You Can Get The Lifestyle You've Always Envisioned"
Today, Barroso Homes designs some of Toronto's most spectacular and notable custom luxury homes. Barroso and her team are known for clean, simple, modern and contemporary designs with fine craftsmanship and innovative technology. With interiors that are both efficient and functional, and through open concepts that are family-oriented and inviting, Barroso's high standards of quality and dedicated attention to detail create homes that are refined.
As opposed to almost every other custom builder, Barroso Homes works on only one project at a time, which Barroso explains was a conscious choice that has many advantages.
"Whoever is my client, I have all the time for, as I'm not just here to do another build," explains Barroso on her single-client focus. "If you're not happy, we're not done, and we'll figure it out, as I can put in the time. It's my baby until I give you the keys and then it's your baby, and I stamp everything I do with my name."
Posh-Haus is an organic growth from this strategy, which Barroso firmly believes will add significant value to the investment clients have already made with Barroso Homes.
"It's very much an extension of our customization for clients, and you don't need to already be a client of Barroso, but you can be a client of Posh-Haus," she says. "It is a luxury extension of what I already do for them, by creating more space for what is important in their universe."
Posh-Haus's services will give its clients perhaps that most valuable of commodities — time. Time to live the quality of lifestyle they deserve and have earned, while they are busy making other plans.