Benicio Del Toro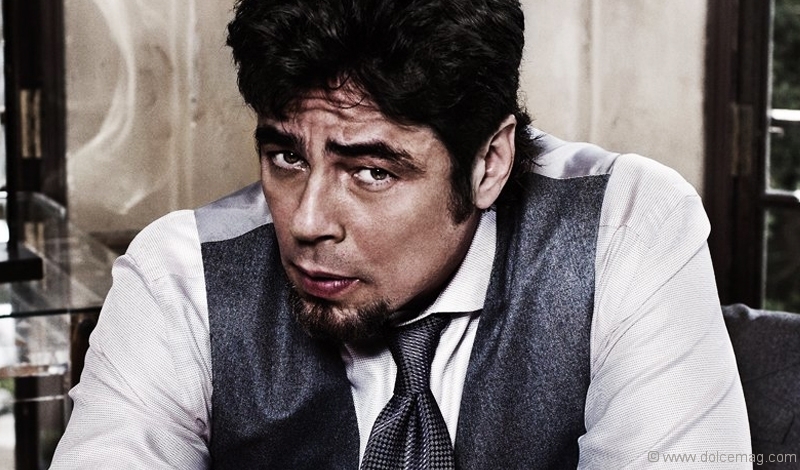 Benicio Del Toro's impenetrable eyes and sui generis artistry make him more of an unusual superstar than the usual suspect he portrayed in his breakout performance 15 years ago. The hauntingly talented Latin American actor lit a match to cinematic mediocrity with his Oscar-winning role in Steven Soderbergh's crime drama Traffic, and hasn't gazed in his rearview since. "[Del Toro] has that ineffable quality that some performers have. And for whatever reason, he has a very compelling screen presence. I think you're born with part of that," Soderbergh once told The New York Times.
Del Toro spent his adolescence in the densely populated peninsula of San Juan, Puerto Rico, where culture is rich and the land is married to six breathtaking bodies of water. The acclaimed actor credits his kindergarten teacher as one of the first people who helped pave his way. "She used to walk me home after school … just because I was a kid and it was around where I lived and when class would finish, she would just walk me home," he recalls. With both parents and much of his immediate family working in law, acting wasn't exactly a prudent pursuit. "They were like, 'Really, come on, that's not a profession, that's a hobby, a phase.' You know, it was like, 'The kid is doing something to get out of something,'" remembers Del Toro. His earliest performances were creative attempts to entertain his mother, Fausta Del Toro, who died from hepatitis complications when he was just nine. At 13, he moved to Pennsylvania with his father, where he attended boarding school and inadvertently uncovered his gift.
Enrolling in the University of California at San Diego years later was simply a tactic to kill time, quips the forthright film star. "I went to college, I had no idea what for, but [my] major was business when I started and then, I switched it to theatre," says Del Toro, who made the move after being offered a role in the college play which was restricted to non-drama majors. Short of completing his degree, he was awakened by the city that never sleeps and fled to New York to receive classical training at the Stella Adler Studio of Acting. With its prestigious alumni peppered with high-profile performers like Marlon Brando, Salma Hayek and Robert De Niro, this conservatory has become the source of some of this century's most inspiring success stories.
At 43, Del Toro's cinematic benchmarks include an Academy Award for Best Supporting Actor in Traffic and a landslide of other critical acknowledgements for his engrossing performances in 21 Grams, The Usual Suspects and Sin City. "I've been lucky … and I've worked with great people," says the character-actor, who's famous for mumbling. With his milestones, Del Toro also faced some heat for his roles in Fear and Loathing in Las Vegas – which he gained 45 pounds for – and the critically contentious biopic Che. "Things got tough before The Usual Suspects at some point there, and I think that after Fear and Loathing in Las Vegas more personally in some ways because there was a lot of work involved in that film that was just thrown out and it disappeared, it got really bad reviews, unfairly so, I think. So it was kind of tough," he admits. But negative critiques only come in handfuls for the 6-2 star.
Del Toro has been hailed by just about everyone who steps on set with him, perhaps most notably by Sean Penn, who helped stimulate his Indie career by casting him in The Indian Runner in 1991. "He's like an acting animal, this guy who comes out of the forest to make movies better. He's fearless, and he has a very distinctive imagination for character. He's one of the few who can make flamboyant choices that never just say, 'Look at me.' He's not showy. If he stands out, it's only because the rest of the people haven't risen as high to the bar," Penn told The New York Times in 2001.
Del Toro's industry credentials and carnal magnetism have most recently catapulted him onto the pages of Campari's iconic calendar for 2011. Throughout a 12-month spread, his amorous character produces a full-bodied concoction to be served on the rocks. As the Italian alcohol brand's first male face, Del Toro's evasive stare is joining the ranks of fellow Latin American sex symbols Salma Hayek and Eva Mendes. Though his cultural roots are firmly planted, the actor has several branches when it comes to his identity. "I've never looked at it like 'Are you on this team, or that team,' and I'm not playing on any team, really. I'm playing on the team of, you know, good filmmaking right now," says Del Toro, who dedicated his 2001 Traffic Oscar to the movie's bordering film sites: Nogales, Arizona, and Nogales, Mexico.
Despite the star's sweeping onscreen success, some family members still encourage him to consider other career paths. "I'm very close to my godmother and to this day, she still goes, 'You can get a degree or something,'" he shares. Thoroughly authentic in so many ways, Del Toro's fearless approach makes him one of few in his field to take risks and rebound from losses. At the core of his craft is a powerful attraction. "I think that it's the ability to express yourself or the ability to make an interpretation on a written piece. And also, there is a little bit of tension."
BENICIO DEL TORO: Q&A By Amanda Sweeney

Q: When you reach a certain level in Hollywood, do you think it gets harder to distance yourself from your race? I'm wondering if you find that hard?
A: Well, no. I play the character, and, you know, it's interesting because, it's interesting that … because I do think about it. If there's one scene I have to do in Spanish, then, everything is going to be in Spanish – I did a whole Hollywood movie all in Spanish – the Soderbergh film Traffic – and it was the director's decision and my decision, and he was quite aware that if it wasn't in Spanish, I wasn't going to do it. Like, when I see someone of a Latin persuasion here in the States, I speak to them in English, you know? But it's not like abandoning my roots … I think that we're in a good time right now, we have really good, interesting actors that we know like Antonio Banderas, Javier Bardem, Penelope Cruz … and there are others that we don't know so well. The talent is there and when it comes to Latin stuff, I think that what we need is like the Francis Ford Coppola's and the Martin Scorsese's, and if we don't get them from Latin America, then, it's interesting to try and suck in some of this talent the same way that I'm working for them.
Q: Do awards mean much to you? I mean, you've been nominated twice for the Oscars, won once, lost once. How do you prepare for an award like that?
A: Actually, I practised in front of a mirror twice. The first time I won and I was really happy all day long.
Q: What did you say when you lost?
A: Well, I was upset all day long and then I realized, they were all both like, you know, unreal. So you know, the work is done and if it happens, something like that is a compliment and I just take it for what it is. I won't take it for granted, but I don't think about. I really refuse to have those ups-and-downs. It's just like wishing for rain, you know, it's beyond my control, I have no control. I would like to have control over things in some ways, it's not that I'm a control freak, but this is beyond my control. The work is done and it's a compliment that people are talking about it like that and thinking in those terms, and I've been working now for some time.
Q: Are you happy with the state of your career right now, you must be excited?
A: Yeah, yeah.
Q: Can you talk about that a little bit, has it been a long struggle?
A: Well, I've been lucky, you know, and I've worked with great people.
Q: What is your favourite junk food?
A: Pizza, that's junk food, right? Yeah I'm definitely a pizza man. [Laughs.]