Hugh Jackman: Hollywood Superhero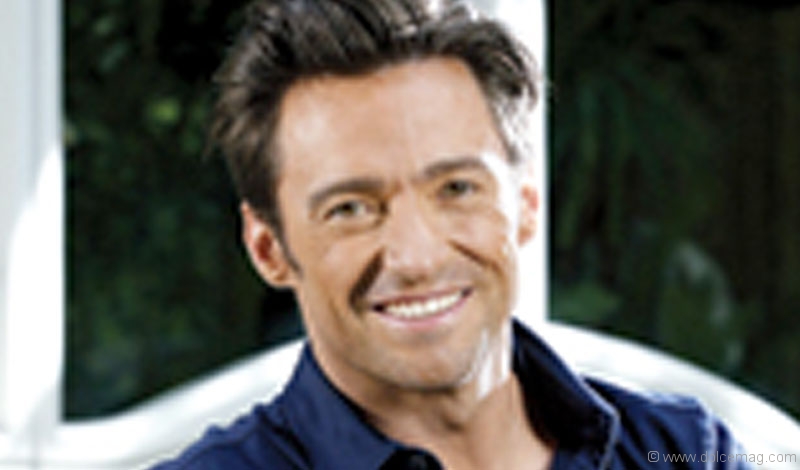 Blazing back to the big screen after a successful Broadway stint, Hugh Michael Jackman resumes his popular role of Wolverine in X-Men Origins: Wolverine – and the ride is wilder than ever. The latest addition to the X-Men saga tells the story of Wolverine's epically violent and romantic past, the ominous Weapon X program, and his complex relationship with Victor Creed, played by Liev Schreiber. Along the way, Jackman's alter ego encounters many mutants, both familiar and new, including surprise appearances by several legends of the X-Men universe.
A stage and screen actor of remarkable versatility, Aussie Hugh Jackman holds the title of one of People magazine's "Sexiest Men Alive," while also maintaining fandom among legions of comic book enthusiasts. Such a diverse following is a testament to the actor's unaffected charm, leading-man looks, and classical stage training that has equipped him to alternate between great displays of theatricality and calculated reserve. We cannot display this gallerySince the start, audiences have embraced Jackman, as his rare talent quickly secured him a spot as one of Hollywood's favourite actors. Today, fans are as gaga as ever, cheering his portrayal of edgy mutant Wolverine, swooning over him in Baz Luhrman's sweeping period drama Australia, and honouring him with a Tony Award for his portrayal of ostentatious songwriter Peter Allen in the Broadway musical, The Boy from Oz.
As the youngest of five siblings known to clown around for attention, the 41-year-old actor has always been destined for Hollywood. Thankfully, the child's play paid off in a big way when Jackman landed a role on the Australian prison drama Corelli. He powerfully played violent and manipulative prison inmate Kevin Jones opposite Deborra-Lee Furness, who starred as the title criminal psychologist. The couple's budding romance on-screen led to a behind-the-scenes relationship and, eventually, a longtime marriage. This launched Jackman into a whole new role; father to the couple's two adopted children, Oscar Maximillion and Ava Eliot.
A long way from his humble beginnings, Jackman has starred in over 30 Broadway hits and box-office blockbusters, as well as hosting the Academy Awards this past February. With a thriving career under his belt, Jackman has earned respect and recognition in his field, winning a Golden Globe nomination for his role in Kate & Leopold.
Now a household name, the Australian heartthrob has proven his versatility in roles such as Kate & Leopold, in which he played a courtly gentleman well-versed in the old-fashioned politics of romantic love, and Australia, a historical epic co-starring Jackman and Nicole Kidman as unlikely lovers who meet under the duress of World War II. Radically different from Jackman's previous roles, these films helped solidify a major female fan base. However, fans and critics agree that Jackman really shines when he trades his romantic threads to don the sideburns and claws of Wolverine.
An actor who's quickly rising to the top, we can rest assured that there is much more to come from Hugh Jackman.
HUGH JACKMAN INTERVIEW EXCLUSIVE
Q: WHAT IS IT THAT MAKES YOU IDENTIFY WITH WOLVERINE?
A: I can always identify with that feeling of being alienated, being different; about having things about yourself that you don't understand. There is a lot of pain underneath that, and there is not a person on this planet that doesn't mask some kind of pain that comes out in behaviour in some way. We all have that, and as a youngster I had a bad temper.
Q: HOW DID IT FEEL TO JUMP BACK INTO THE ROLE OF WOLVERINE WITHOUT THE OTHER X-MEN?
A: Actually, to be honest, it took me a couple of days before I got into it. But after that, it was great. I did miss Halle Berry though.
Q: HOW DID YOU TRAIN FOR THIS ROLE?
A: I train every morning when I'm doing the role, and really, if you ever saw me in [the gym] you would be a little frightened and think, 'That's not Hugh.' I turn up Godsmack or Metallica and start screaming, yelling and swearing like there is no tomorrow and lift weights as though I'm at that breaking point. I always feel that you have to think that [Wolverine] is on that point where at any time he could snap and just go "berserk," as they say in the comics. So I do practise that. It's good therapy.
Q: HOW DO YOU FEEL ABOUT HOW FAR YOU'VE COME?
A: If five years ago you asked me where I'd dream to be in five years, it would be this. I love the Wolverine character and franchise. I've worked with Woody Allen, Darren Aronofsky, and Christopher Nolan. This is where I hoped I would be.
Q: WHEN YOU LOOK BACK AT THE FIRST X-MEN MOVIE, DID YOU KNOW THAT IT WAS ALL GOING TO TURN OUT THIS WAY?
A: No one did. I'll be honest with you, when I finished the [first] film there was no sense of, 'Oh, this guy is really coming up with something. This is the guy to watch.' Trust me, there was none of that. I never even thought that. So when the movie opened it shocked everyone, and trust me they were drunk at Fox for about a week! No one was expecting the success that we had. I think that they underestimated the fan base for it and how happy the fans were for the movie. So it did kind of change over night, and then all of a sudden my agent was getting calls rather than calling people.
Q: YOU'RE ALSO A DEVOTED FAMILY MAN AND FATHER. WHAT HAVE YOU LEARNED ABOUT YOURSELF THROUGH FATHERHOOD?
A: Oh, yeah, it makes you learn a lot about yourself. I think it also makes you learn about your own parents. Sometimes my wife will compare me to my father because the things coming out of my mouth sound exactly like my dad – those things that I swore on my life that I would never do [or say]. It's the most annoying thing and it's sort of bizarre. So, in a way, yes, you do learn about yourself. I've also found that your marriage goes to a whole other level. Not only do you fall in love with your wife in a whole different way, but you're also kind of forced to pull together your own philosophies about parenthood, even though you might've grown up in completely different environments. Somehow now, you've got to become this united front. But children are just the most pure reflection of the truth at any given moment. For example – not that I'm trying to bring it up – but I was labelled with something that I never thought would happen (Sexiest Man Alive). My son Oscar, who's eight, goes: 'You? You've got to be kidding me.' And I thought, 'There's the truth.'
Q: WHAT IS IT LIKE KNOWING THAT YOUR KIDS ARE GROWING UP IN A WORLD OF CELEBRITY THAT YOU NEVER HAD TO DEAL WITH?
A: It's scary. There is definitely a worry there, a huge one to me. It's one of the reasons that I base myself in New York as opposed to L.A., because I think that in L.A. the traps are even bigger and everyone is somehow described by their relationship to the business, whatever it is. And to be Wolverine's son can be a huge burden. I mean, my dad was an accountant and so no one cared. I thought it was cool. I thought that the fax machine was cool or whatever, but no one is like, 'Hey, your dad did a big case with the World Bank. I loved it. He's doing great.' So there is a normalcy that I was used to that they aren't, and I am thinking about that all the time.
Q: DO YOU HAVE ANY ADVICE FOR PARENTS?
A: Usually my answer to that is how annoying it is that everyone has advice for you, and it becomes more of a burden than anything else. But I can tell you something that I got from Super Nanny. I'm shameless. She is so good. When you're kid is about nine months, she says that you should start to put them in a cot, and sit next to the bed at bedtime but don't look at the child. You look down, don't say a thing and every two minutes you move away to the door. So the child is seeing you and is crying because they're pissed off that you're not holding them, but they're not scared. I tried it with my daughter and within three nights she was sleeping and waking up happy. My son would never go right. We tried everything. That's the only advice I have. Super Nanny – click her on. If she has a book, buy it because that chick is unbelievable.
Q: HOW ARE YOU ABLE TO BALANCE YOUR WORK SCHEDULE AND FAMILY LIFE?
A: When I'm not working I hang out with my family. It's not like I'm playing golf or that. Well, I do play a bit of golf. I think that's they key: Never really grow up. Keep the child alive in you forever.