Go Beyond: The Familiar to Discover What You Never Knew Existed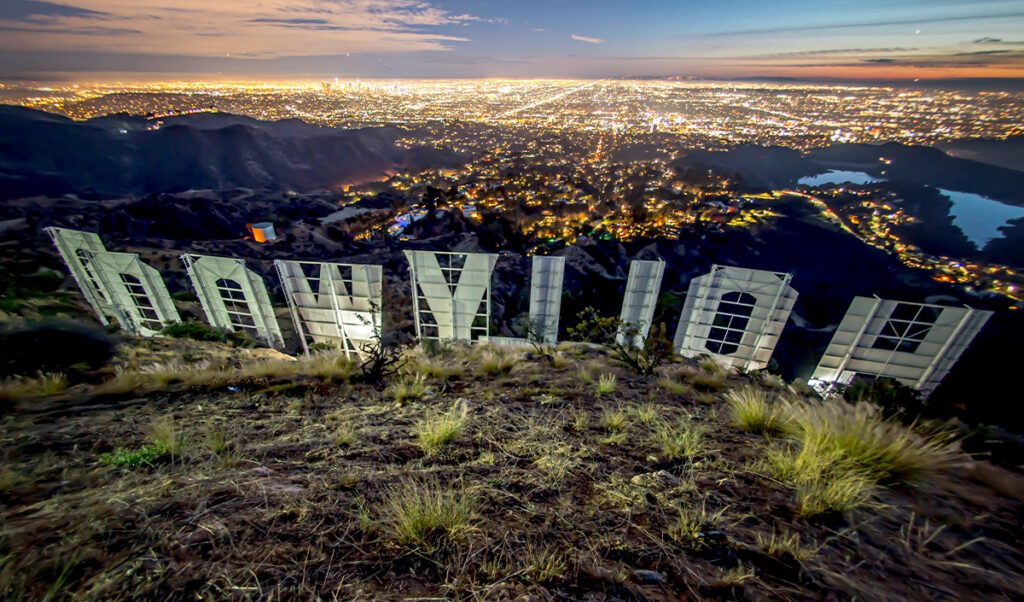 Embark with me on a trip to a place of bold dreams, creative expression and limitless possibilities.
As one of the most culturally diverse destinations in the world, with people from 140 countries speaking 224 different languages, Los Angeles inspires visitors to immerse themselves in unique perspectives and unexpected moments. I had the privilege of being invited onto L.A.'s centre stage, where global phenomena start in a garage and a culinary empire emerges with a food truck. Experiencing two different facets of L.A., I tasted the booming culinary scene in Downtown Los Angeles and got to see the iconic Hollywood Sign during its 100th anniversary year.
Hotel Per La
@hotelperladtla
Built in 1922 as the Bank of Italy headquarters, this grand 12-storey structure, now home to Hotel Per La, retains stunning features of its original self, from the marble-and-plaster façade to the golden coffered ceiling. Through the doors I entered a tiled room with a grand banquette sofa and water feature before turning to enter a glittering, mirrored tunnel. Above the 12th floor is Hotel Per La's stunning rooftop pool deck, with potted citrus and olive trees and a formidable gargoyle at the pool's end. While there is plenty to enjoy at Hotel Per La, my experience also extended to the beauties to be found surrounding it in L.A. itself.
ROW DTLA
@rowdtla
An arts and culture hub south of the Arts District, incorporates 100 years of L.A.'s history. A century ago this site was the terminus of the Southern Pacific Railroad, where goods were unloaded from railroad cars, loaded onto trucks and delivered across Southern California. Today it has become a lively spot for creatives, fashionistas and families who frequent the historical venue for its offices, independent stores and restaurants. But the best part of the ROW is its abundance of plazas, outdoor seating and art displays, making it a great place to sit with a book and a yummy cappuccino from Go Get Em Tiger.
Culinary Backstreets, Los Angeles: Exploring America's Culinary Frontier
@culinarybackstreets
I immersed myself in California's rich history and multicultural past, participating in a five- hour food tour where I explored the city's oldest neighbourhoods. The guided tour led us through Chinatown, Little Tokyo and DTLA's Fashion, Flower and Art districts. These neighbourhoods were born as places where Chinese-Americans could live after the construction of Union Station. After being forced to relocate in the late 1930s, the community is still home to longtime businesses, like Phoenix Bakery, that have flourished in the area for generations. We stopped in for a slice of their famous strawberry cake and took it around the corner to enjoy with a cup of tea.
The Broad
@thebroadmuseum
The Broad, as it's called, is a snazzy museum of excellent contemporary art. The museum is well worth a visit or several revisits, as its exhibits cycle through a collection of works. Artists featured include David Hammons, Alexander Calder, Julie Mehretu and Cindy Sherman, among others. Occasionally, the politics of political art matters more than the art itself, which is appropriate. That said, what I enjoyed most about this exhibit is that the artworks were not all created in support of one cause and do not reflect one specific political philosophy. None of the artwork emphasizes a particular belief or viewpoint. Yet each piece is engaging and most have a political dimension worthy of consideration, reminding us that artists often voice a nation's or an era's collective conscience.
Agua Viva
@aguavivabyjose
An oasis in DLTA, Agua Viva is a chic rooftop restaurant from Michelin-starred chef José Andrés. With its name meaning "living water," Agua Viva is a place to refresh and renew. The open-air restaurant was a perfect escape from the hustle and bustle of my downtown experience. The chef effortlessly weaves vibrant Asian flavours with Latin American influences, all while paying homage to Spain. Agua Viva was the perfect dreamy dining destination.
Hollywood Sign
@bikesandhikesla
One of L.A.'s most distinguishing icons, the famous Hollywood Sign proudly stands in the Hollywood Hills, which are truly a hiker's paradise. This landmark first appeared on its hillside perch in 1923 as an advertising gimmick for a real-estate development called Hollywoodland. Each letter stands 50 feet tall and is made of sheet metal painted white. I was amazed by the natural beauty and breathtaking views that I encountered while upon that perch.
Warner Bros. Studio Tour
@wbtourhollywood
The Warner Bros. Studio Tour was my chance to get behind the big screen and see how movies are made. I travelled through sets and soundstages used for productions such as The Big Bang Theory and Gilmore Girls. Being immersed in this environment allowed me to expand my knowledge and learn more about the history of pop culture.
Mama Shelter
@mamashelterla
Mama Shelter is a six-storey, 70-room hotel in the heart of Hollywood. Designed by Thierry Gaugain, the rooms are quaint but happy with bright yellow walls, large mirrors and just the right amount of cheekiness, as evidenced by the quirky masks that double as lampshades on the nightstands. Mama's rooftop allowed me to take in the sights of L.A. with a near-360-degree view from the Hollywood Sign to Downtown to South Bay to the Westside. The hotel is located blocks away from the peaked roof and cement celeb handprints at the Chinese Theatre along the Walk of Fame.
Lemon Grove
@lemongrovelosangeles
Lemon Grove is a rare find: a new roof top restaurant, bar and garden inspired by the agrarian past of old Hollywood. Menus are courtesy of celebrity chef Marcel Vigneron, while the views are courtesy of the Hollywood Hills. Located on the top floor of The Aster, this breezy restaurant has the perfect postcard views of the Capitol Records building and great cocktails, but the food holds its own, too.
Pantages Theatre Broadway Phenomenon: SIX
@hollywoodpantagestheatre
In the heart of Hollywood stands the Hollywood Pantages Theatre. The Pantages has become one of the greatest landmarks, signifying both the glorious past and adventuresome future of the world's entertainment capital. But who said musical theatre can only be found in New York? From Tudor queens to pop icons, the SIX wives of Henry VIII take the microphone to remix five hundred years of historical heartbreak. This was a euphoric celebration of 21st-century girl power, more of a concert than a traditional book musical. With renewed spirit, the SIX wives break free of expectations and start to change the course of history by rewriting their stories with happier ever-afters, at least for the time being.
From Hollywood-chic style to down-to-earth food trucks and farmers markets, Los Angeles's draws are extensive. Topping the list for me is the diverse population and big-city energy mixed with an overall laidback lifestyle. L.A. is a massive melting pot of people, cultures and lifestyles, so it should come as no surprise to you that I cannot wait to go back!