$2 Billion Powerball Winner Buys Epic LA Mansion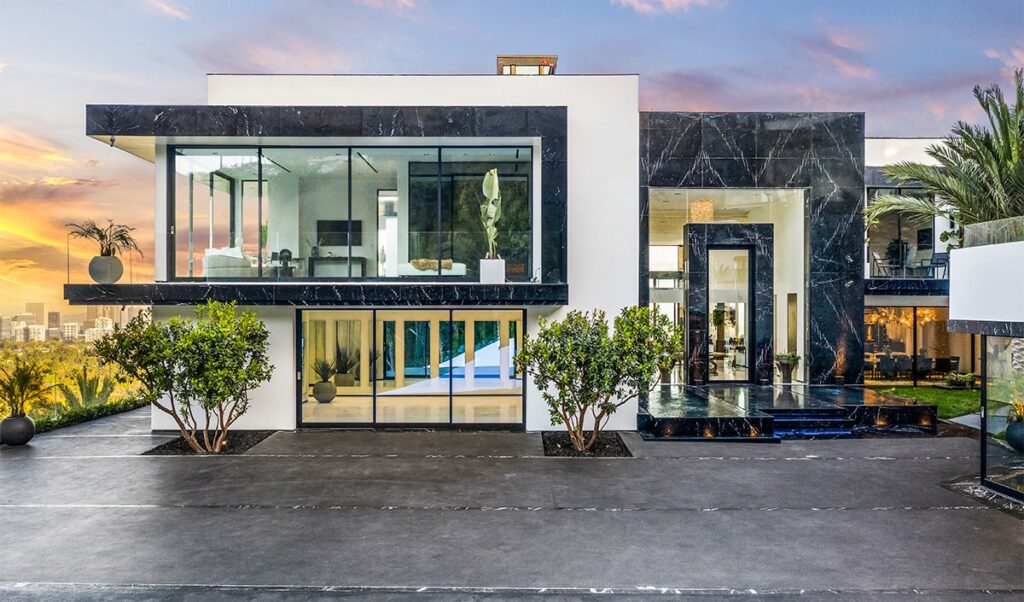 America's largest-ever Powerball jackpot winner of $2 billion, Edwin Castro, has chosen to remain largely private after his life-changing win. He declined to appear at a press conference announcing the win and released a brief statement: "I am shocked and ecstatic to have won the Powerball drawing. As someone who received the rewards of being educated in the California public education system, it's gratifying to hear that as a result of my win, the school system greatly benefits as well." After choosing the $997.6 million lump sum payment, the brand-new billionaire is making a much bigger statement with his purchase of a stunning Bel Air mansion.
Once listed for $87,777,777, the contemporary home known as 'Palazzo di Vista' was designed by reconstructive surgeon-to-the-stars, Alex Kadavi, in collaboration with Ali Rad Design Group. Castro scored the seven-bedroom, eleven-bathroom hilltop mansion for a cool $25.5 million, leaving him with an estimated $600 million still left after taxes on the Powerball lump sum. 
Castro's new 'Palazzo' is built atop a promontory in Bel Air, giving it spectacular views of the surrounding city, with visibility stretching from the San Gabriel Mountains to the Channel Islands. The futuristic pad is an entertainer's paradise, with a unique dark marble and glass aesthetic and numerous one-of-a-kind features. The foyer sports a retractable DJ table. A central glass elevator is encompassed in the swimming pool-sized koi pond, which can be viewed from inside through glass walls. The fantastic infinity pool includes multiple seven-horsepower jets that coordinate with the home's music – so swimmers can literally feel the beat. A specialty NFT art gallery features seven indoor large-screen media displays and a rotatable 2-D laser projector that casts light in a rhombic shape up to 1,650 square feet over the pool. Plus there's a tequila bar, a glass-walled wine room, a champagne tasting room, multiple dining venues both inside and out, a theater large enough for a crowd, additional lounge areas, and a suspended glass floor walkway.
The primary suite includes a floating wrap-around deck and a resort-style bath. The massive kitchen offers an open floor plan with access to the outdoors via glass walls. Seated on over an acre of grounds, the mansion offers privacy and seclusion, with an address in one of LA's most coveted neighborhoods. 
Bel Air is one point of LA's Platinum Triangle, which includes Beverly Hills and Holmby Hills. Consistently ranked among the world's most expensive neighborhoods, it is known for its one-of-a-kind mansions and celebrity residents. Although Bel Air proper is almost entirely residential, the estate is convenient to the Bel-Air Country Club and the famous shopping district at Rodeo Drive and accessible to LAX, Downtown LA, and Hollywood. Just a few of its illustrious neighbors include Justin Bieber, Taylor Swift, Miley Cyrus, Kylie Jenner, and Jennifer Lawrence. 
The listing was held by Aaron Kirman of the Aaron Kirman Group at Compass and Mauricio Umansky of The Agency.