Instances of Beauty: Zadora Timepieces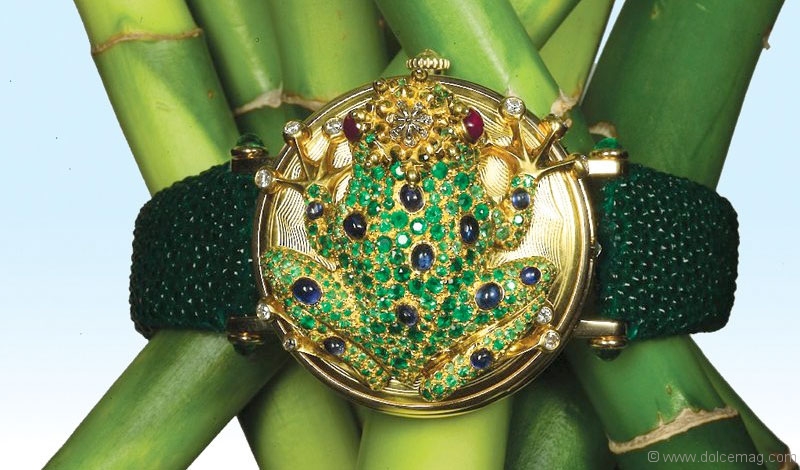 There was a time when only the famous czars of Russia could enjoy enduring treasures and centuries-old artwork. Whether it was an exquisite Byzantine cloak or a ruby-centred amulet, superb riches were defining must-haves for major dynasties. After all, there's nothing sweeter than owning an opulent piece of jewelry which doesn't exist anywhere in the world. And for gem lovers, art aficionados, and nature enthusiasts, the one-of-a-kind designs of Zadora Timepieces offer a glimpse into a world once restricted to royalty. Its life-like designer sculptures are unlike anything on the market today, flaunting a successful flair of world-class exclusivity.
The origins of the top-notch jewelry manufacturer began decades ago on the Queen Charlotte Islands in British Columbia, where chief sculptor and designer Andreas von Zadora learned the art of carving. Trained by Canada's native Haida Indians, he uncovered his talents at an early age, leading to studies in metal engraving, gemology and sculpting. As he fostered a talent for shaping and an eye for beauty, von Zadora established his 180-person, cutting-edge business. "Whatever the client's fantasy asks for in the luxury world, we're the company that can do it," he says.
Standing out from luxury brands such as Bulgari and Rolex, Zadora's creations are limited to one piece per edition, catering to clients' taste in the world of nature. "Our real niche in the marketplace is making things really custom, in ways that other companies would consider it to be very difficult and a headache," says von Zadora. His handmade masterpieces mimic the environment's most beautiful treasures. "If you suddenly step back and really look at a cherry tree flowering, it's beyond-belief, ridiculously beautiful." The same spirit of overwhelming beauty is apparent in each of the company's creations.
Zadora's signature timepieces are unlike conventional clocks that typically tell time from the upper face. Instead, each featured piece uses a cylindrical dial, topped with custom ornamentation of your choice. "The clocks are built in the most extravagant and complicated way ever. We're making things that, on the hour, trigger mechanisms that boggle the mind," von Zadora says about his timepieces. Clients living the sweet life would agree, as each and every one of Zadora's designs embody nature and stunning beauty – something the last czar of Russia would appreciate.
T: 305.395.3247
www.zadoratimepieces.com